Yamaha MG06 6-channel Analog Mixer
6-channel Analog Mixer with 2 Microphone Preamps, 2 Dedicated Stereo Line Channels, and EQ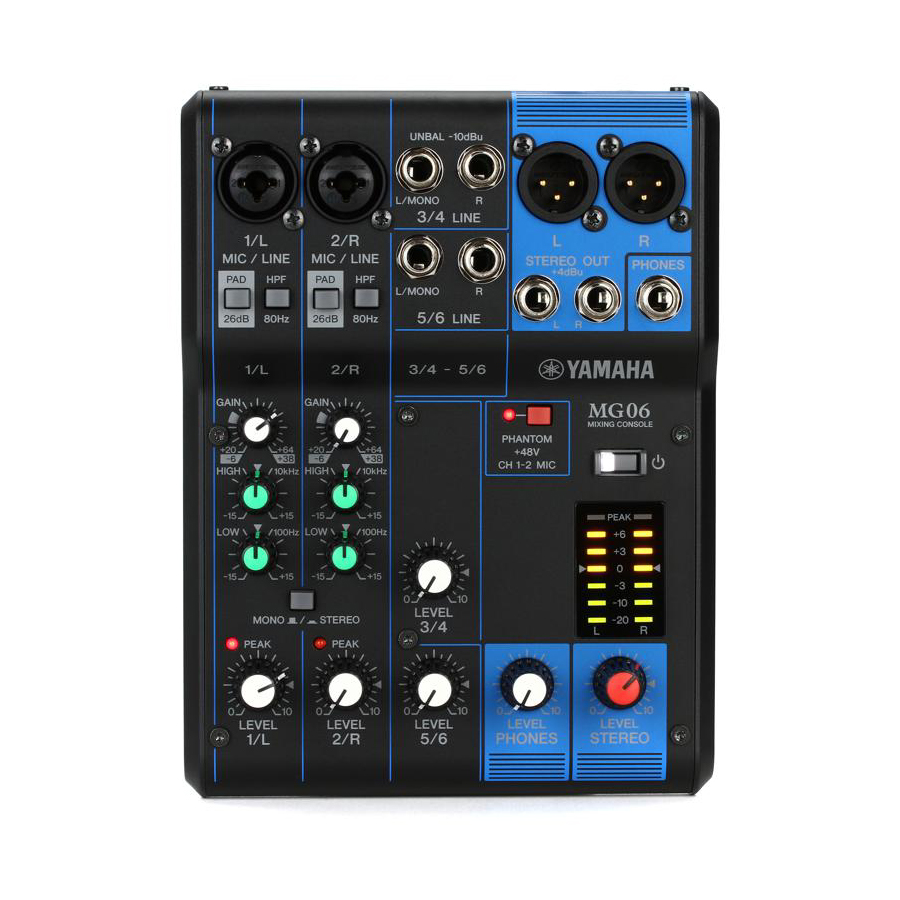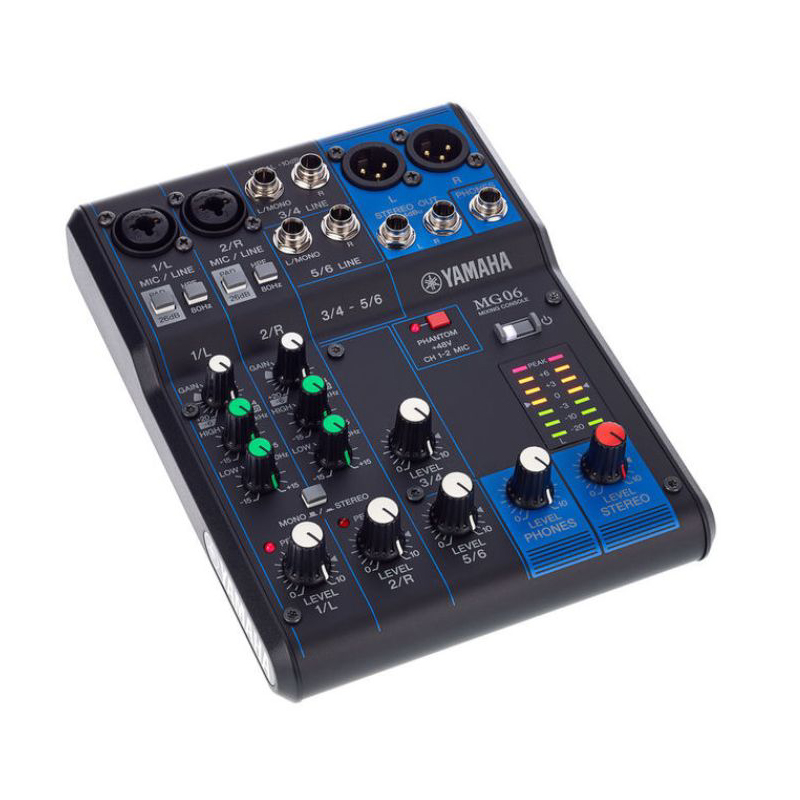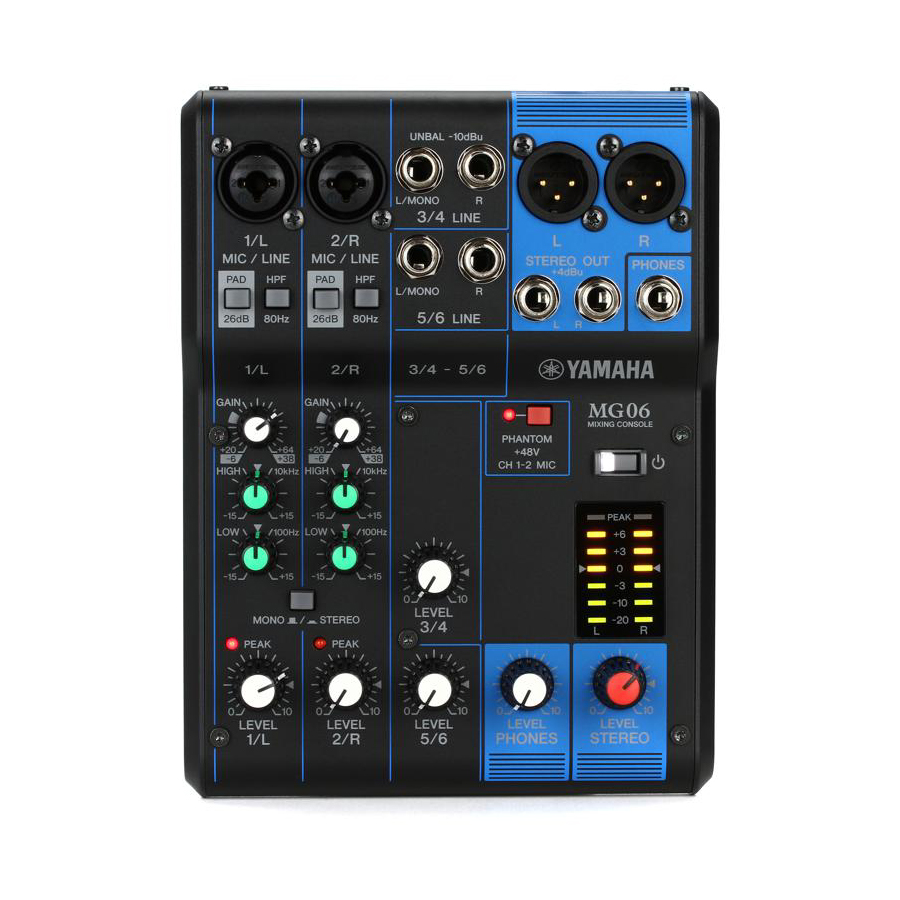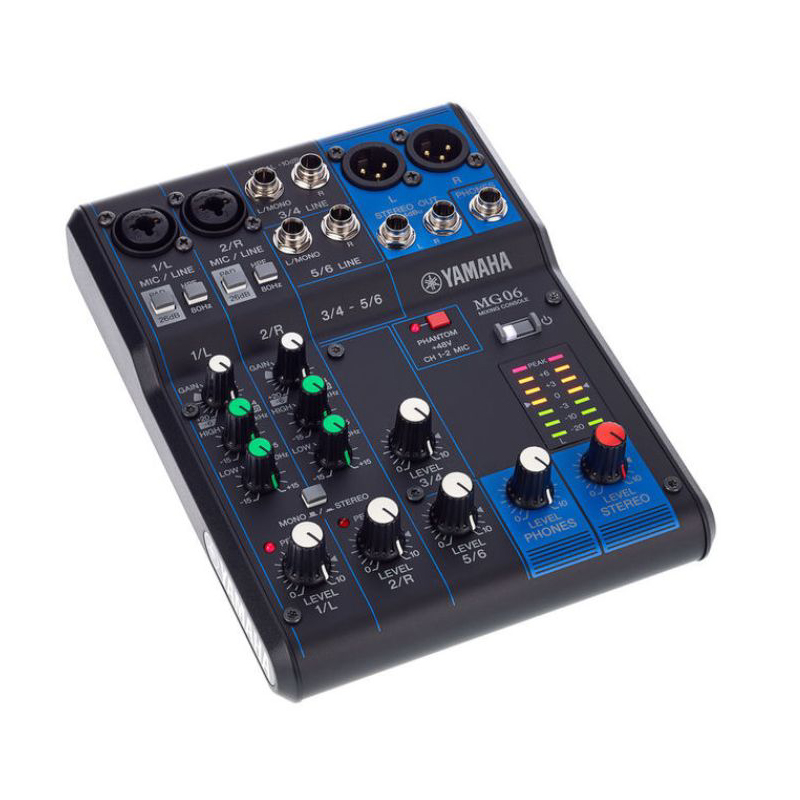 A Real Workhorse Mixer!
Feature-rich and delivering outstanding sound quality, the Yamaha MG06 analog mixer is well-suited for ultra-compact mixing rigs. The MG06's quality op-amp ensures that your mix sounds transparent and articulate. The MG06's crystal clear D-PRE preamps will squeeze every drop of tone from your mics, with natural-sounding bass and smooth highs. Featuring switchable phantom power, a pad switch, EQ, and LED metering, the tiny MG06 can take on just about any task you throw at it. Utilizing many state-of-the-art features from Yamaha's high-end consoles, the MG06 is ready to work for you!
D-PRE discrete Class-A mic preamps deliver clean and natural sound
Nobody wants to hear mics that are plugged into thin, distorted, or underpowered preamps. MG Series mixing consoles employ Yamaha's transparent D-PRE preamps, which provide more power with lower impedance, delivering natural-sounding bass and smooth highs. D-PREs simply sound good - without hyping any specific elements of your mix. The D-PRE's pure sound will ensure that you won't need to spend hours EQ-ing just to get a barely-acceptable sound, like you would with low-quality mic preamps.
EQ and highpass filter allow for effective sound-shaping
Whether you're tweaking your sound to perfection or whether you're removing some unwanted frequencies, effective and powerful EQ is necessary for building a successful mix. Featuring equalizers on all mono channels, the Yamaha MG Series mixing consoles provides you with ample control over the tonal balance of your mix. Additionally, a highpass filter allows you to get rid of any mud that might be present in your mix by eliminating unwanted low-frequency noise.
D-PRE mic preamps deliver clean, transparent, and natural sound
2-band EQ on all mono channels for sound-shaping
Pad switch on mono inputs for managing loud sources
Metal chassis for durability