Yamaha AG08 8-channel USB mixer Interface for Mac and PC - Black
8-channel USB Streaming Mixer/Audio Interface with 6 Custom Sound Pads, 5 DSP Effects, CH1/2 Phantom Power, CH2 Amp Simulator, and Bundled Software - Black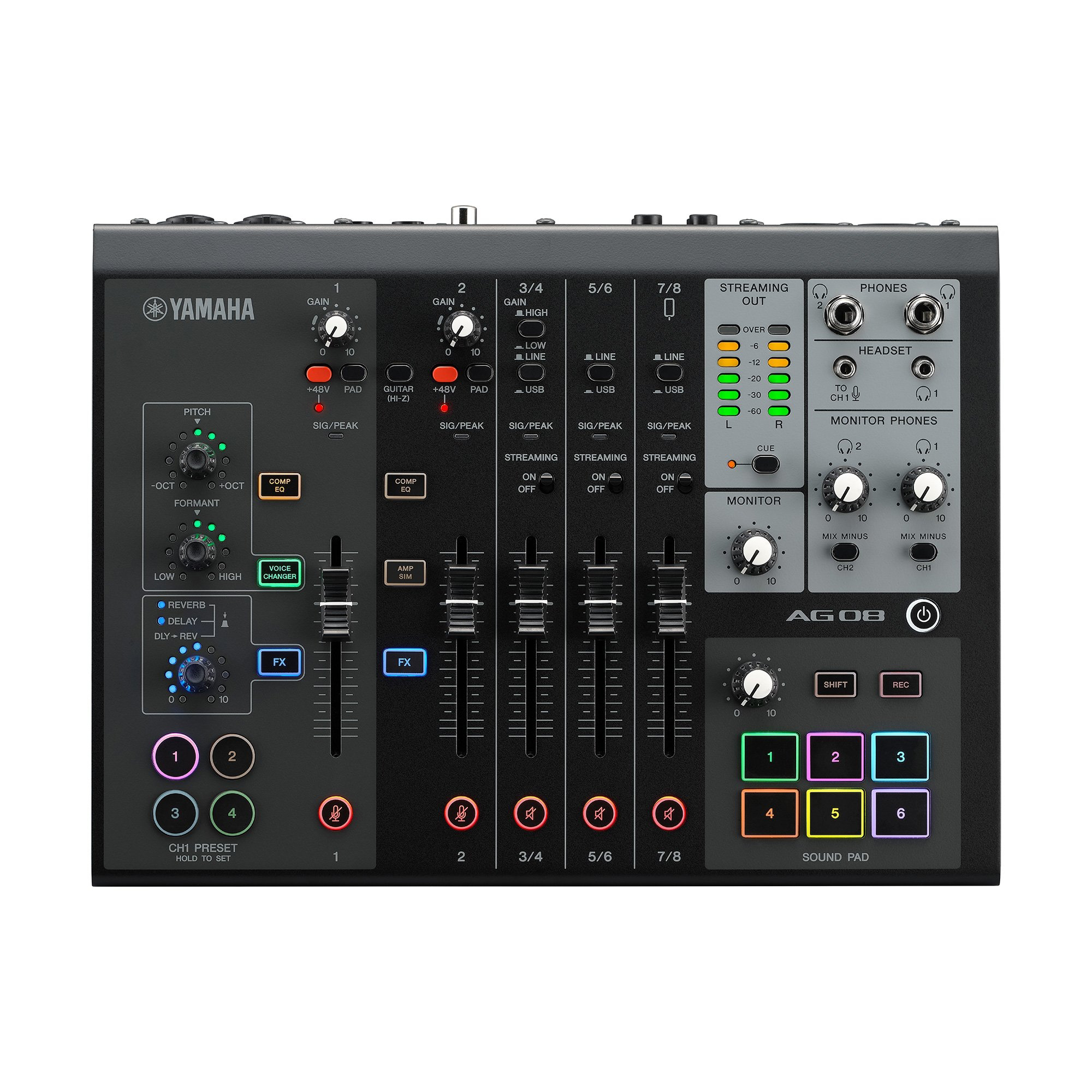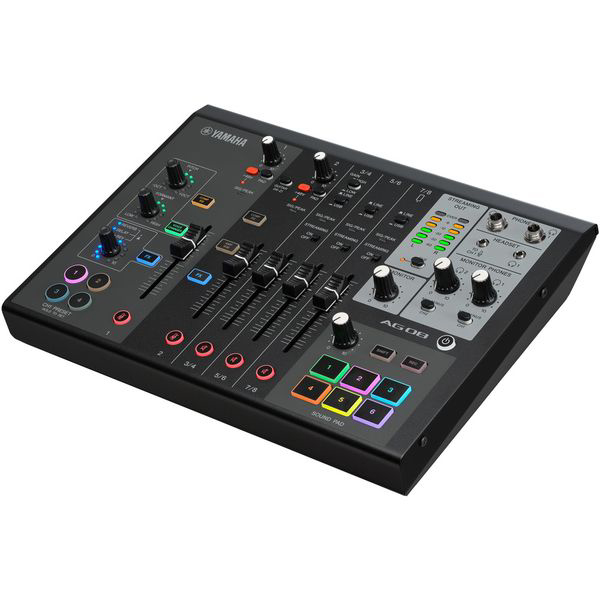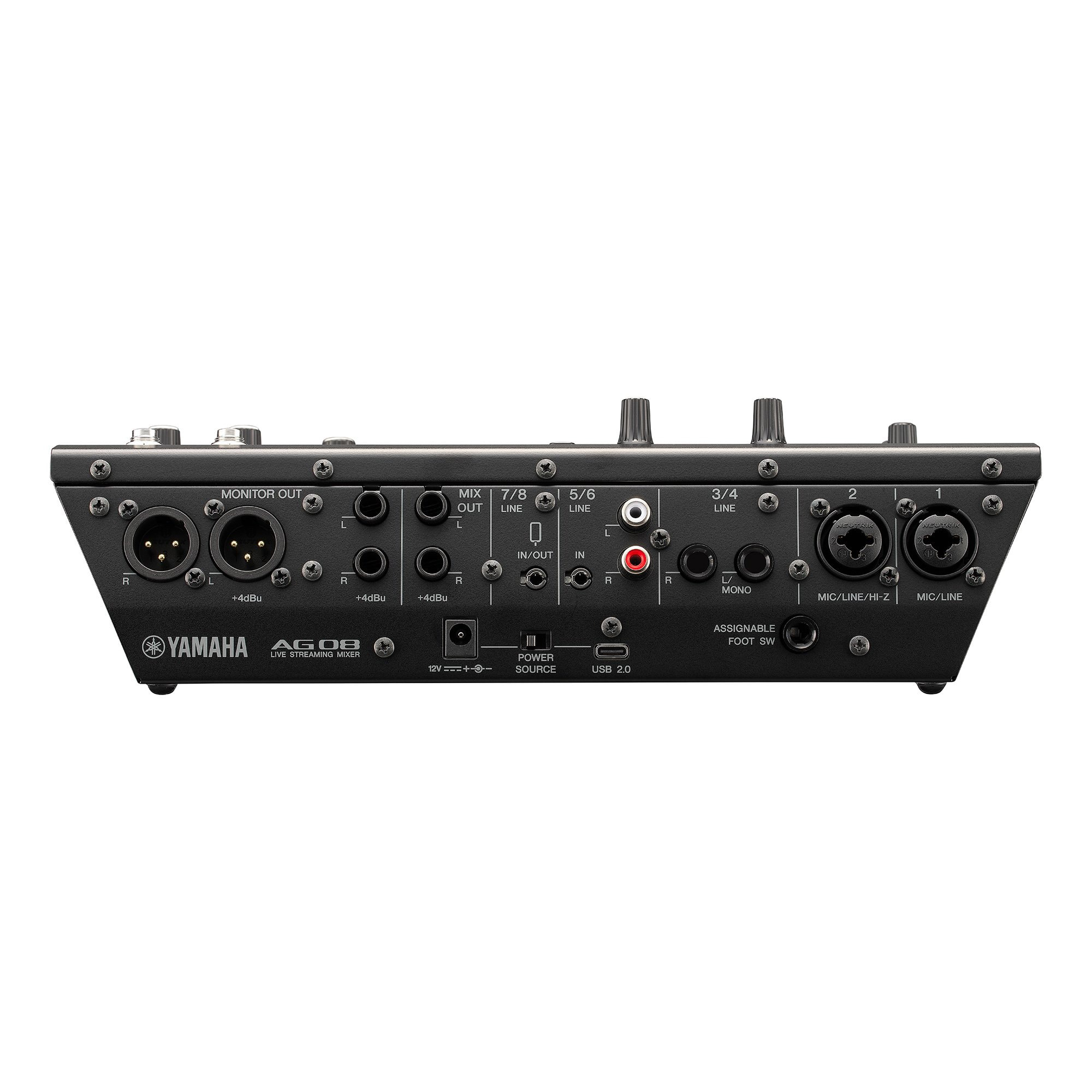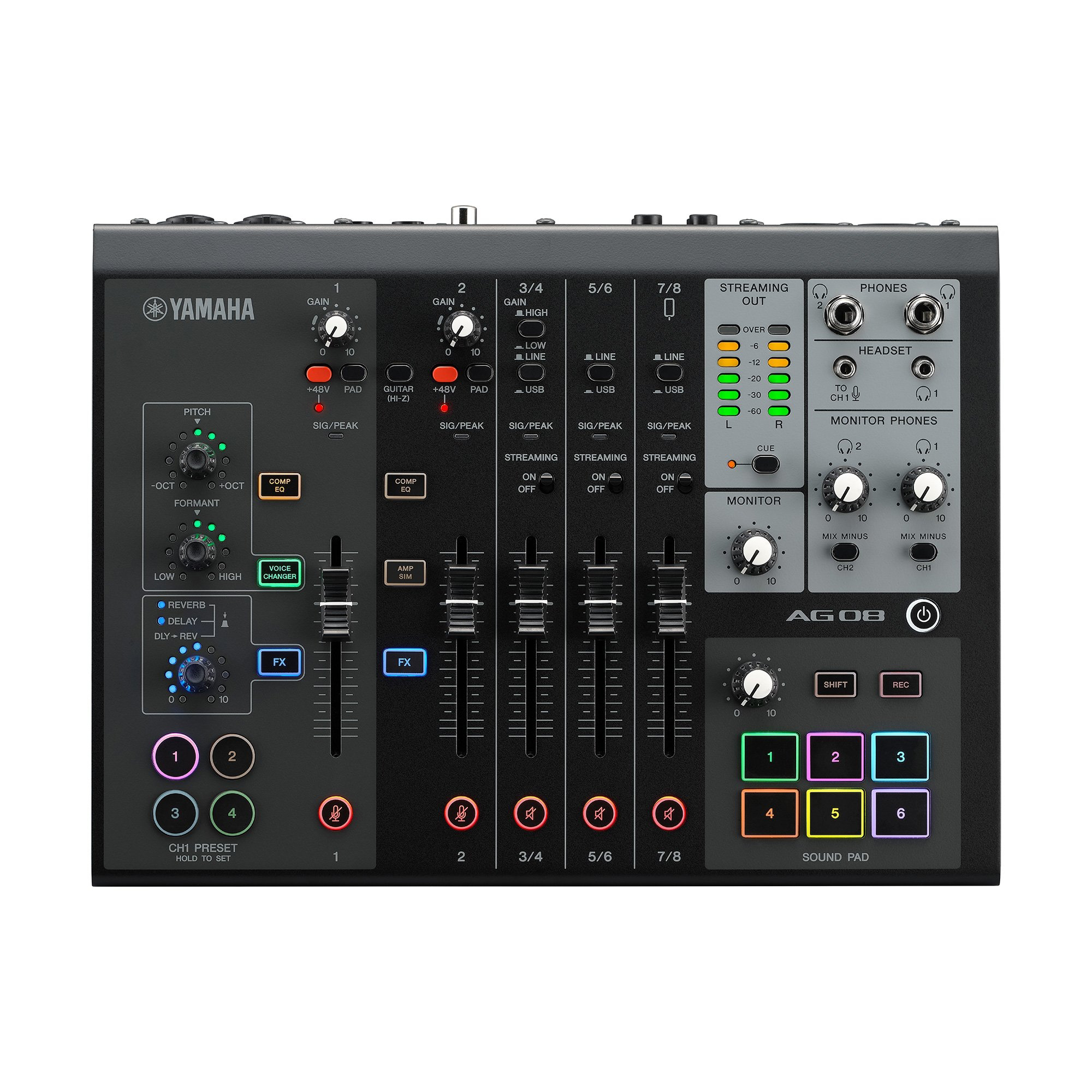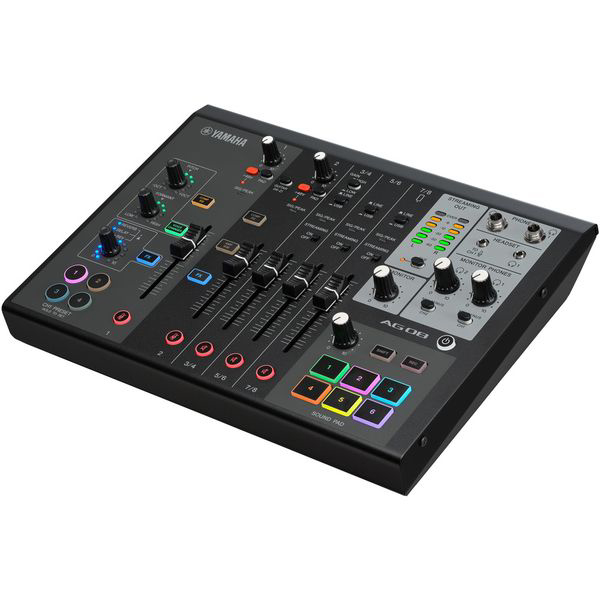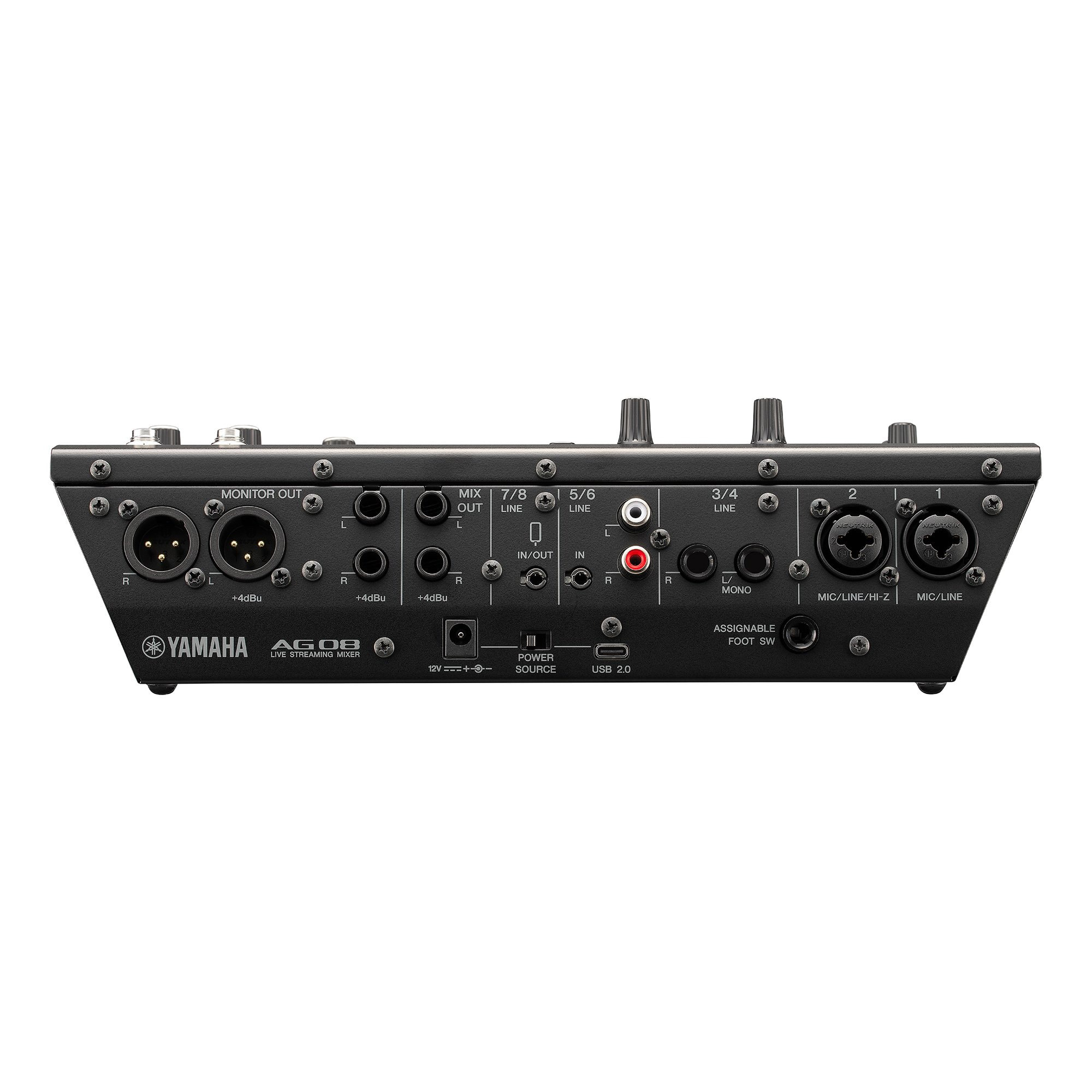 A Command Center for Any Streamer
Working on an efficient mixer can give a significant boost to any streamer. But with so many varieties of content out there, it can be challenging to identify a mixer that fits your particular needs. The AG08 is a two-mic/line-in and USB interface that offers much-needed versatility in today's eclectic streaming era. Apart from it's dual-broadcasting capabilities, the AG08 houses powerful DSP effects, a bank of four custom DSP presets, phantom power in two individual channels, and even a 6-pad sound center for incorporating unique FX during your performance. If you're planning on delivering live music to your audience, you'll have access to a voice changer and an incorporated amp simulator within Channel 2. Best of all, the AG08B comes with a bundled package of Steinberg software, allowing you to get straight to the action as soon as it arrives at your door. Take it from Sweetwater content creators: with the AG08B in your arsenal, you'll be well equipped to begin your next streaming venture.
Dual-broadcasting I/O
If you fancy podcasting, simultaneous broadcasting, or performance management, a versatile I/O is crucial when considering a new mixer. Thankfully, the AG08 features two independent phantom power microphone inputs. By the same token, a pair of two headphone monitoring outputs allow two users to manage audio during a stream or recording session. When paired with the AG08 Controller app, the AG08 can pan left and right with any stereo microphone — a definitive feature for podcasts, interviews, cooperative live performances, and more.
Powerful onboard DSP effects
Mixing and managing your voice and audio can be a complex process, especially for newcomers. With this in mind, that's why Yamaha added an onboard DSP control center right into the mixer's front panel. All eight channels have access to compression, EQ, reverb, delay, ducker, and maximizer effects to help corral a professional final sound. The fine details of each effect can also be controlled via the AG08 Controller app, providing a handy onscreen visual so you can see exactly how your audio is being altered. Best of all, since the DSP is built directly into the AG08's internal hardware, there's absolutely no impact on your audio latency or PC processing load.
Channel 1 voice changer and effect presets
Aside from its collection of DSP effects, Channel 1 also has access to a voice changer tool. The changer's pitch and formant settings allow you to dial in several different voice options and even include a unique robotic effect if you prefer something less human. On top of the voice changer and DSP effects, Channel 1 also features four customizable preset buttons, allowing you to change between output settings during a performance quickly. This makes the AG08 a perfect option for effect-loving streamers and those presiding over live performances that require complex audio adjustments in a pinch.
A bundle of creative opportunities
Bundled Steinberg software gives you instant opportunities to create your own recording, streaming, or production content. The AG08 boasts flawless compatibility with Cubase AI and WaveLab Cast, both of which can improve your audio production efficiency and even aid in music creation applications. You can even take advantage of the iOS-compatible Cubasis LE app to perform and create with your AG08 while away from the keyboard.
Second-generation AG series 8-channel streaming mixer/interface
Perfect for broadcasting applications and offline content creation
24-bit, 48kHz multichannel audio recording
+48V phantom power in 2 condenser mic/line-in channels
Fader and mute control for every input
2 independent headphone monitoring channels for simultaneous broadcasting and easy audio management
3 assignable line-in/USB signal-compatible faders provide exceptional layering control
4 effect preset buttons for Channel 1
Onboard DSP effects: Voice Changer, Amp Simulator, Compressor, EQ, Reverb, and more
6 customizable sound pads deliver real-time FX audio
Selectable 12V or USB 2.0 power source
Cubase AI and WaveLab Cast bundled audio software
Android supported with 4-pole mini input/output (TRRS)