Yamaha AG03 Mk2 3-channel Mixer and USB Audio Interface
3-channel Mixer and USB Audio Interface with 24-bit/192kHz Resolution and Built-in DSP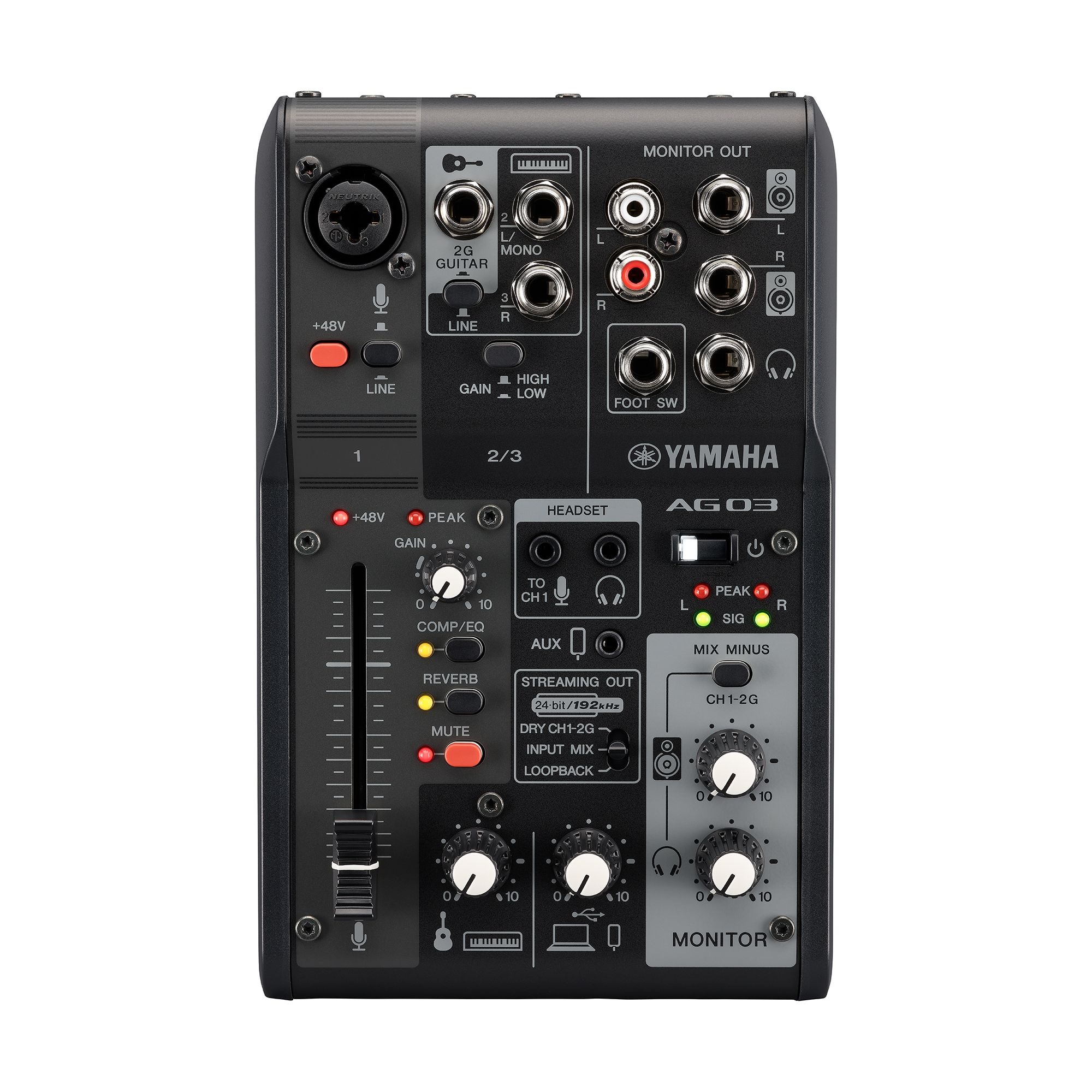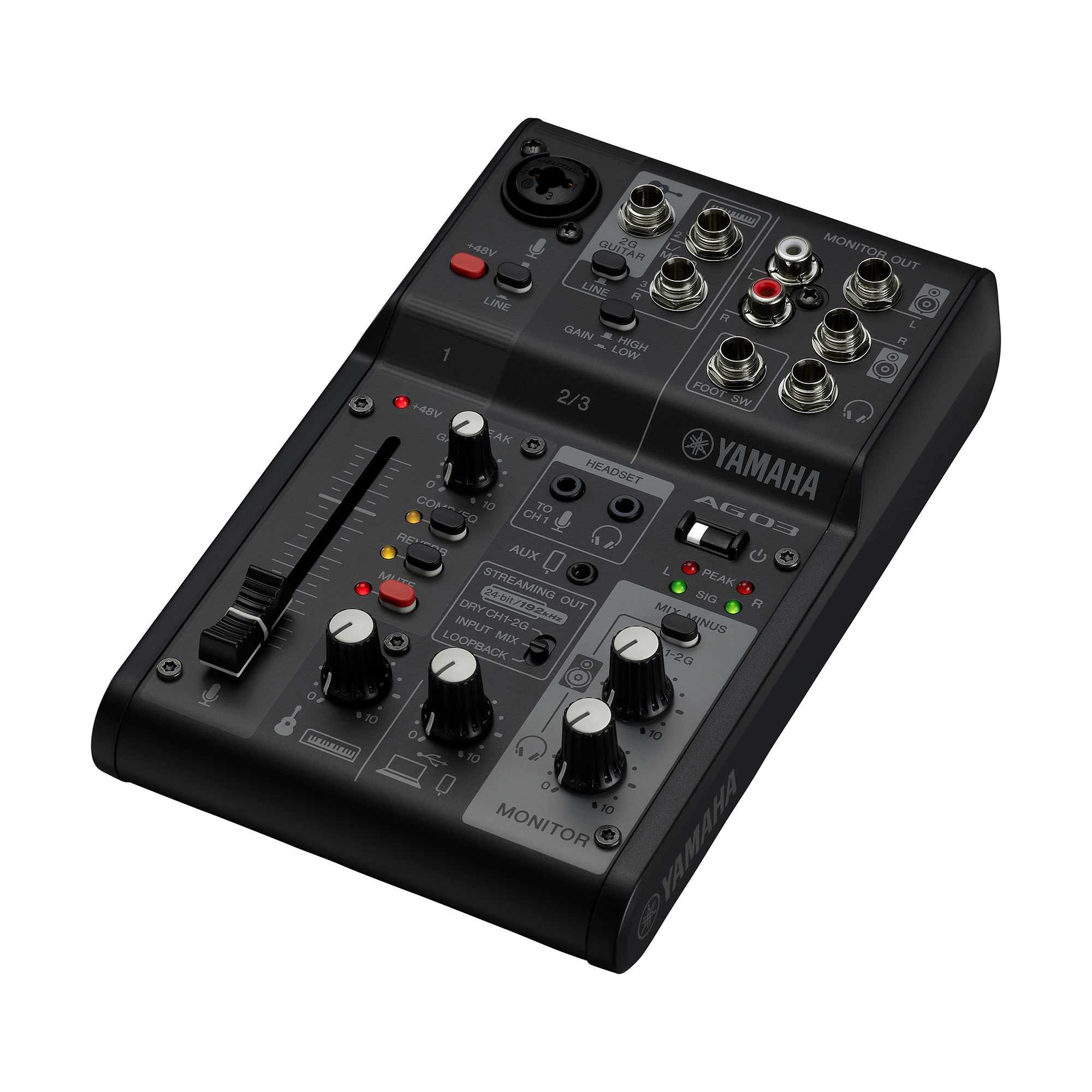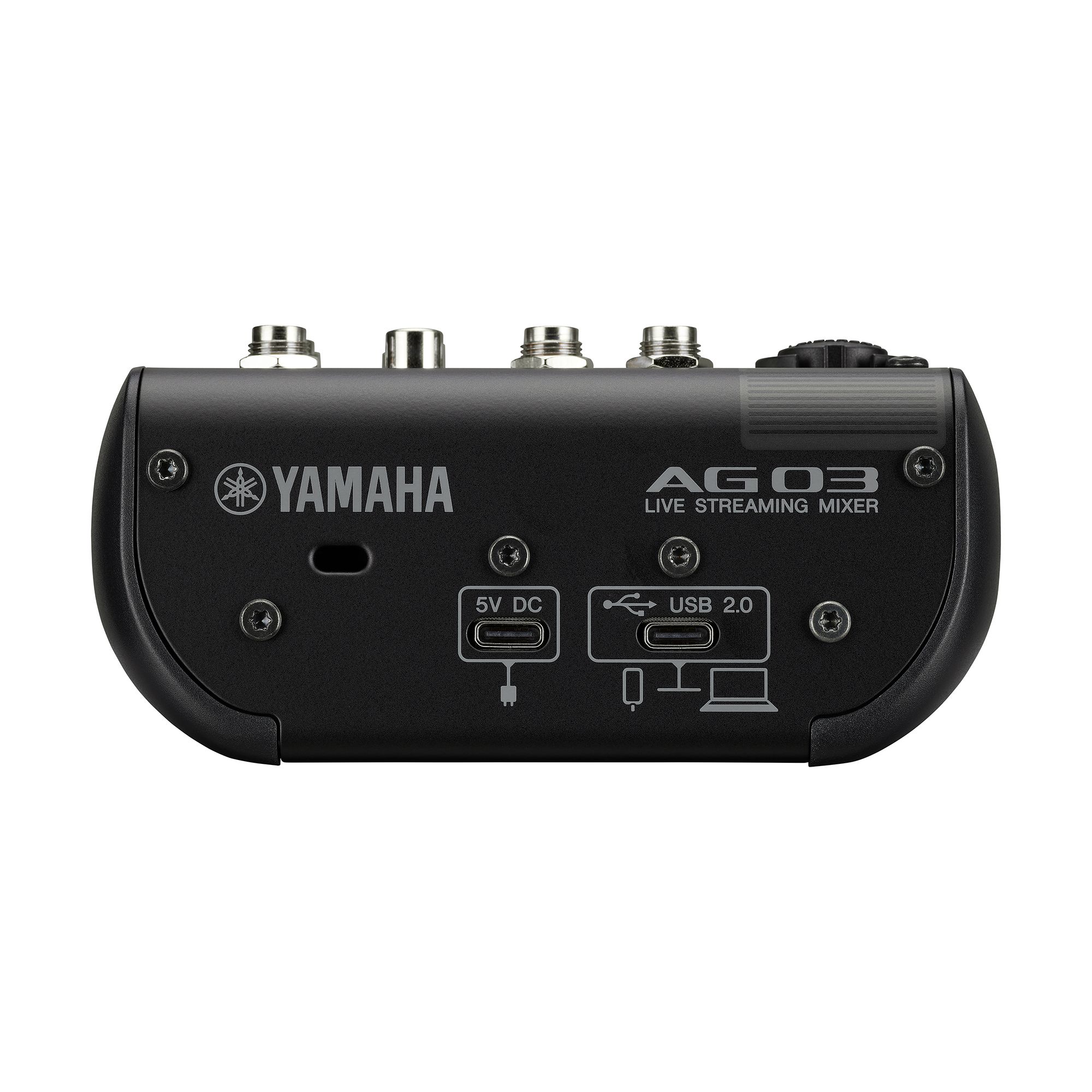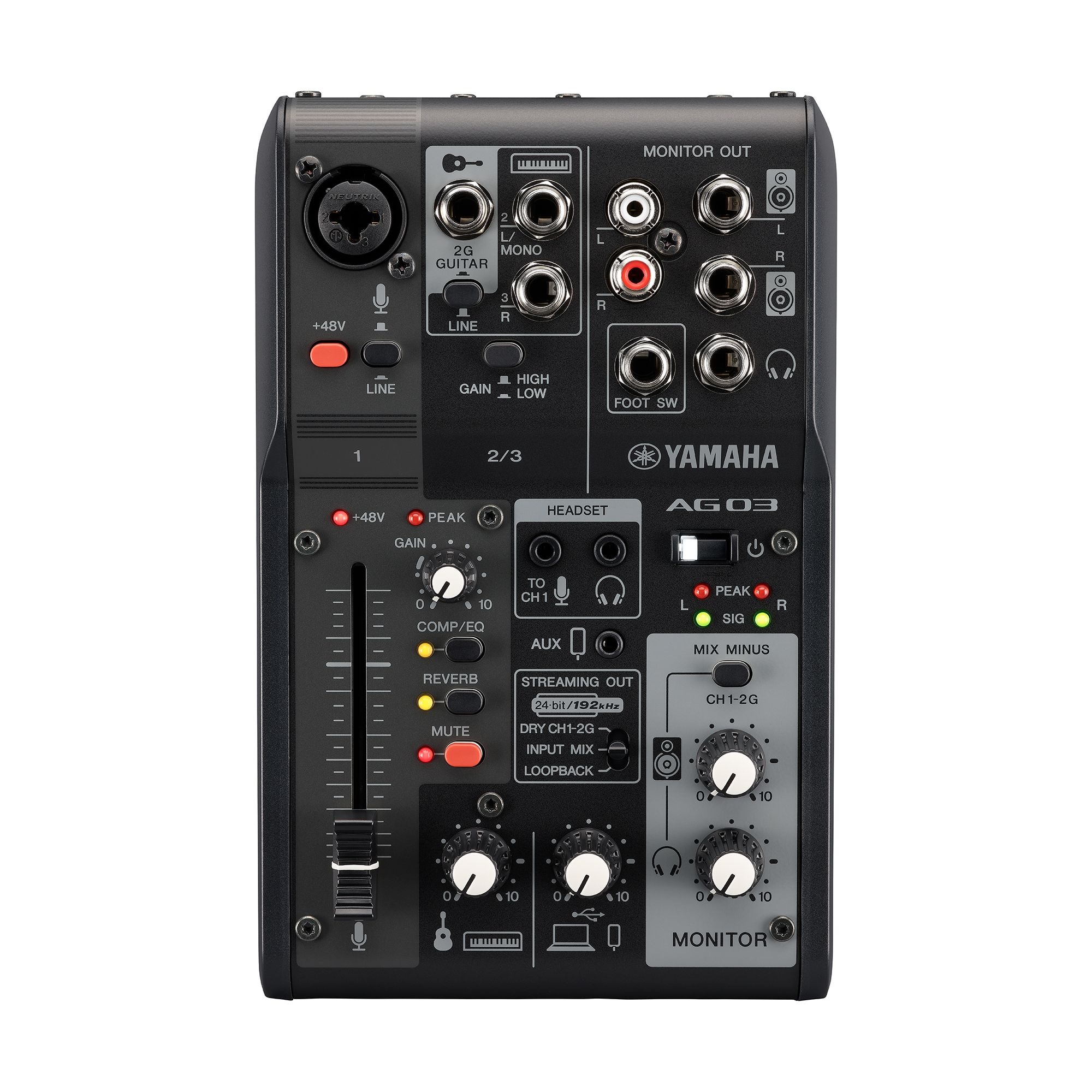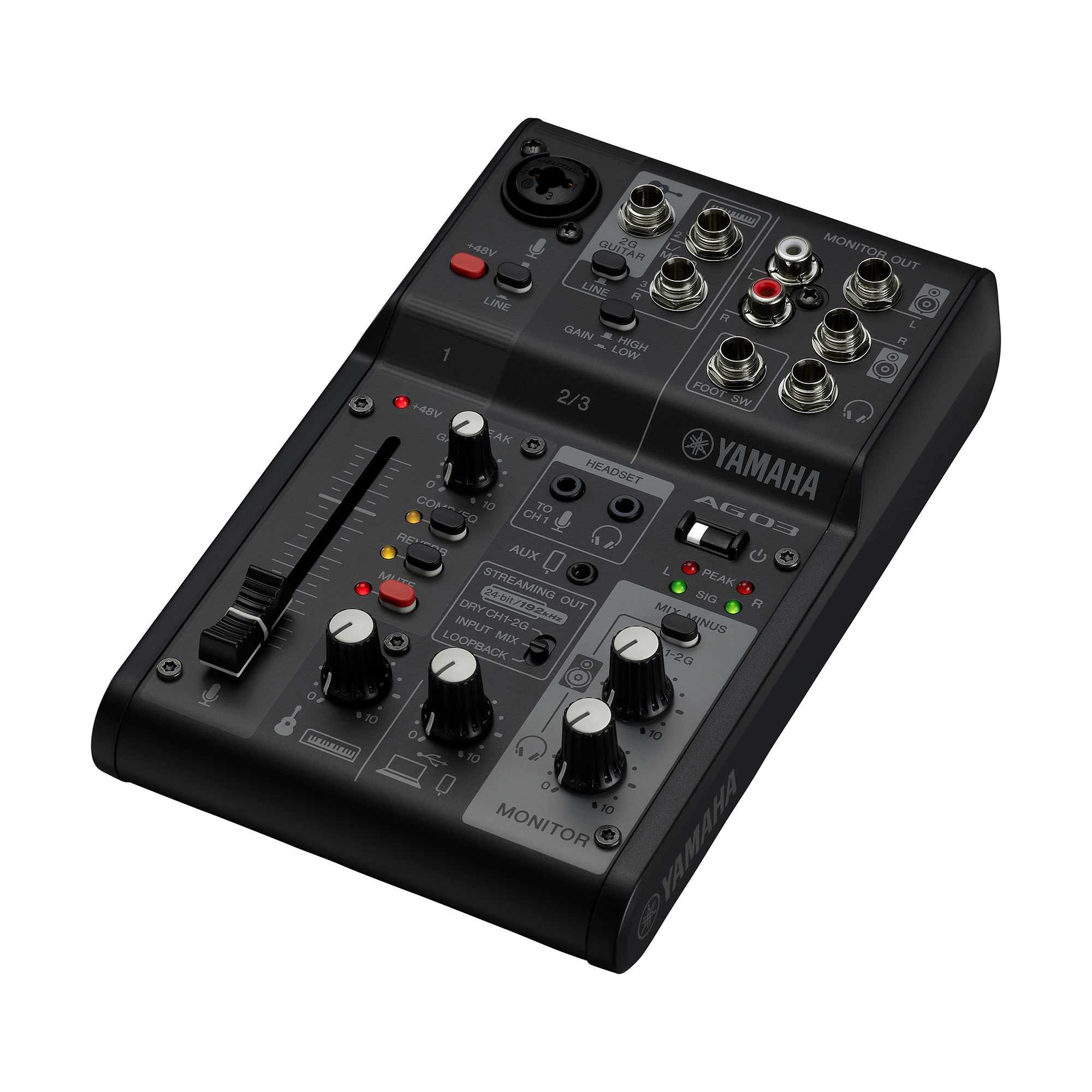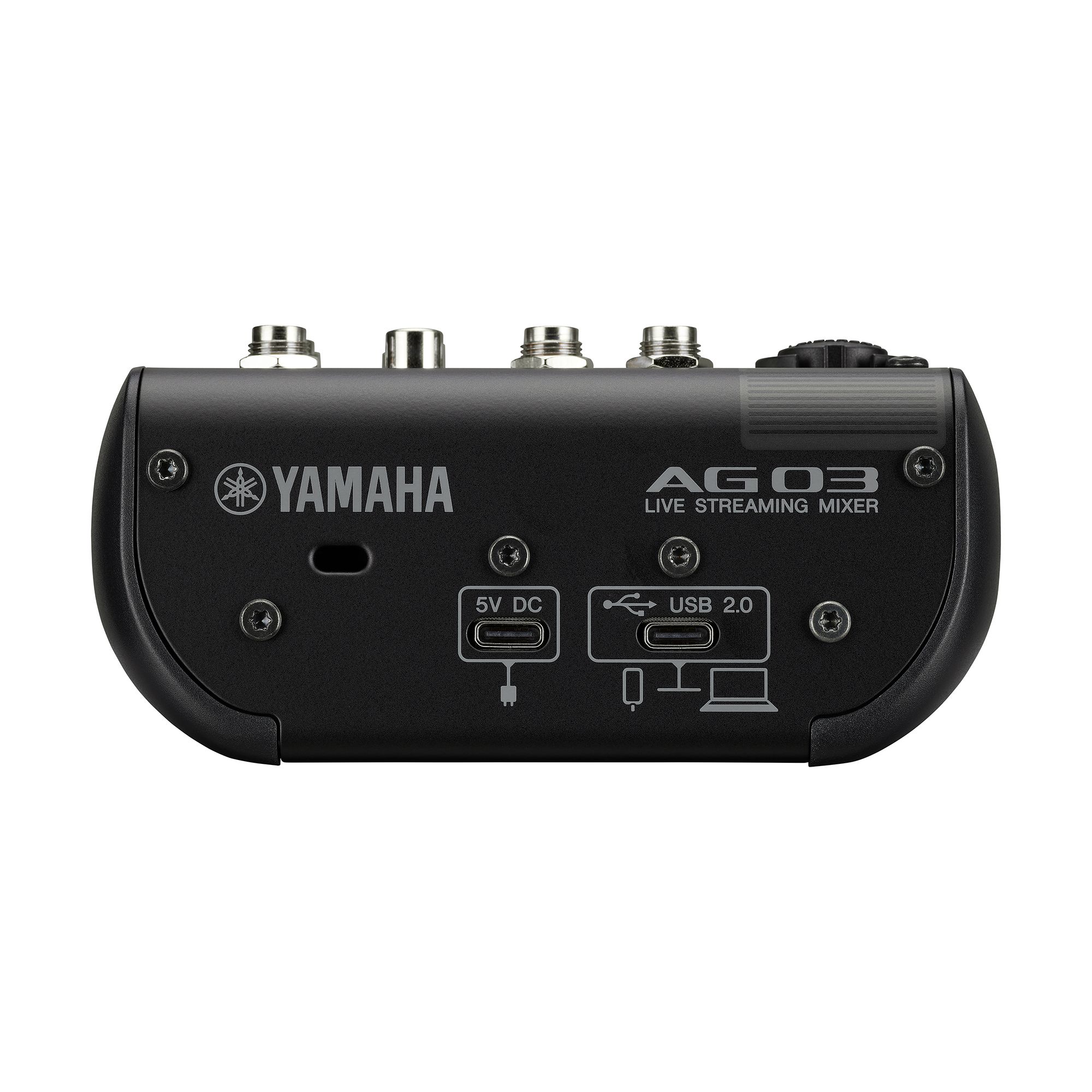 Small System, Large Audience, Abundant Opportunities
The significance of streaming can't be overstated. With new forms of content accessible from a myriad of devices, it's crucial to maintain a high standard when it comes to your audio. Raise the bar with the Yamaha AG03 Mk2, a revamped 3-channel mixer that is a master of multiplicities designed to accommodate streams for gaming, webcasting, live music, and so much more. This robust mixer aims to pair flexibility with opportunity, boasting 24-bit/192kHz audio quality, USB connectivity, onboard DSP effects, and loopback functionality. The Mk2 introduces a 1/8-inch, 4-pole mini I/O to enable a variety of streaming options, a mute button, and a swath of improvements to the build, design, internal circuitry, and overall performance — all to ensure optimized, intuitive control with no sacrifice in quality. Pick up a Yamaha AG03 Mk2 at Ragtime today!
High-quality input options
The AG03 Mk2 maintains a sleek design. Inputs and outputs are grouped across the top, making sure your controls are free from clutter. A single multi-purpose jack supports XLR-type and phone (balanced or unbalanced) inputs, while a phone plug — featuring a dedicated line switch — allows you to toggle between guitar and line-level inputs. A third channel, with dedicated left- and right channel-inputs, gives you an option to run the left channel for monaural instruments. Furthermore, this mixer natively supports iOS to incorporate apps such as Zoom, Skype, Teams, and FaceTime — all from your device.
Precision control with onboard DSP FX
Keeping your levels dialed in is paramount to a good stream, and the AG03 Mk2 is big on options. You're armed with LEDs for visual feedback, monitoring for peaks, channel muting, and built-in +48-volt phantom power, which is ideal for use with condenser mics. Reverb, mute, and comp/EQ functions comprise the onboard DSP effects alongside a dedicated 60mm fader for your microphone, in addition to channel controls and gain adjustment. The 3-way selector further democratizes your stream control, with options for dry channel 1–2, input mix, and loopback — the latter enabling the simultaneous incorporation of music or background audio from your laptop or iOS device, with your live inputs.
Offline versatility
Due to the AG03 Mk2's class compliance connectivity, iOS incorporation opens up numerous options for getting even more out of your mixer. This includes compatibility with Cubasis LE, a multi-touch sequencer app and pared-down version of the Cubase DAW. Additionally, the AG DSP Controller app provides more refined control of the onboard options, with a "1-touch" easy mode and an expert mode. Plus, the AG03 Mk2 comes with the Cubase AI DAW, allowing for a powerful, smooth avenue for producing high-quality recordings.
USB connectivity means easy use for a variety of streaming needs
3-channel mixer enables opportunity for numerous microphone and instrument inputs
24-bit/192kHz audio resolution guarantees high-quality output
Built-in DSP provides onboard FX and control, including compression, EQ, filtering, and reverb
Precision interfacing tools let you stay in control of what gets heard and how, including the built-in loopback mode that allows you to supplement your inputs with audio from your Mac/PC
Class compliance mode for iPad connection permits for even more control options, including the Cubasis LE production app, and the AG DSP Controller app
iOS connectivity incorporates use of apps such as Zoom, Skype, Teams, and FaceTime into your live stream, all from your device
+48V phantom power option is ideal for use of a condenser microphone, if needed
1/8-inch/3.5mm 4-pole mini I/O jack supplies more opportunities for audio inclusion, including sound effects, cues, and background music from another device — with a dedicated mix control