Demon-fx PRINCE OF SOUND guitar boost drive distortion pedal
Based Analogman on Prince of Tone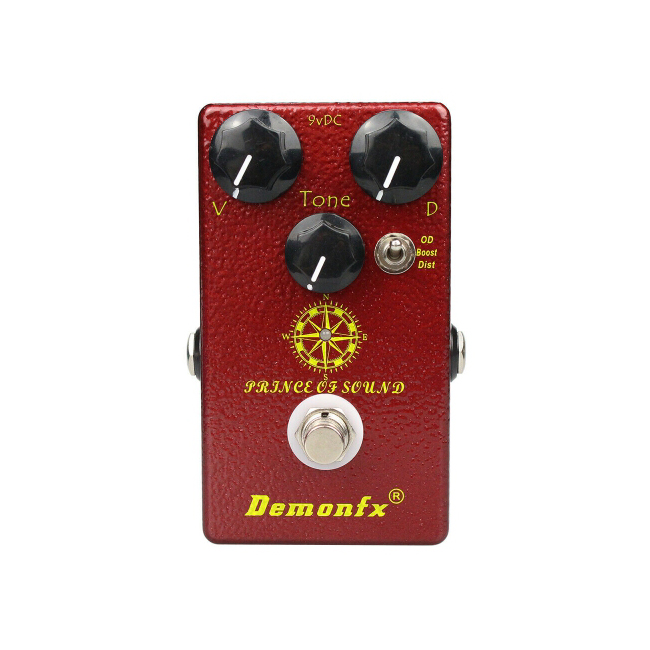 OVERDRIVE / BOOST / DISTORTION
Overdrive-Boost-and Distortion options on the front face toggle, there is also internal adjustments behind the back plate for dip switch options and a chance to tailor to your individual playing style. Nice articulate bite right up front, but can get a bit dirtier. All depends on you. Pretty much handmade in small batches. Quality components and a clipping toggle to dial in some razor sharp tones.
modes and voicing
The three modes are:
1) Normal Overdrive mode (OD mode): This is the standard King Of Tone sound, - a touch drive available than a tube screamer. Can get much louder than a tube screamer.
2) CLEAN mode : This mode has less distortion, it can be used for clean boosts or clearer, louder sounds. It's sort of a cross between a true clean boost and an overdrive. CLEAN MODE is even less compressed and louder than the OD mode. You'll love this mode with high drive settings too!
3) DISTORTION mode : more drive than the standard mode- a touch of hard distortion. The sound is more compressed, yet retains the pedal's character. Same volume as OD mode.

the Prince of Sound has three knobs for Volume, Distortion and Tone, and a 3-way toggle that delivers different voicings: OD, Boost, and Distortion.