Hercules DJ 200 complete kit
DJ Starter Bundle with DJControl Inpulse 200 DJ Controller, DJMonitor 32 Speakers, HDP DJ45 Headphones, and DJUCED Software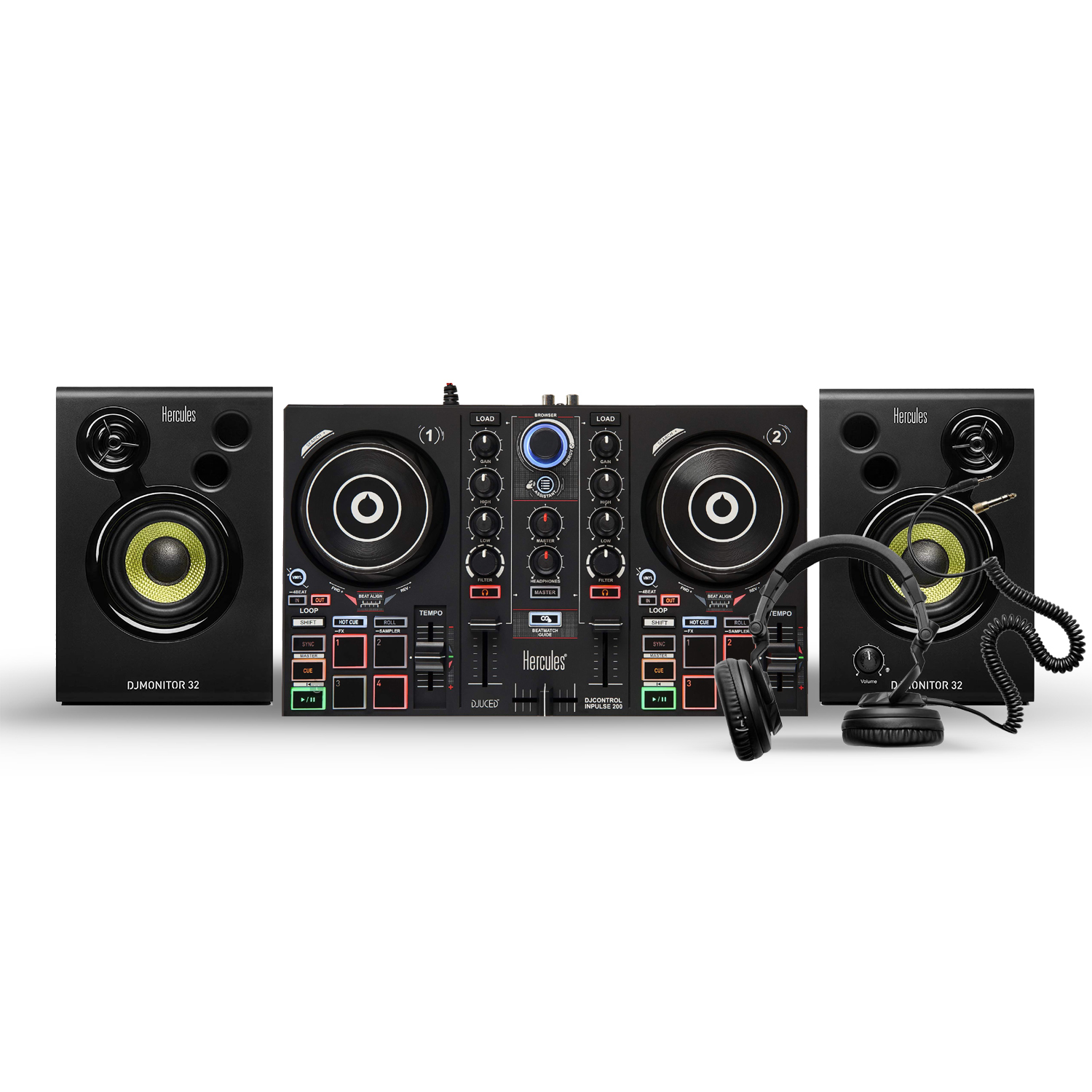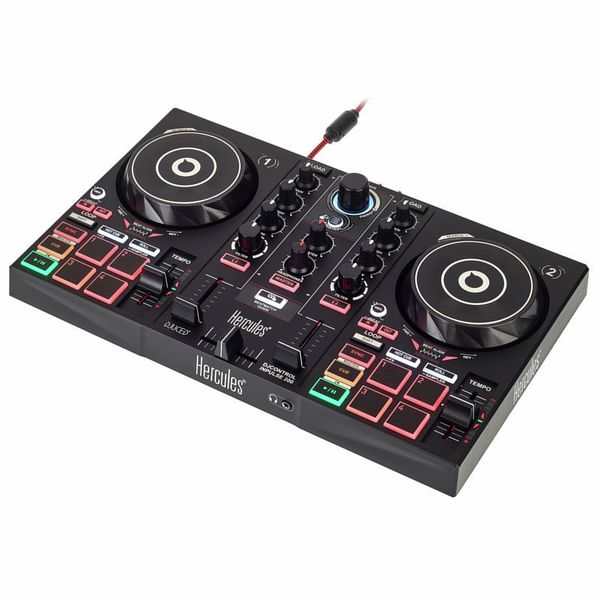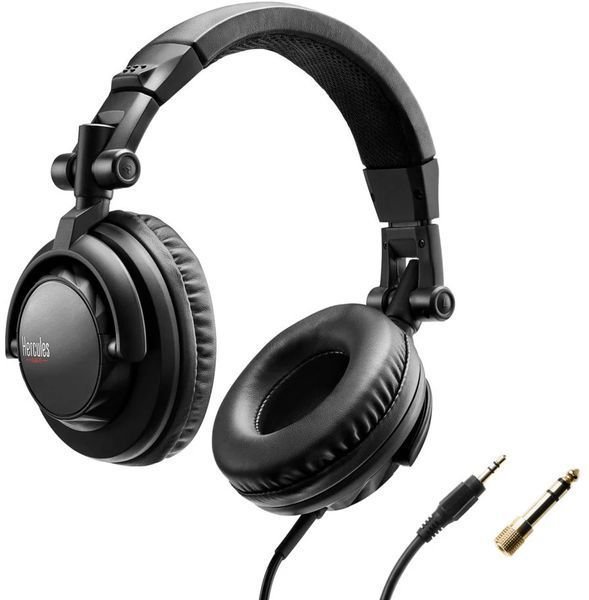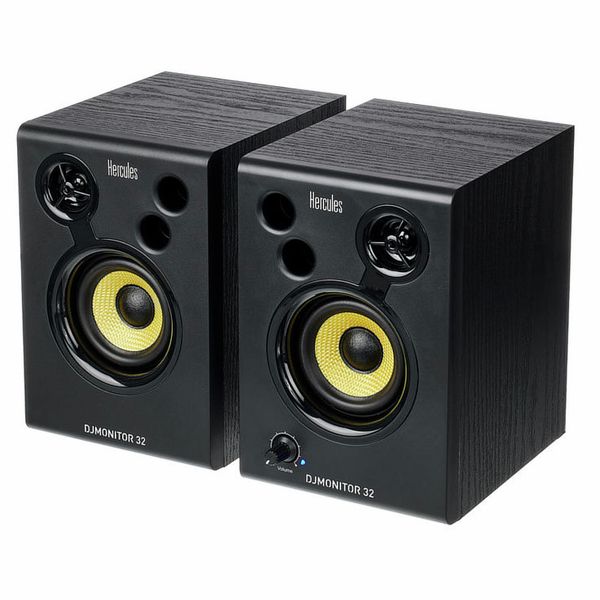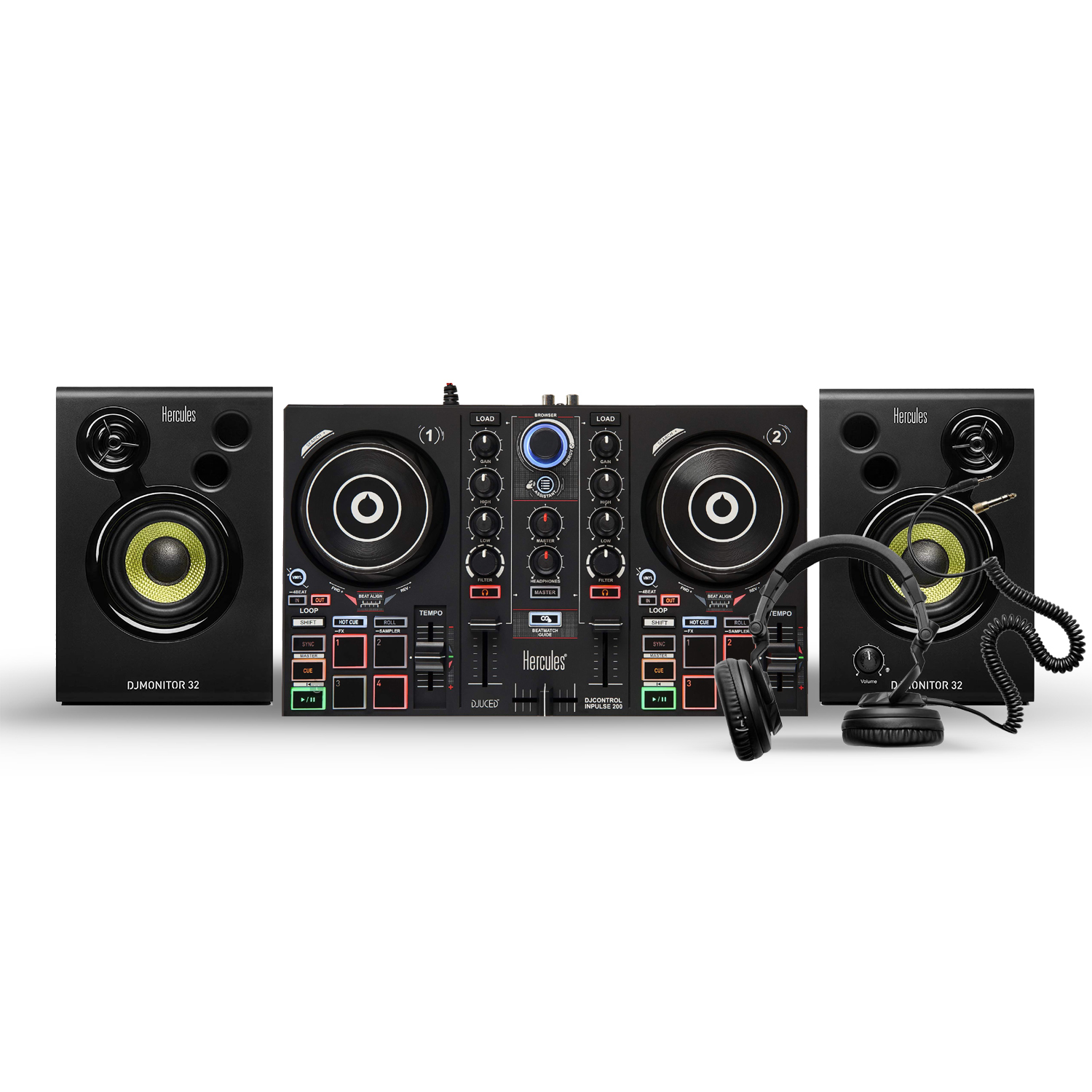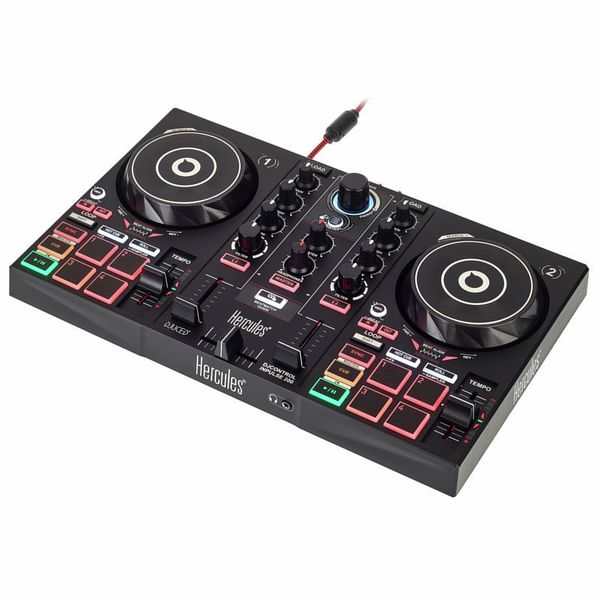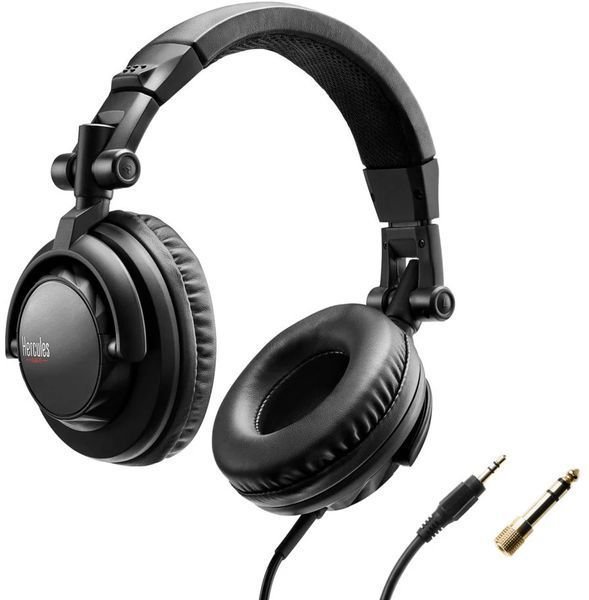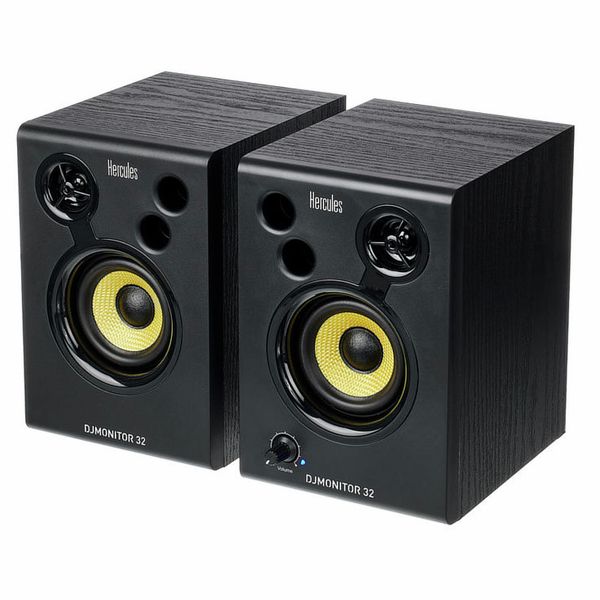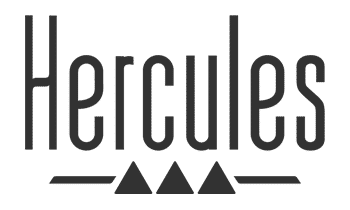 ---
$333
PRICE DROPPED FROM $500
---
---
---
All-in-one DJ Starter Pack
The Hercules DJ DJLearning Kit is the perfect all-in-one starter pack for would-be DJs. It includes the DJControl Inpulse 200, which is a powerful 2-channel DJ controller in its own right, that also boasts top-shelf training capabilities that work in tandem with the included DJUCED DJ software. DJMonitor 32 speakers supply you with top-notch sound. You also get HDP DJ45 headphones for effortless monitoring of upcoming tracks. If you want to learn to DJ, this bundle is a great way to gain and show off your skills.
DJControl Inpulse 200
The DJControl Inpulse 200 will train your ear, help you master beatmatching, guide you through mixing, and supply you with the perfect tools to showcase your skills. This 2-channel DJ controller's built-in training features are mind-blowingly comprehensive, with light guides, an Intelligent Music Assistant (IMA), an Energy feature, and onboard DJ Academy video tutorials. And once you're up and running, the DJControl Inpulse 200 gives you everything you need for a high-level DJ performance, with two jog wheels, eight backlit pads, and dual 3-band EQs with filters, plus two tempo sliders, separate Gain knobs and Volume faders, a global crossfader and master volume, and separate headphones volume. The DJControl Inpulse 200 is a great entryway into the world of DJing.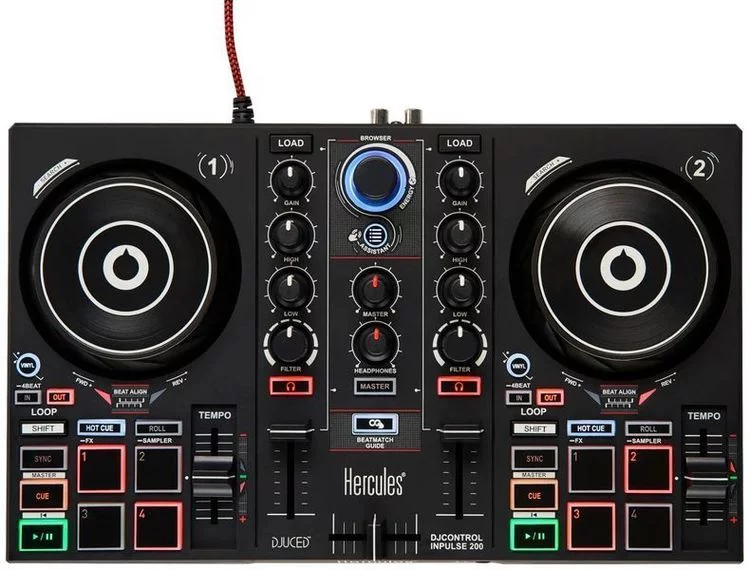 DJMonitor 32 Speakers
DJMonitor 32 monitor speakers are tailored especially for aspiring DJs. These speakers boast high-end components for precision audio reproduction and exceptional listening quality. Each speaker's 3-inch woofer exhibits impressive low-frequency response, while its shifted tweeter yields crystal-clear high frequencies and top-notch stereo imaging. A dual bass vent ensures accurate, powerful low end. A lot of R&D went into the DJMonitor 32. The speaker was developed in Hercules DJ's own anechoic chamber with input from pro DJs and other audio professionals from all around the world.
HDP DJ45 Headphones
HDP DJ45 headphones are a great first set of DJ headphones, exhibiting a powerful sound with any audio source. Plug them into your DJControl Inpulse 200, and you'll enjoy effortless monitoring of upcoming tracks. Their large ear cushions provide excellent isolation from surrounding noise, while the padded earpieces ensure hours of comfort. What's more, you can pivot an earpiece to hear what's going on around you, and the HDP DJ45's long spiral cable allows you to move freely.
DJUCED Software
DJing isn't as easy as it looks. That's why the Hercules DJ DJLearning Kit comes with DJUCED. Thanks to DJUCED's integrated video DJ Academy, interactive help, Intelligent Music Assistant, and BeatMatch Guides system, it's the ideal software to guide you through your first steps into the world of DJing. DJUCED isn't some glorified tutorial, however. It's full-fledged DJ software with a powerful modular interface, a full suite of effects, loops, hot cues, beat jumps, and multilayer samples, plus synchronization of up to four decks, slip mode, and multiple quantize modes. DJUCED enables you to record yourself, save it, then effortlessly share it on Mixcloud or Soundcloud. It also includes direct access to Beatport LINK (separate subscription required), enabling you to stream over nine million tracks directly into DJUCED.
2-channel DJ controller with training and performance features
Offers the perfect training ground for aspiring DJs
Light guides teach you to navigate the controller
Tempo arrows for adjusting the bpm of each track
Beat Align arrows for synchronizing your tracks
Intelligent Music Assistant (IMA) helps you choose the best songs to play
Energy feature paces the atmosphere with blue (calm) and red (energetic) indicators
DJ Academy video tutorials teach you the fundamentals of DJing and improve your skills
2 smooth-feeling jog wheels offer a vinyl-like feel with touch detection
Each deck features 4 pads with 4 modes: hot-cue, roll, FX, and sampler
Loop in/loop out keys make manual loop creation a breeze
Browser controls make navigation easy
Dual 3-band EQs with filters for polishing your sound
Dual tempo sliders and separate Gain knobs and Volume faders for crafting a proper mix
Global crossfader mixes the sound of the decks by increasing one side and dropping the other
Master volume and headphones volume controls for setting your playback levels
Includes DJUCED software — the best DJ software to learn with