HEADRUSH PRIME
Guitar and Vocal Multi-effect Unit with Amps, Cabs, Microphone Emulations, Amp/Effect Cloning, IR Loading, Wi-Fi, Bluetooth, USB Audio Interface, Stereo FX Loop, Looper, and Expression Pedal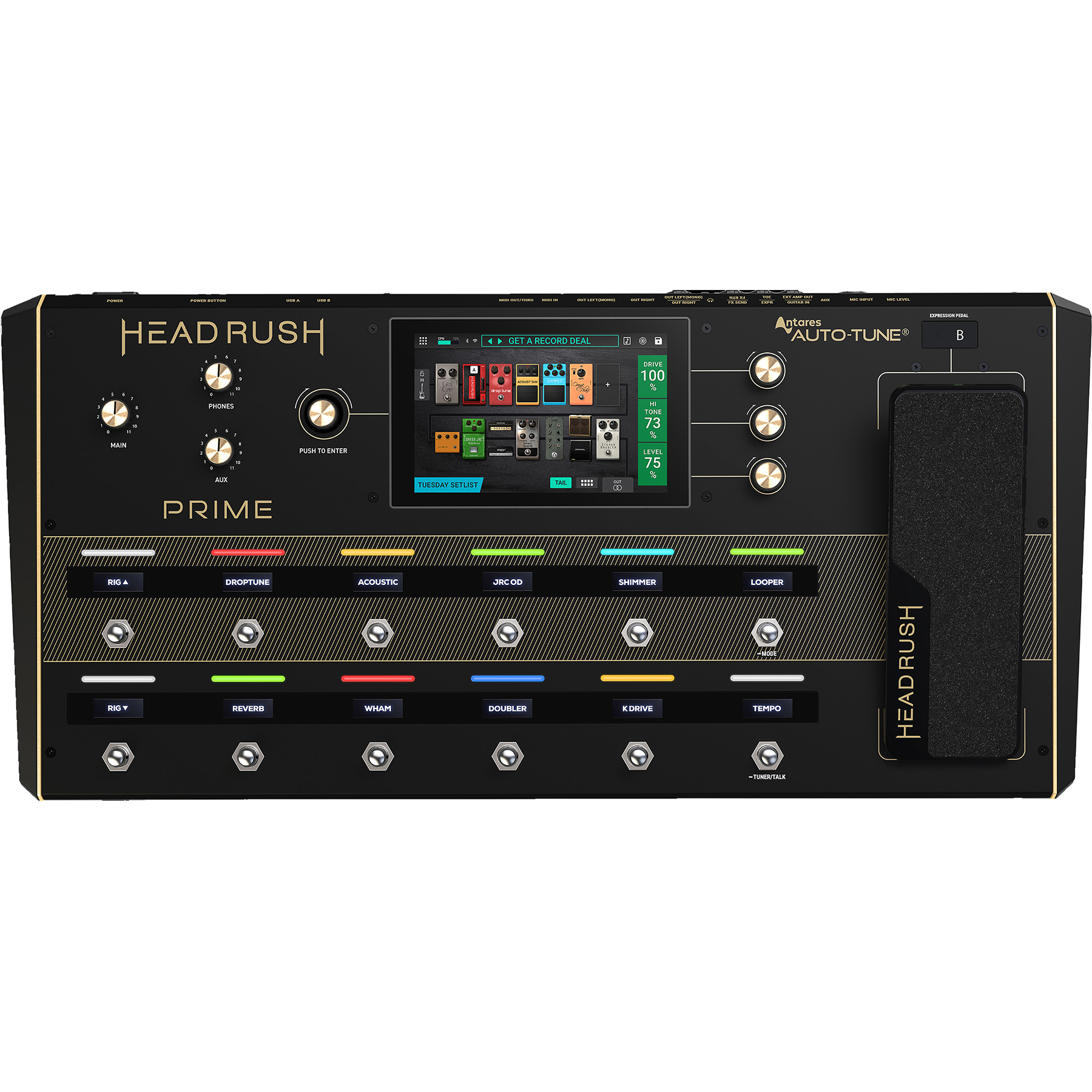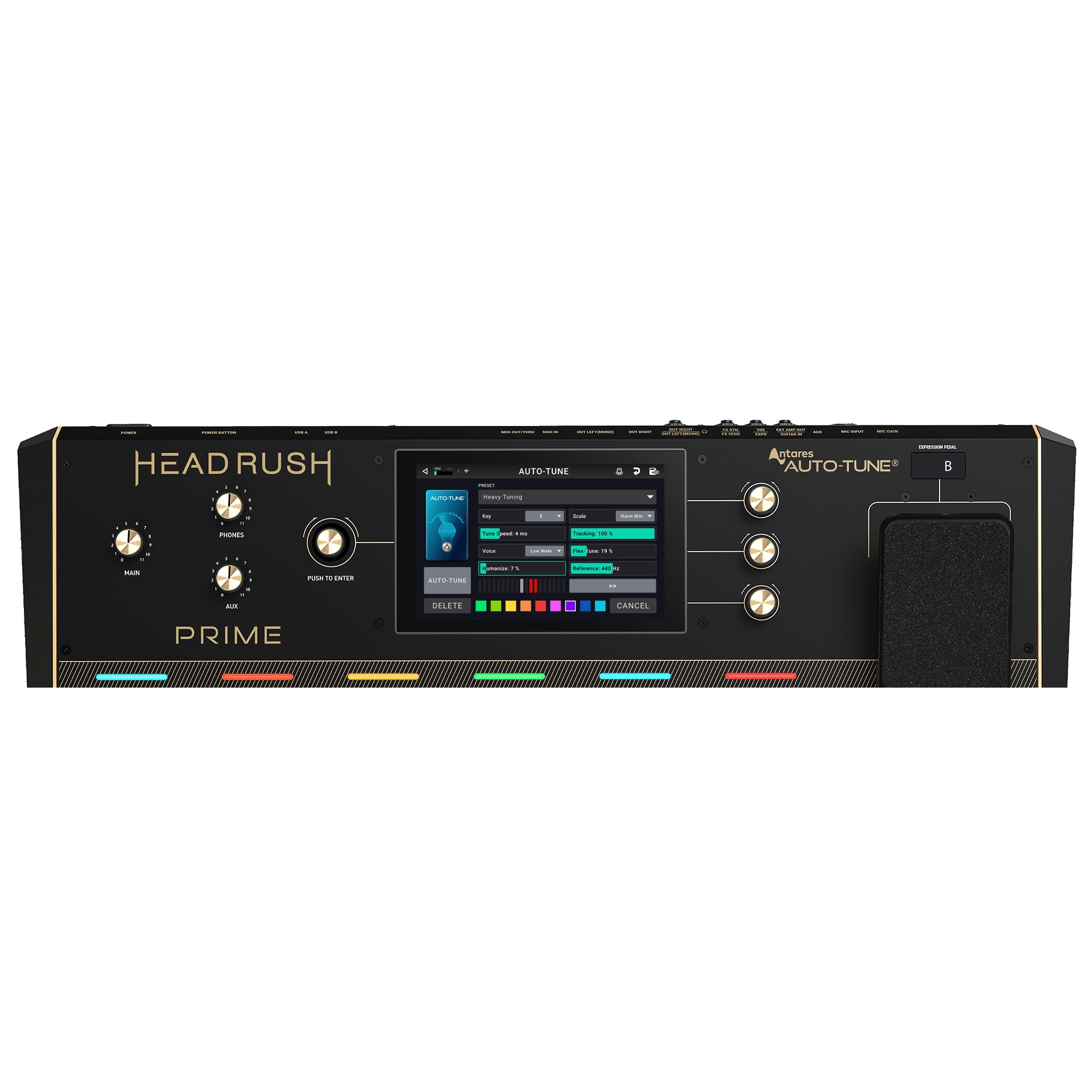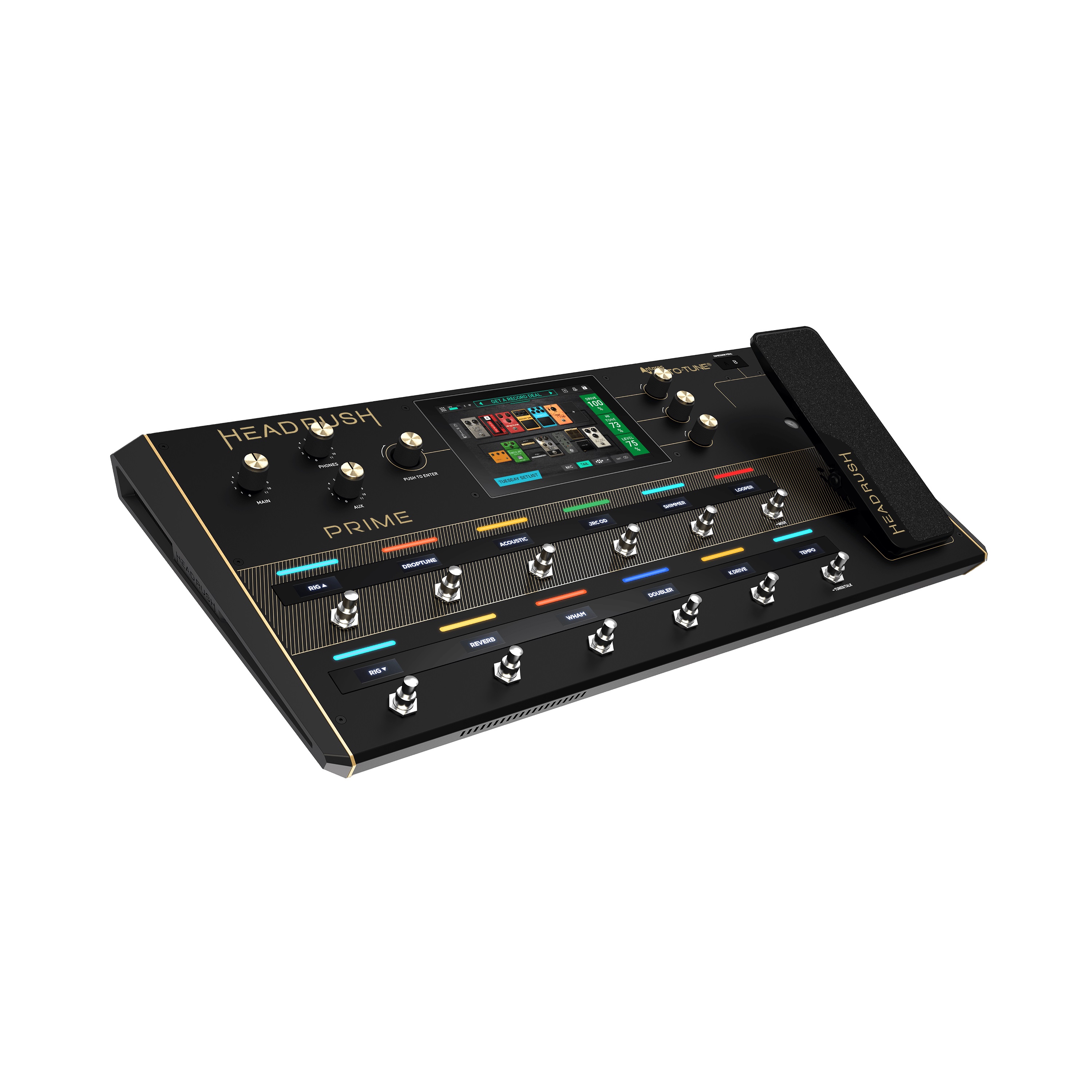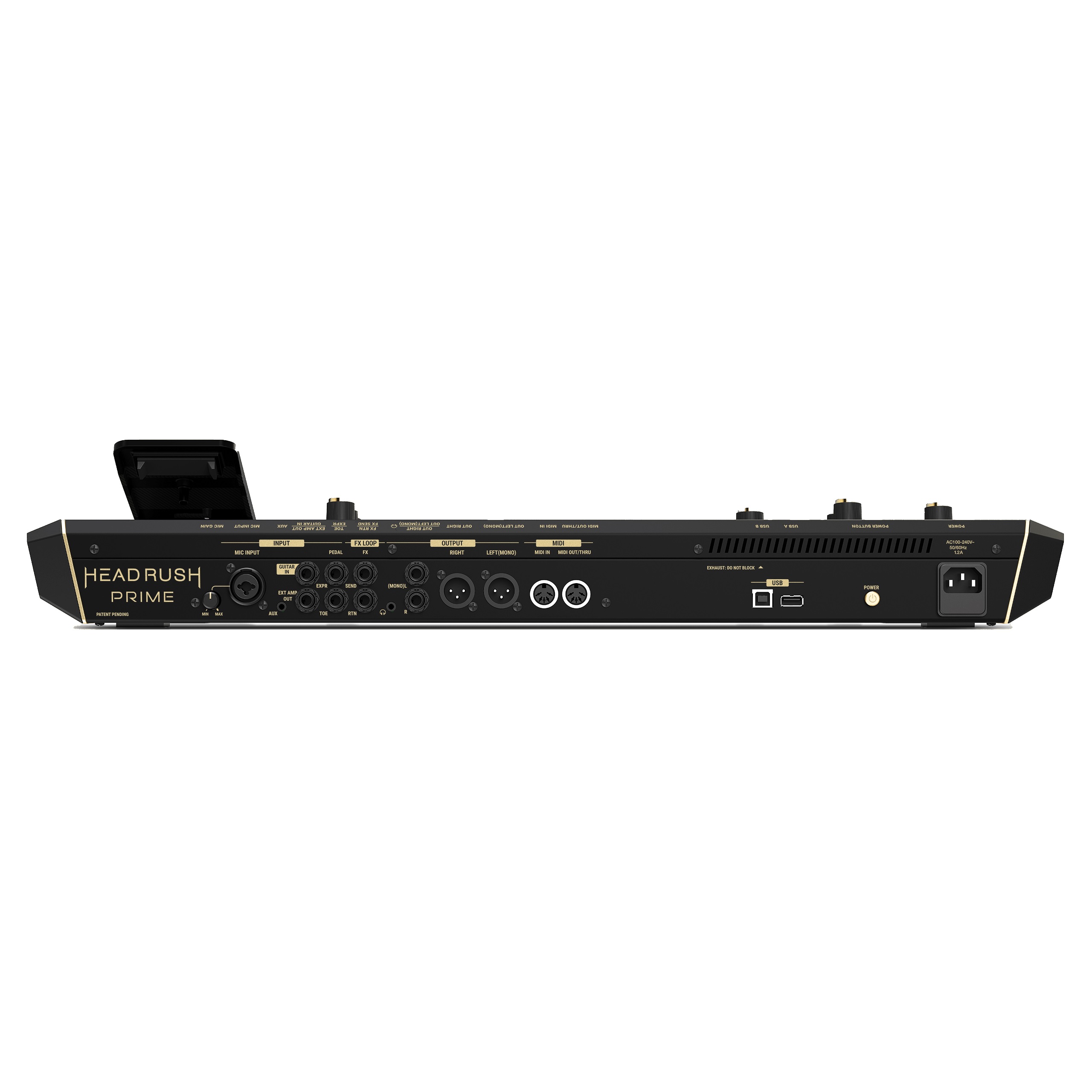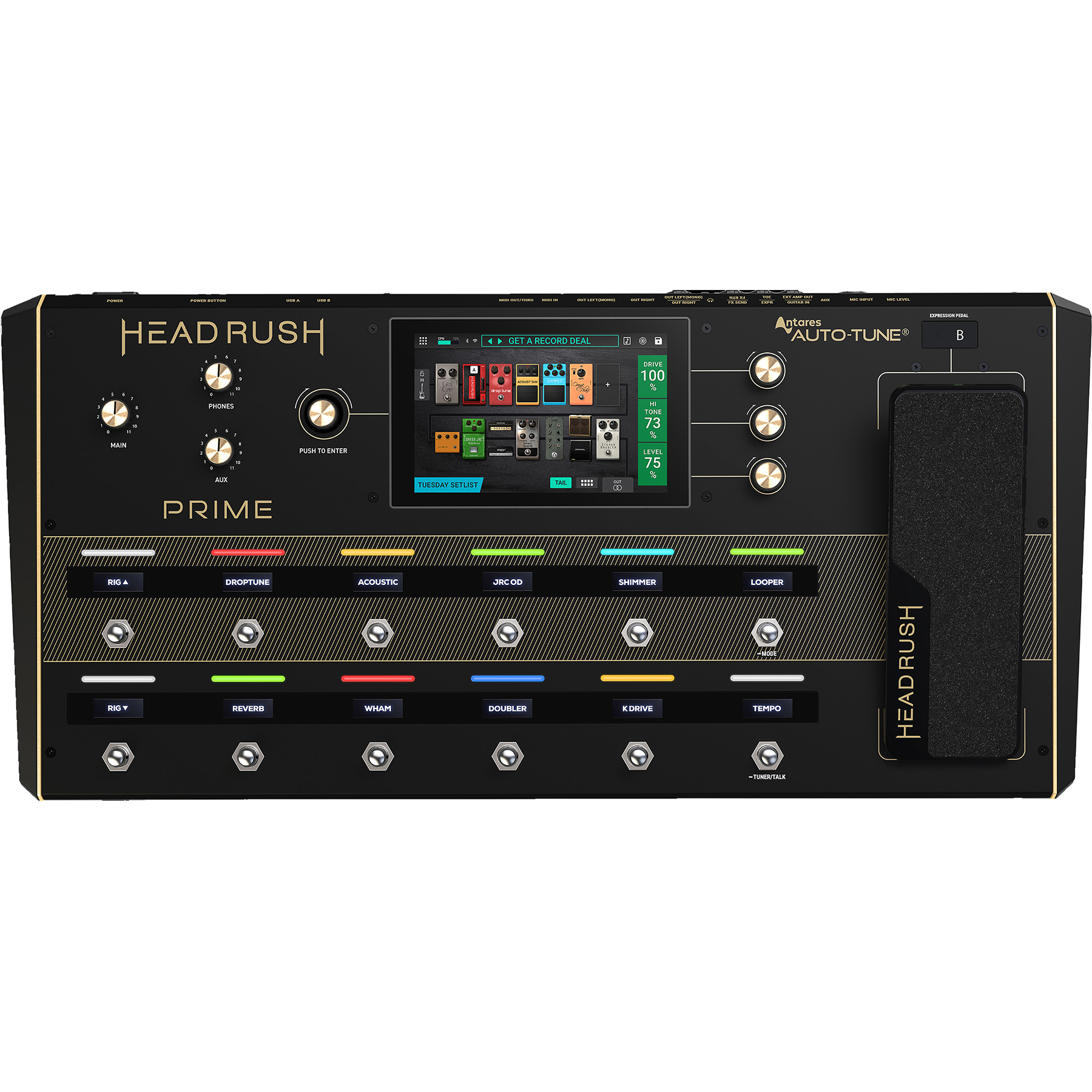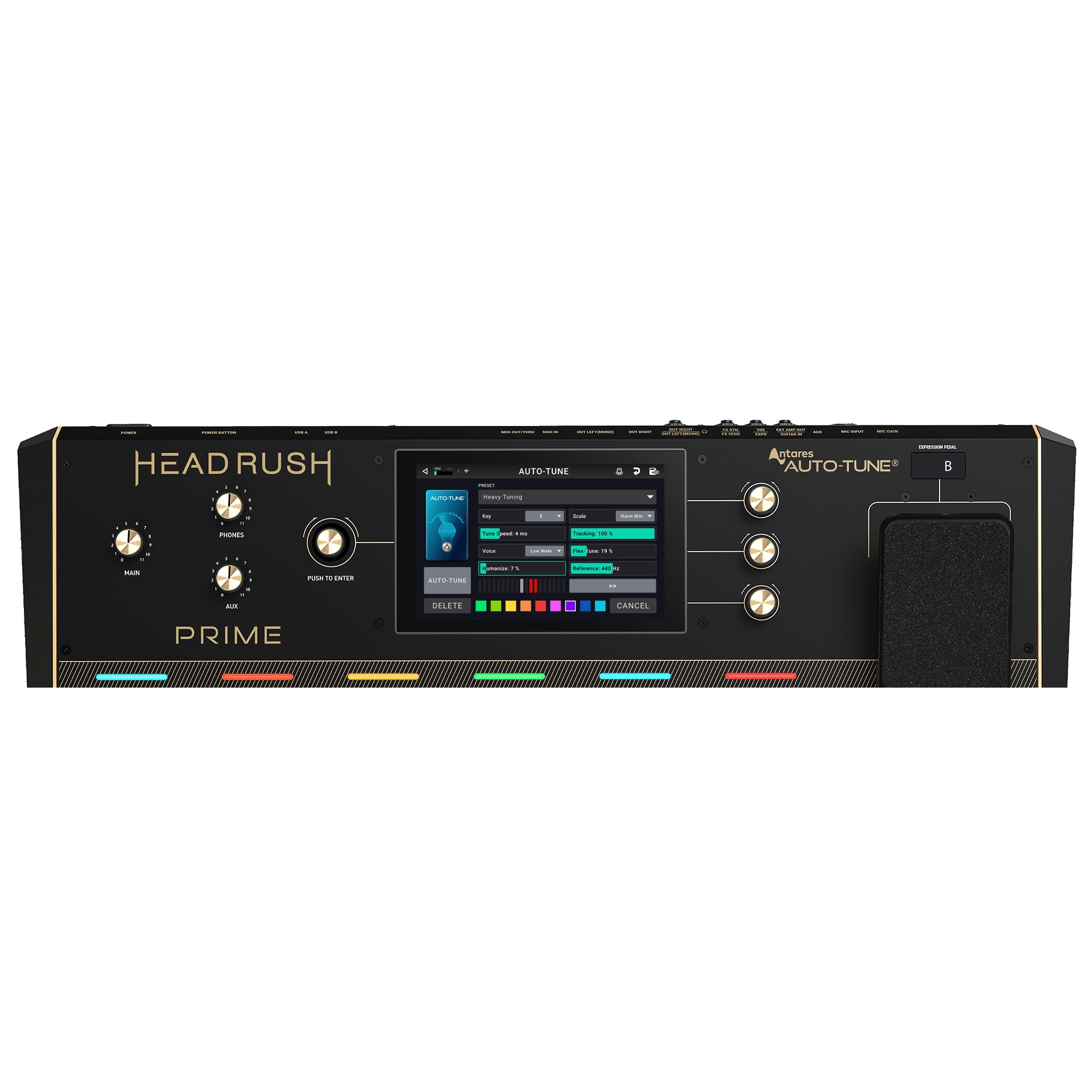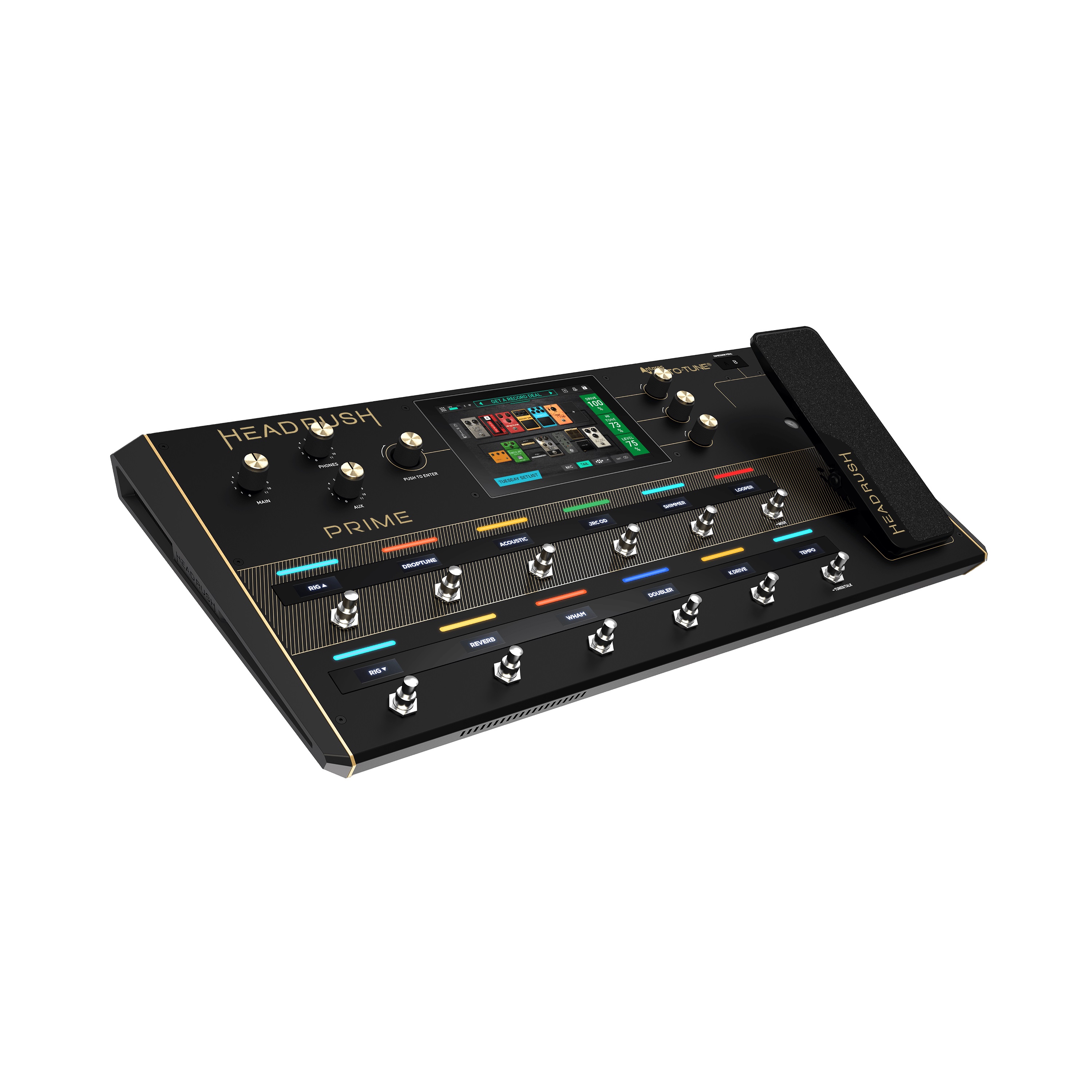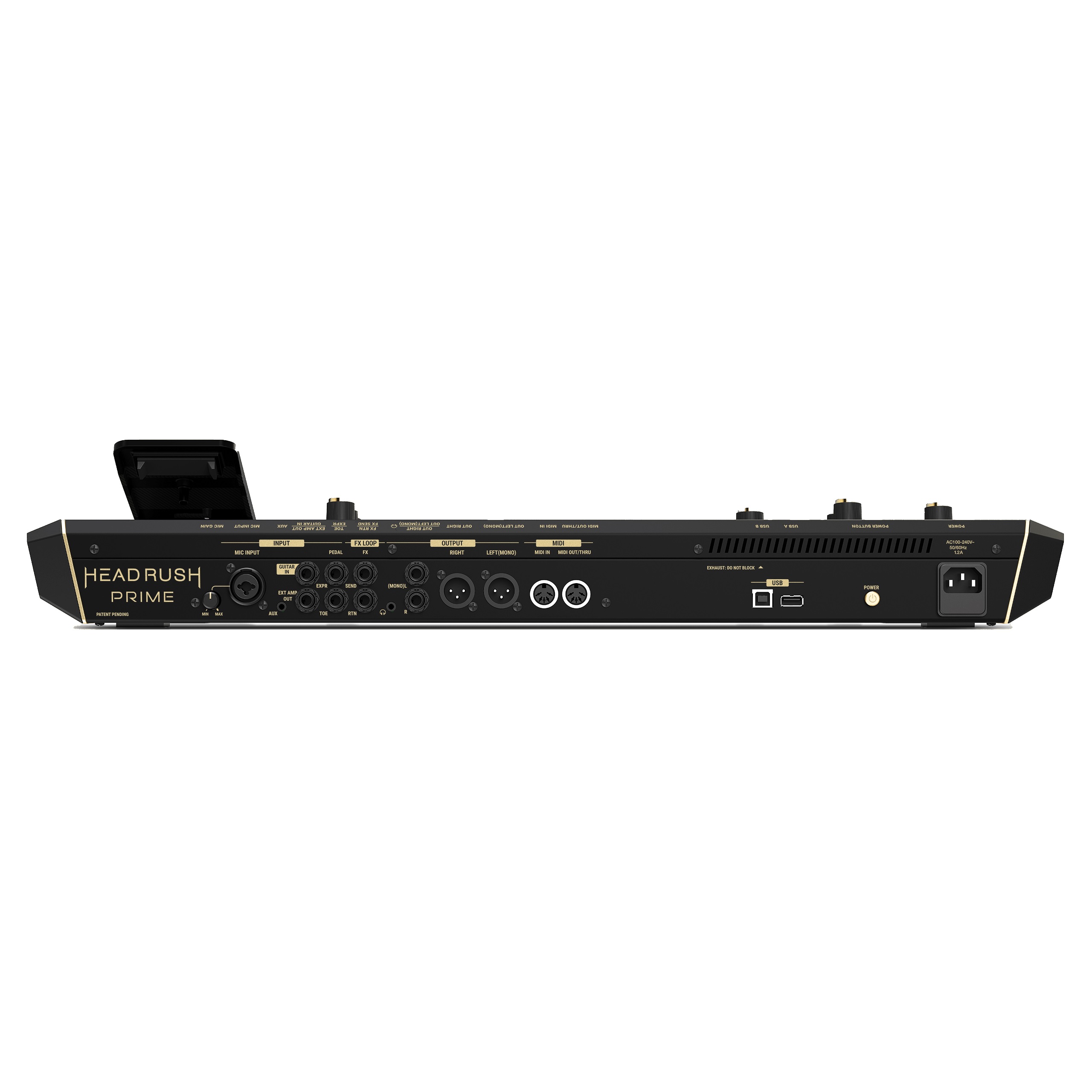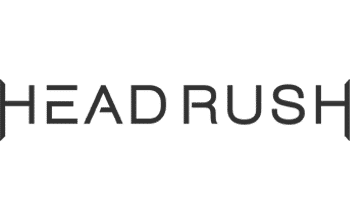 ---
$1350
PRICE DROPPED FROM $1499
---
---
---
Comprehensive Rig Replacement for Solo Performers and Singing Guitarists
Whether you're a solo performer or a guitarist/vocalist extraordinaire, the Headrush Prime's comprehensive array of guitar effects, amp models, vocal processing effects, and performance features condenses your entire rig into a single easy-to-use pedal! This powerful guitar multi-effect box/amp modeler/vocal processor unit has a massive library of guitar effects, amp/cab sims, microphone emulations, vocal effects IRs, and more. The Headrush Prime is genuinely a 1-pedal solution that replaces just about everything in your stage or studio rig, sans your 6-string and voice. Moreover, its library can be endlessly expanded via Wi-Fi connection to the Headrush Cloud, and there's even a cutting-edge amp/pedal/IR cloner to create near-indistinguishable digital copies of your existing hardware. Still, that's only the beginning of the Headrush Prime's all-encompassing feature set: USB audio interface functionality, Bluetooth connection, a 7-inch touchscreen, 12 adjustable footswitches, an onboard looper, expression pedal, and more cement the Headrush Prime as an absolute must-have multipurpose floor processor unit for the musician looking to swap their convoluted stage rig for the sheer simplicity of a single box.
Cutting-edge cloning capabilities
The Headrush Prime is packed to the brim with so many performance features that it can be easy to think of its amp and pedal cloning feature as an afterthought. Simply plug in your preferred device, follow the instructions on the screen, and let the Headrush Prime do the rest. That's it. You'll be rewarded with startingly accurate recreations of your favorite traditional amplifiers, with the ability to swap speaker cabs with custom impulse responses. Lastly, the Headrush Cloud's endless array of user-created clones that can be freely downloaded via Wi-Fi ensures you never run out of inspiring new tones.


Effortless home recording
While the Headrush Prime is a formidable tool for the stage, its onboard 24-bit/96kHz USB audio interface functionality makes it perfect for laying down tracks in your home studio. What's more, the Headrush Prime is just about the perfect re-amping tool: you can easily send your direct tracks out of your computer, through the Headrush Prime's signal path, and then send the finished track back into your DAW. It's an incredibly powerful studio trick that eliminates the need to fully commit to a guitar sound during the tracking stage.


Intuitive 7-inch touchscreen
The core of the Headrush Prime's workflow is its 7-inch touchscreen display, providing you with intuitive access to just about every feature with a swipe, touch, or drag of a finger. From dialing in the most minute parameters of your guitar rig to choosing your ideal vocal mic emulation, this touchscreen allows you to quickly and efficiently explore Prime's possibilities without a deep, manual-heavy learning curve. Plus, the Headrush Prime's five modes of operation (Stomp, Rig, Hybrid, Setlist, Song) tailor the pedal's workflow toward your current needs. Need to take hands-free control? Adjust your preferred parameter using the onboard expression, or glance at the OLED scribble strip to ascertain the current function and status of all 12 footswitches.
Optimize your practice sessions
So, the show's over, and it's time to woodshed your chops for the next gig. Luckily, the Headrush Prime is just as adept in the music room as it is on the stage, sporting both a looper and a suite of practice tools to master any piece of music! Songs can be directly loaded into the Prime via Wi-Fi, then slowed down, looped, or pitched up to maximize the efficiency and potential of your woodshedding sessions. In addition, the onboard looper offers a whopping 5 minutes of loop time to jam over, with 20 minutes of layered audio available. Finally, if you want to incorporate a few atmospheric loops into your live performance or studio tracks, loops can be saved and exported, or you can import custom .WAV files to serve as backing tracks.
Guitar processor and a top-class vocal processor
Right out of the box, the Headrush Prime comes equipped with a studio-grade smattering of guitar amps, cabinets, and effects, all captured with the utmost authenticity and sonic accuracy. It's an endlessly inspiring assortment of digitally modeled 6-string hardware, but what sets the Headrush Prime apart from the highly competitive multi-effect pack? Easy — it's not only a guitar processor, but it's also a top-class vocal processor complete with a comprehensive suite of vocal effects (including Antares Auto-Tune) and microphone emulations to shape your vocal sound.
Headrush Prime Guitar Multi-effect/Amp Modeler/Vocal Processor Unit Features:
-All-encompassing guitar multi-effect, amp modeler, vocal processor, and audio interface all rolled into one, revolutionizing the rigs of solo performers and musicians who share guitar/vocal duties.
-Packed to the brim with exceptionally authentic-sounding amp, cabinet, and microphone models to choose from.
-Extensive array of guitar and vocal effects, including Antares Auto-Tune.
-Onboard amp/effect cloner allows you to make spot-on emulations of your favorite outboard amps, preamps, distortion pedals, overdrive pedals, and fuzz pedals,
-Gapless preset switching allows for reverb/delay spillover across preset swaps.
-Direct Wi-Fi connection to the Headrush Cloud provides an ever-expanding assortment of user-generated clones, easy preset sharing, and custom IRs.
-Wi-Fi streaming music practice feature allows you to slow down, modify the pitch, or loop sections of downloaded songs.
-Bluetooth functionality for connecting to a variety of different mobile devices.
-Cutting-edge custom-designed multicore DSP system, with gapless preset switching for seamless effect swaps.
-Robust steel chassis is more than capable of withstanding even the most challenging road conditions.
-Built-in expression pedal to take hands-free control of your favorite effects.
-12 footswitches with adjustable color LEDS and OLED scribble strip display screens allow you to fine-tune the Prime to your preferred workflow.
-Stereo effects loop is perfect for integrating your favorite hardware pedals into your rig while also allowing for 4 cable method connectivity.
Analog/Digital: Digital
Amp Modeling: Yes
Looper: Up to 5 minutes per loop, 20 minutes total
Inputs: 1 x XLR-1/4" combo (mic/Hi-Z), 1 x 1/4" (Hi-Z), 1 x 1/8" (aux), 1 x 1/4" (return)
Outputs: 2 x XLR, 2 x 1/4", 1 x 1/4" (amp out), 1 x 1/4" (send)
MIDI I/O: In/Out/Thru
USB: 1 x Type B, 1 x Type A
Bluetooth : Yes
Headphones: 1 x 1/8"
Other I/O: 2 x 1/4" (expression/toe)
Expression Control: Built-in Pedal
Features: WiFi Music Streaming