Moog Minitaur Bass Synthesizer
Monophonic Analog Desktop Synthesizer Module with Two Oscillators, Saw and Square Waveforms, and MIDI/CV/USB-MIDI Control Inputs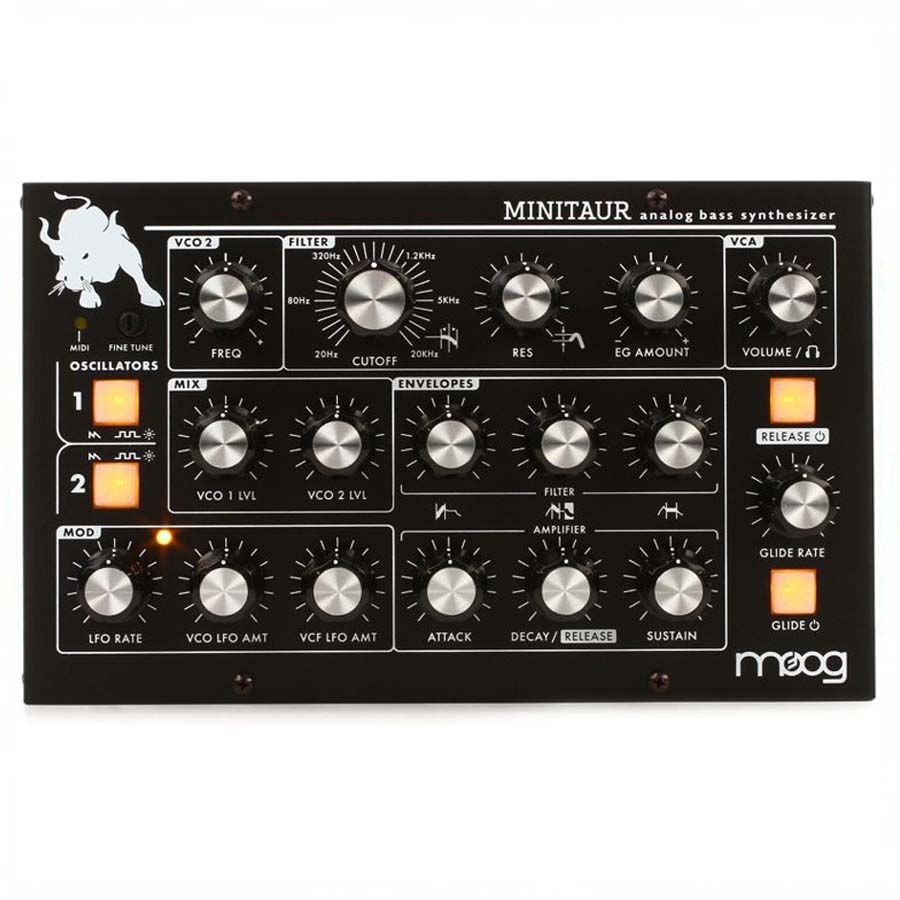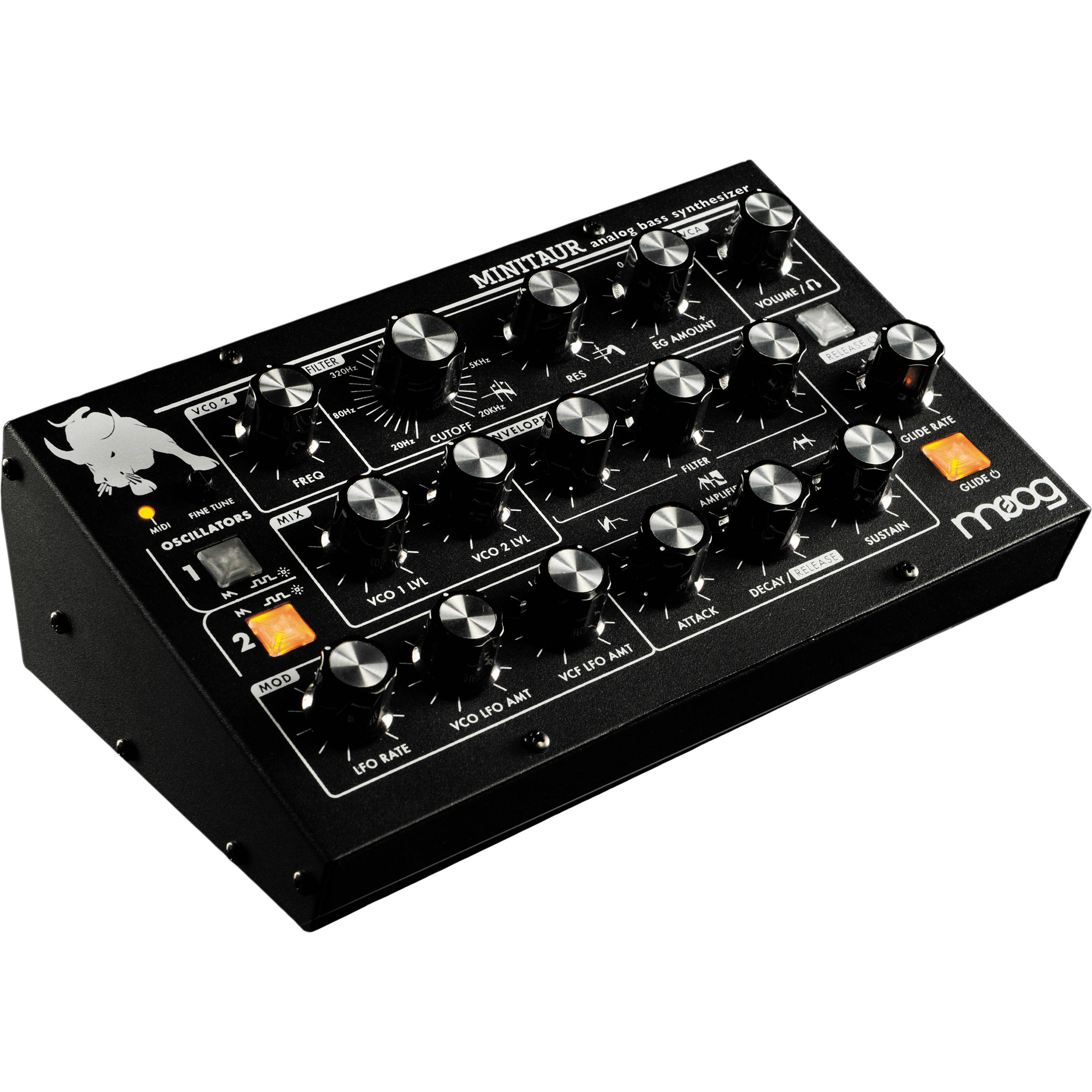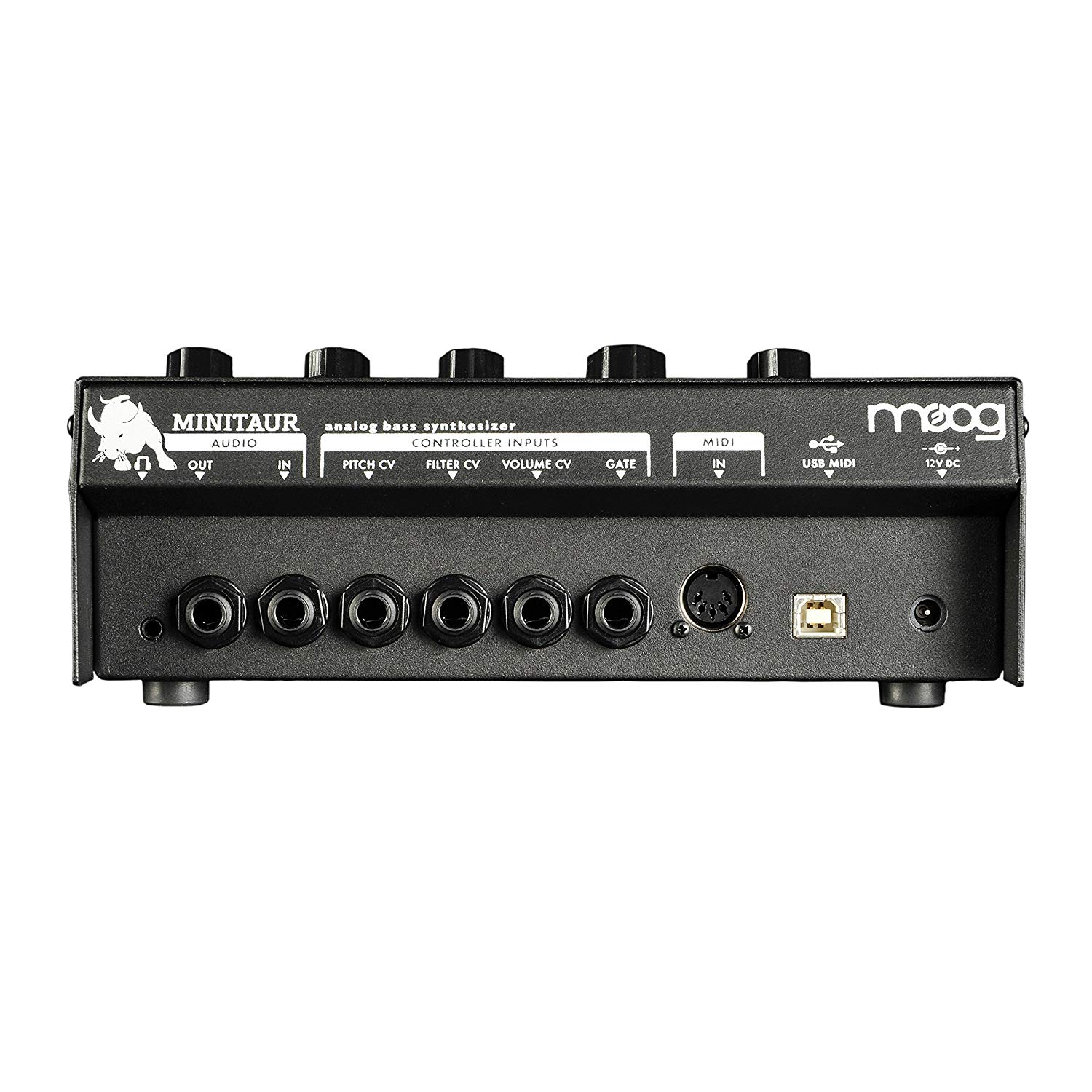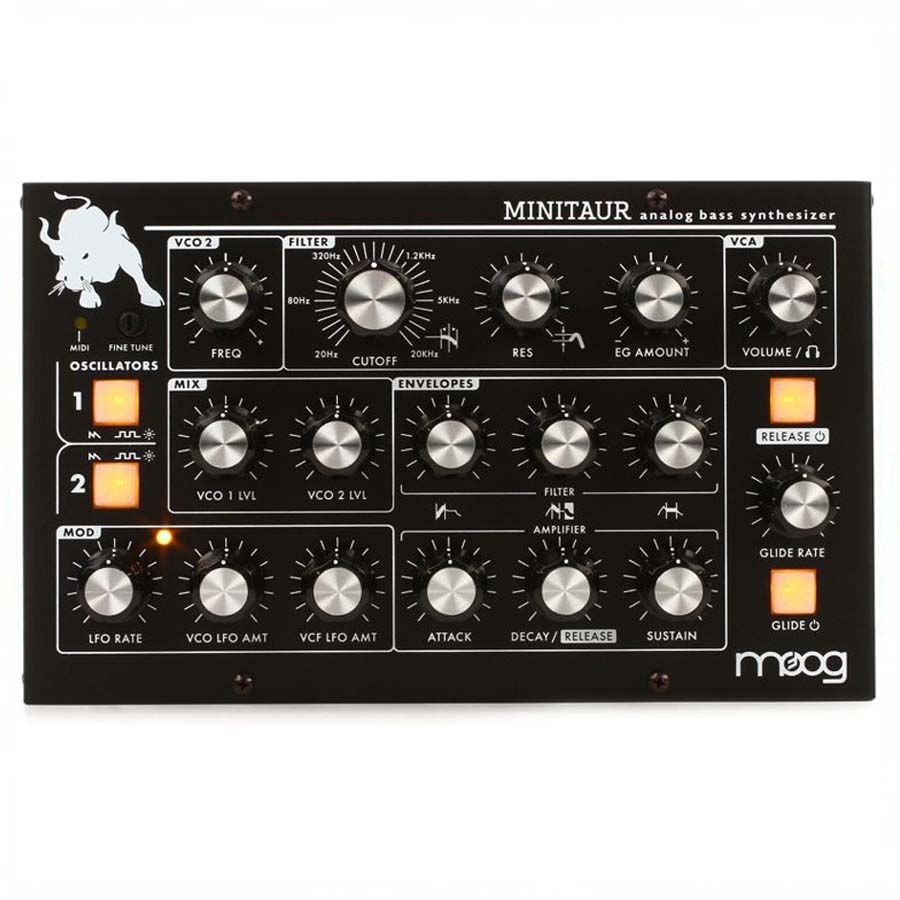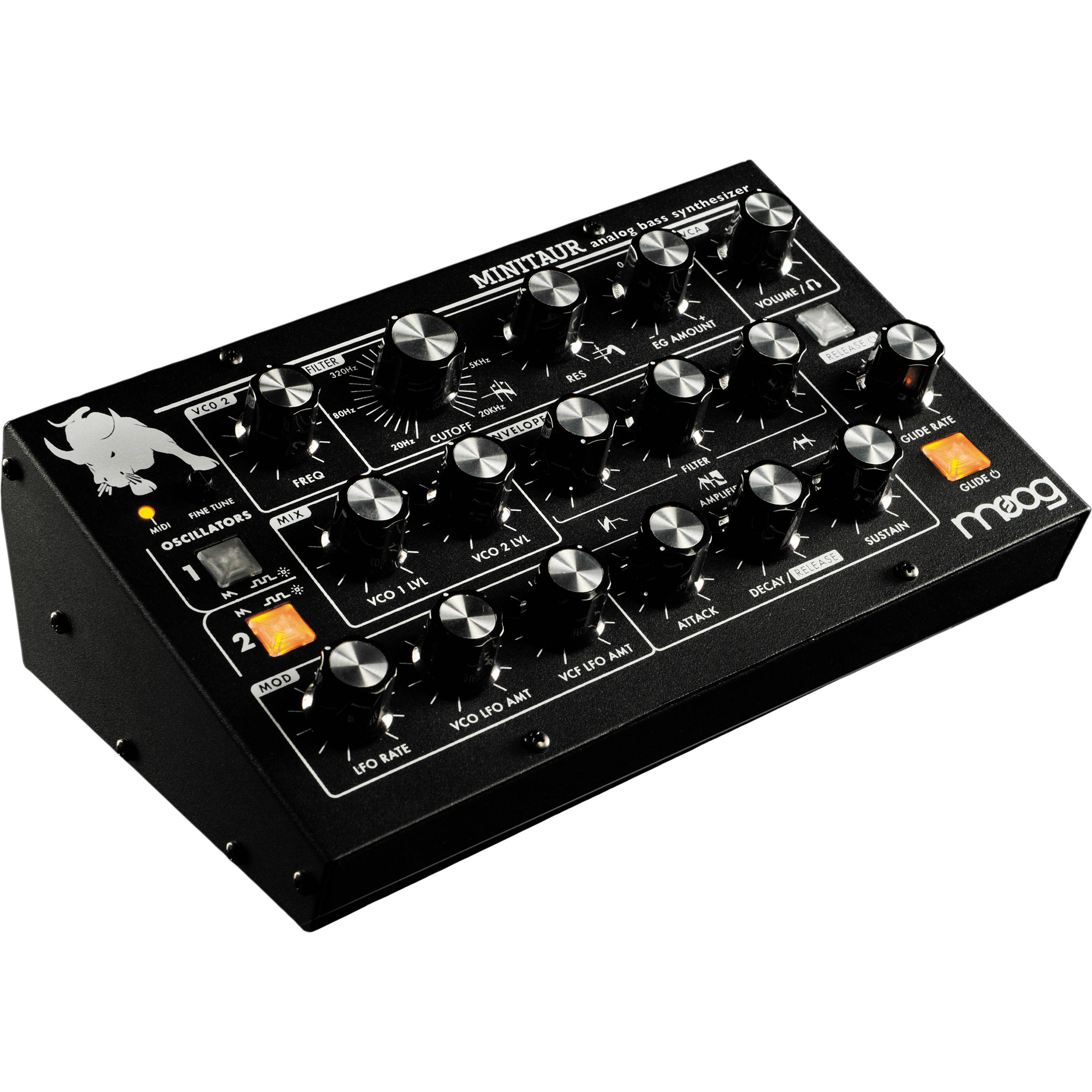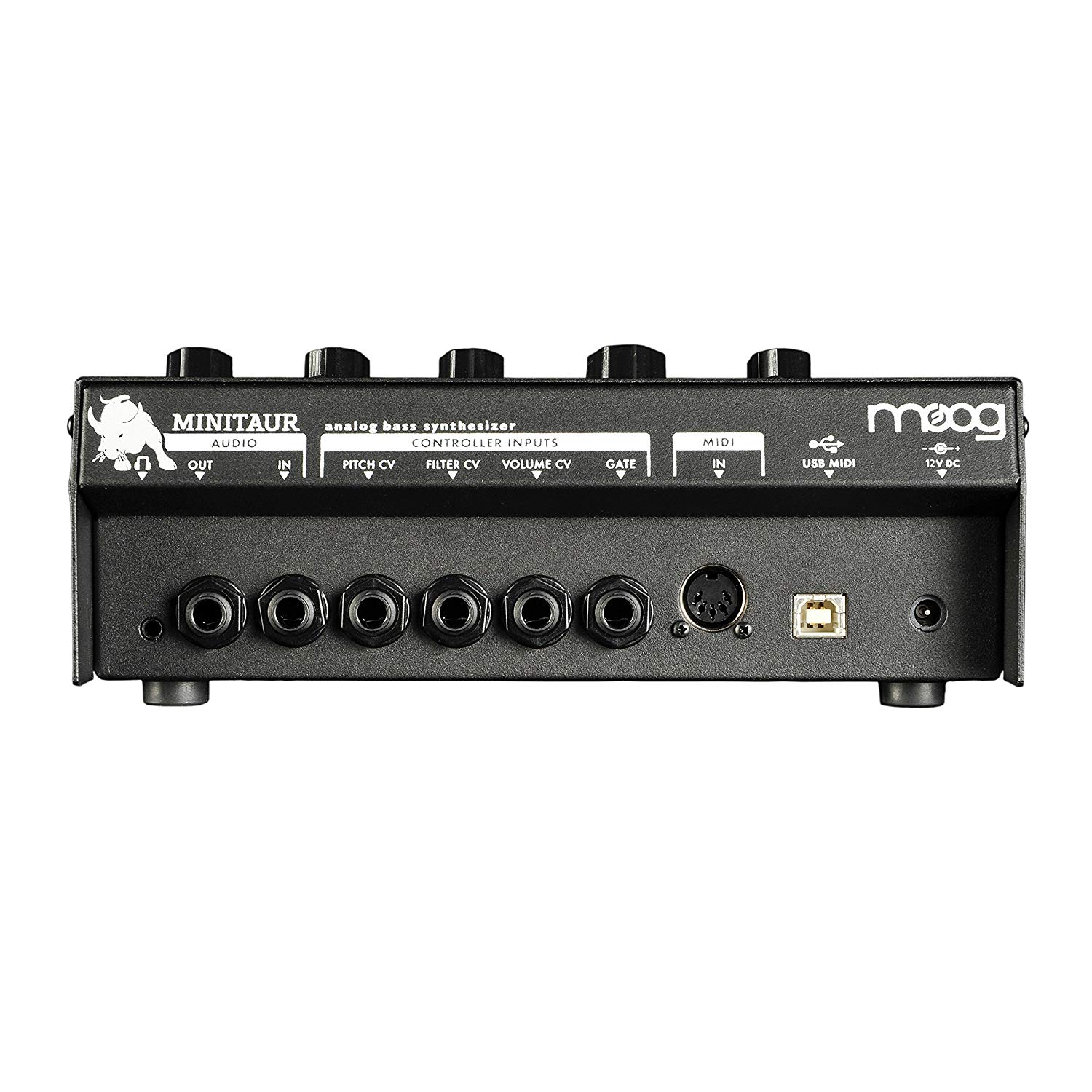 Classic Moog Analog Synth Mojo Goes Mini!
The Moog Minitaur analog synth module is the ultimate bass module for any analog synth nut! The Minitaur is a freakishly powerful yet compact tabletop analog bass synthesizer module based on Moog's widely popular Taurus 3. It gives you the full convenience of both MIDI and CV control, yet its monophonic audio signal path is 100 percent analog. If you love to tweak your sounds, then you're going to feel right at home with the Minitaur. It gives you complete hands-on control over every aspect of your sound. There are no screens to squint at or menus to lumber through - just a knob-and-button playground that's totally intuitive. Between its oscillators, envelopes, and other analog goodies, the Minitaur provides you with the whole range of Taurus bass tones. And thanks to its compact design, the Minitaur is the perfect addition to your studio or live keyboard rig. Whether you perform live electronic music or create new soundscapes in your studio, you'll love creating sounds with the Moog Minitaur analog synth module!
Moog Minitaur Analog Synth Module at a Glance:
Classic analog synth vibe from Moog
The most portable Moog ever
Extensive control via MIDI or CV, plus audio input
Software editor for real-time editing and more
Classic analog synth vibe from Moog
Moog synthesizers have created some of the most iconic sounds in modern music, from ground-swelling bass sounds to ripping lead sounds and beyond. The Minitaur analog synth module gives you two oscillators with square and sawtooth waveforms, and the legendary Moog filter section - all you need to create blistering analog synth sounds with classic Moog character. The Minitaur's one-knob-per-function layout makes creating and tweaking unique sounds on the fly easy.
The most portable Moog ever
The compact design of the Minitaur analog synth module makes it an exceptional addition to any live performance rig or DJ setup. You can trigger the analog goodness of the Minitaur via MIDI (from your controller keyboard or sequencer), or via CV inputs (from other CV-equipped synth gear), so it's easy to integrate into your existing system. The Minitaur's sound is huge, but the synth module itself is the perfect size to fit in a backpack or laptop bag.
Extensive control via MIDI or CV, plus audio input
Control Moog's Minitaur from an external keyboard controller, from your computer's sequencer, from another analog synth, or virtually any other MIDI- or CV-capable device. You'll love the Minitaur's huge analog sound as soon as you start turning knobs, but the your sounds really come alive when you hook up external controllers to the Minitaur for creative modulation. And speaking of creative potential, you can even route external audio through the Minitaur's filter and modulation sections - results may vary from subtle to other-worldly!
Software editor for real-time editing and more
The Minitaur Plugin and Standalone Editor controls real time editing, preset library management, preset sharing, and host DAW integration. Powerful under-the-hood features are also easily accessed and controlled from this application. The Minitaur Editor can be run standalone or is compatible with DAWS running VST, AU, RTAS, and AAX formats.
Moog Minitaur Analog Synth Module Features:
Compact analog synth module in a compact design that's ideal for live performance and portable production
Dual-oscillator design with classic Moog filter section create legendary synth sounds
New in Rev 2: Store 100 presets to Minitaur's internal memory
New in Rev 2: Independent control of Decay and Release times from front panel
New in Rev 2: Pitch, Volume and Gate Controller inputs can be re-mapped to other control parameters
New in Rev 2: Can now act as a CV to MIDI converter
Control via MIDI, CV, or USB
Sawtooth and square-wave oscillator waveforms are perfect for creating bass, lead, and effects sounds
Heavy-duty construction lets you transport and perform with the Minitaur with confidence
Ideal for live performance, recording studios, and synthesis education