M-audio Code 61 keyboard black
61-note MIDI Keyboard Controller with Aftertouch, 16 Backlit Drum Pads, 9 Faders, 8 Encoders, XY Pad, Expression Pedal Input, and Bundled Software - Black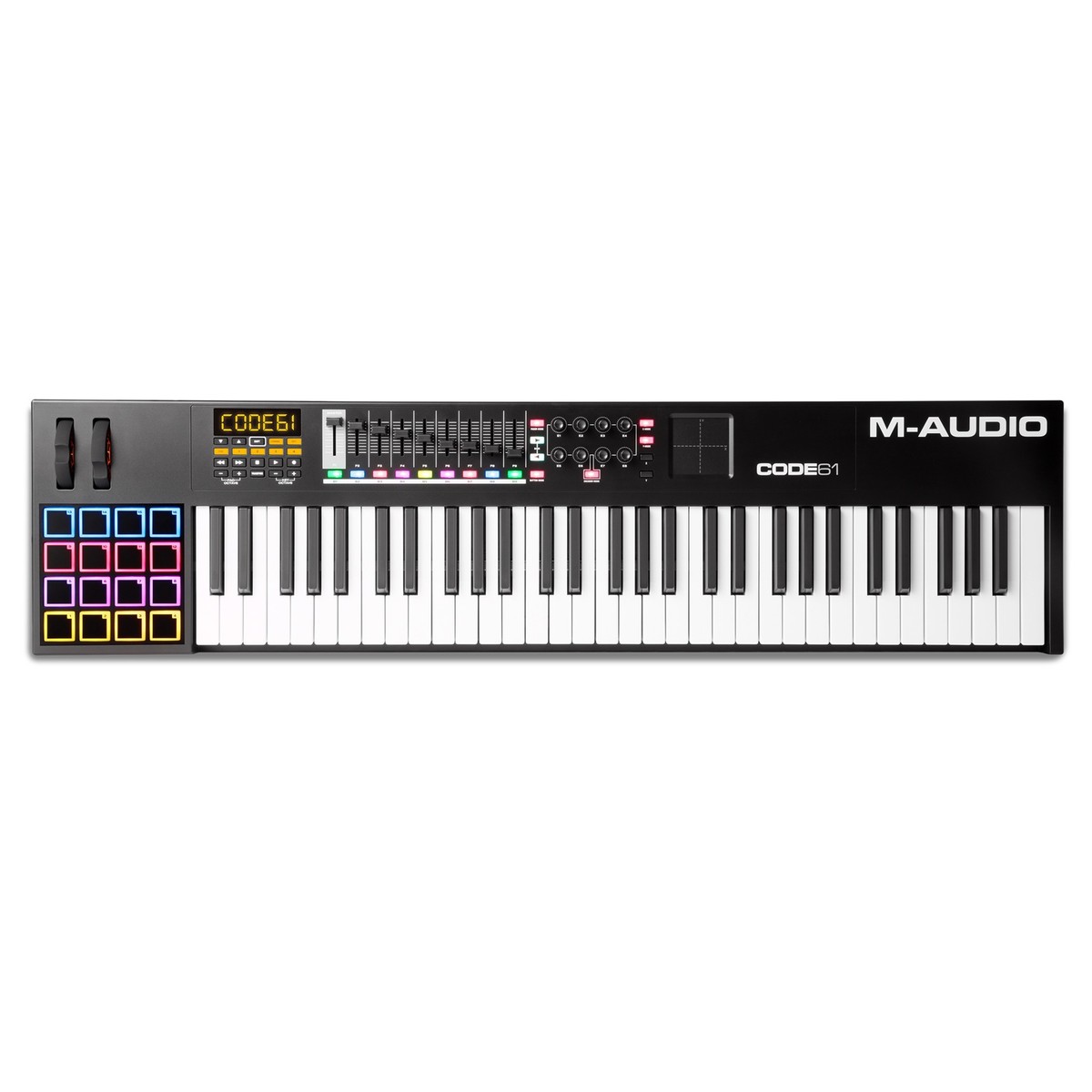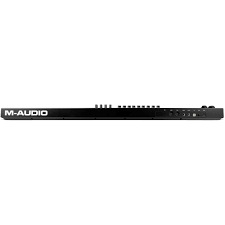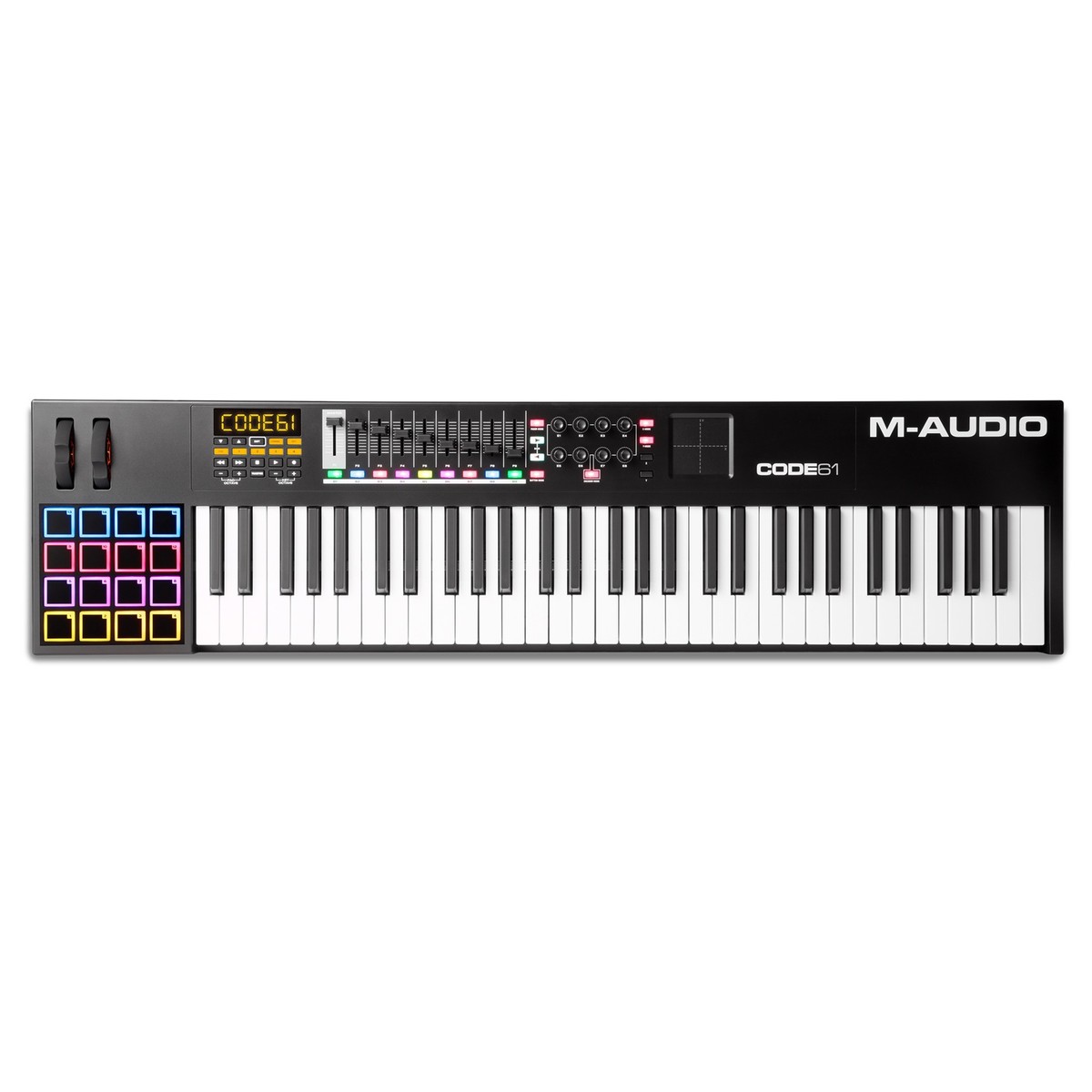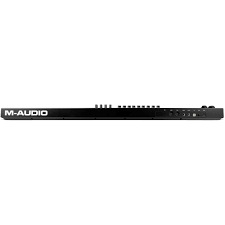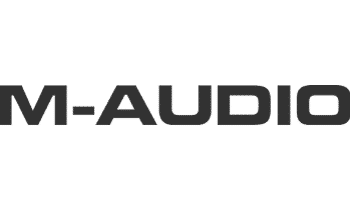 ---
OUT OF STOCK!
---
---
The Control You Need
Take full command of your DAW with the M-Audio Code 61 MIDI keyboard controller. The Code 61 rocks a buttery 61-note semi-weighted keybed with aftertouch, 16 assignable backlit drum pads, an XY pad, nine faders, and eight rotaries. There's also a 6-digit LED display, so you're never in the dark, status-wise. Of course, there's a sustain pedal input, but you also get an expression pedal input, so you can filter sweep those massive 2-handed chords. Factor in the bundled software and striking Mondrian-esque visuals that'll look great onstage, and you've got a winning package. Sweetwater understands: you need control! You've got it — with the M-Audio Code 61.
This keyboard feels incredible
The M-Audio Code 61's semi-weighted keybed is first-class; professional all the way. Designed to feel like an instrument rather than a computer peripheral, these keys communicate musical expression to your DAW with an ease you never thought possible. That's always been the challenge with MIDI and computer-based music creation — and the Code 61 attacks it head-on. Of course, no pro keyboard controller is complete without aftertouch, and the Code 61 has it. So go ahead and lean into the last note of that smokin' lead line and give it some tasty vibrato.
Enjoy complete control
In addition to the superb keyboard, the M-Audio Code 61's multifunction, backlit drum pads let you roll beats, warp arpeggios, launch clips in Ableton, and curb the potential for mayhem that lurks beneath the surface of every complex DAW setup. Code 61's controls offer Mackie Control and HUI modes, and the buttons are assignable to macro ASCII commands, letting you use your favorite DAW macros at the push of a button. And you can mix and match modes — the XY pad, for instance, can concurrently run Mackie Control on one axis, and HUI on the other! With immediate access to your DAW's transport, mixer, and plug-ins, you'll enjoy increased productivity and focus, resulting in better music. And that's something we can all get behind.
Craft sophisticated Virtual Instrument rigs with Akai VIP3
The difference between a cool MIDI controller keyboard and a full hybrid keyboard workstation is Akai VIP3. This third-generation version of Akai's Virtual Instrument Player software is a masterpiece of workflow management. It lets you load up just about any VST plug-in and combine up to eight virtual instruments plus effects into sophisticated arrangements with key zones, splits, and custom mappings — exactly what you'd expect from a standalone workstation. What's more, there's an ever-growing list of plug-ins that automatically map to your controller, but thanks to VIP3's MIDI Learn function, you can map any plug-in with any controller in any way you like. Run it as a standalone platform or use it as a plug-in in your favorite DAW. Either way, VIP3 will revolutionize the way you approach virtual instruments.
Works with all major DAWS
The M-Audio Code 61 works with all major DAWs, plug-in instruments, and effects. Its comprehensive controls automatically map to popular DAWs such as Ableton Live, Apple GarageBand, Apple Logic, Pro Tools, and Steinberg Cubase, so you're ready to rock, right out of the box. Code 61 ships with a comprehensive software package that includes Ableton Live Lite and AIR Music Technology's Loom and Hybrid 3 virtual synths.
Semi-weighted keybed with aftertouch and 4 assignable zones
16 fully assignable backlit drum pads
XY pad
USB bus powered for portability and ease of use
5-pin MIDI I/O for control of your favorite hardware synths
Fully assignable controls with Mackie Control and HUI modes
Buttons are assignable to macro ASCII commands
Expression and Sustain pedal inputs
6-digit LED display
Integrates closely with Akai's VIP3 virtual instrument workstation software/plug-in
Comprehensive software package includes Ableton Live Lite, AIR Music Technology Loom, and more