Ibanez Jumpstart IJSR190U Bass Pack
4-string Electric Bass Pack with GSR190 Bass, 10W Solid-state Amp, and Accessories - Walnut Sunburst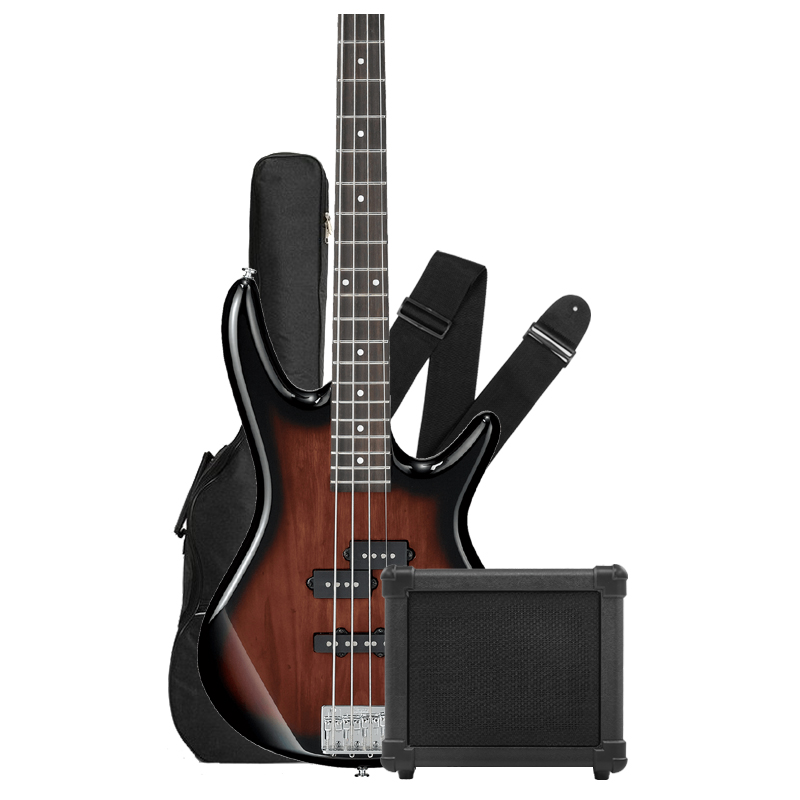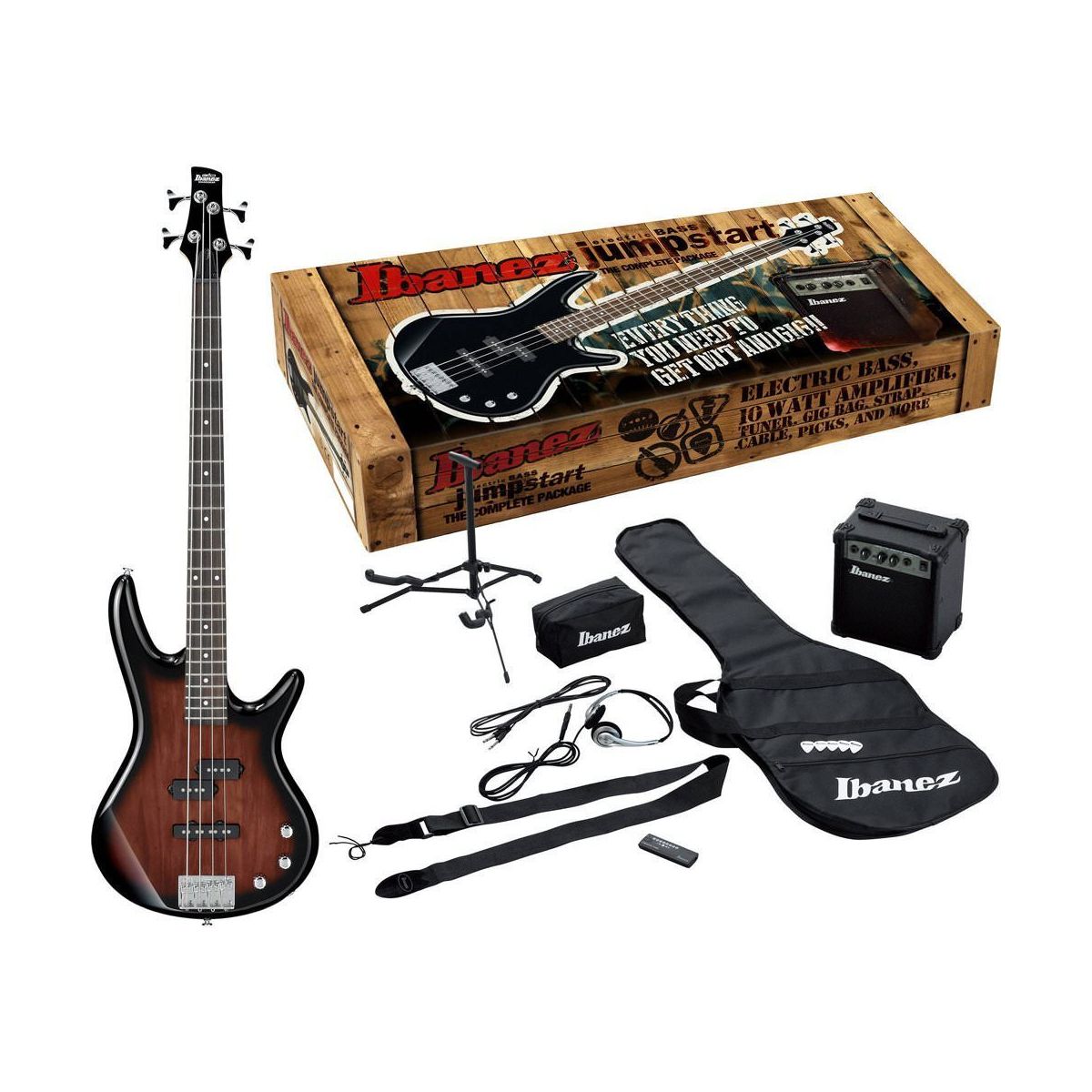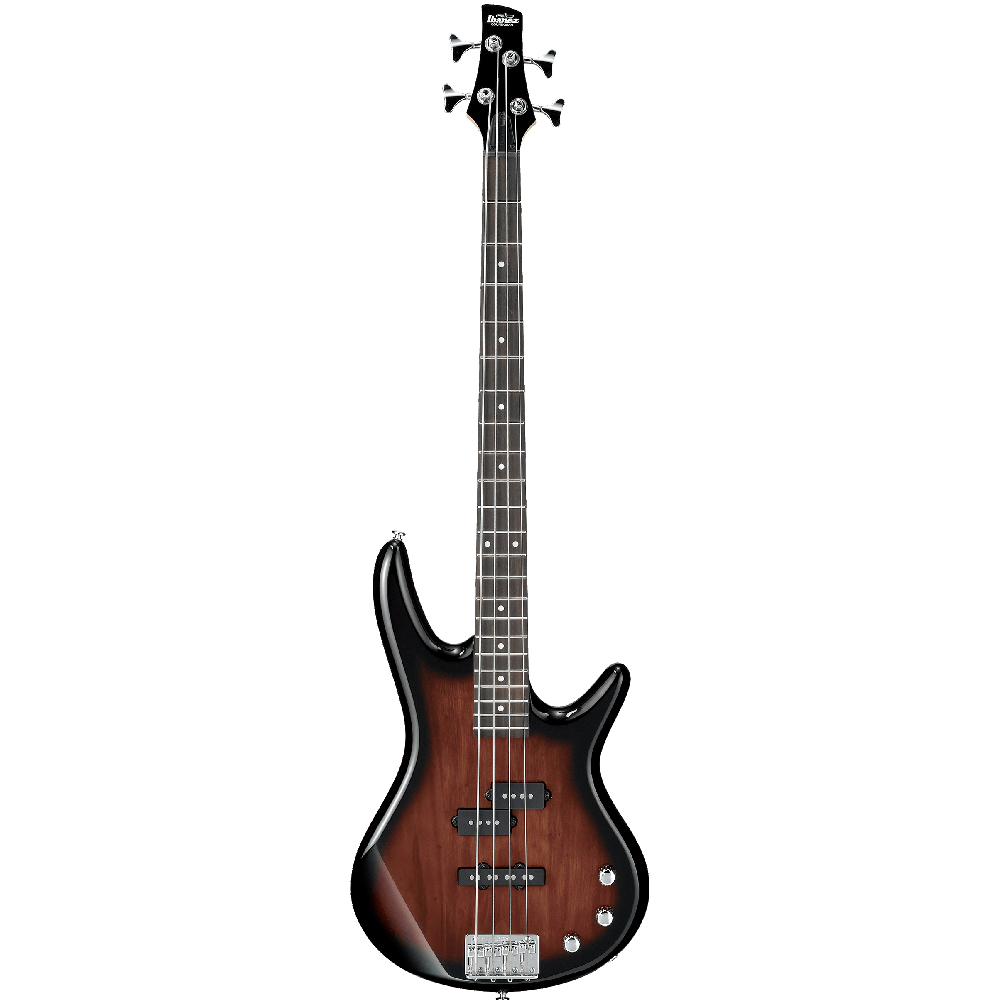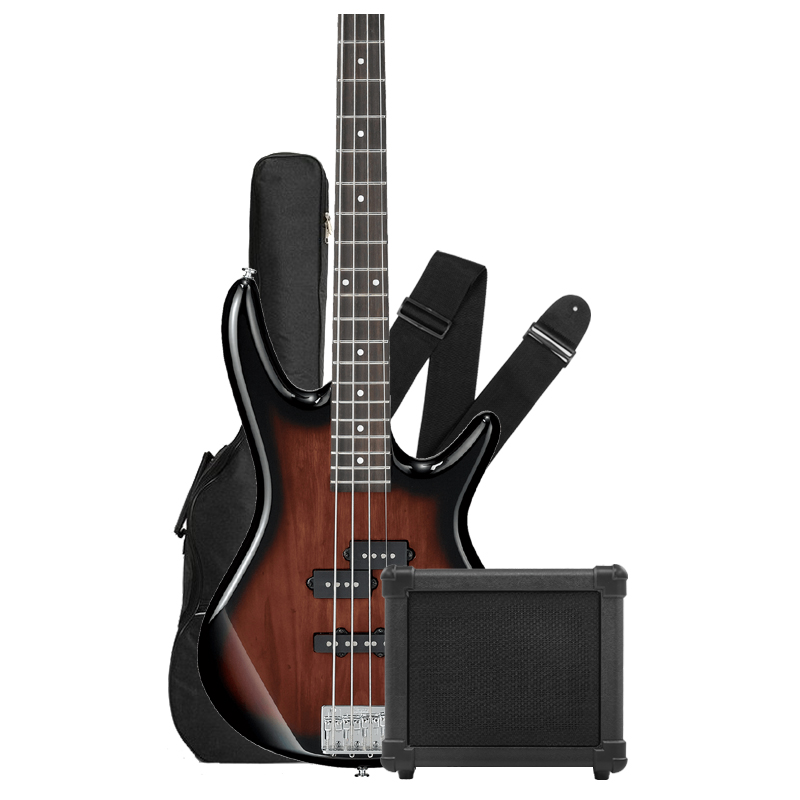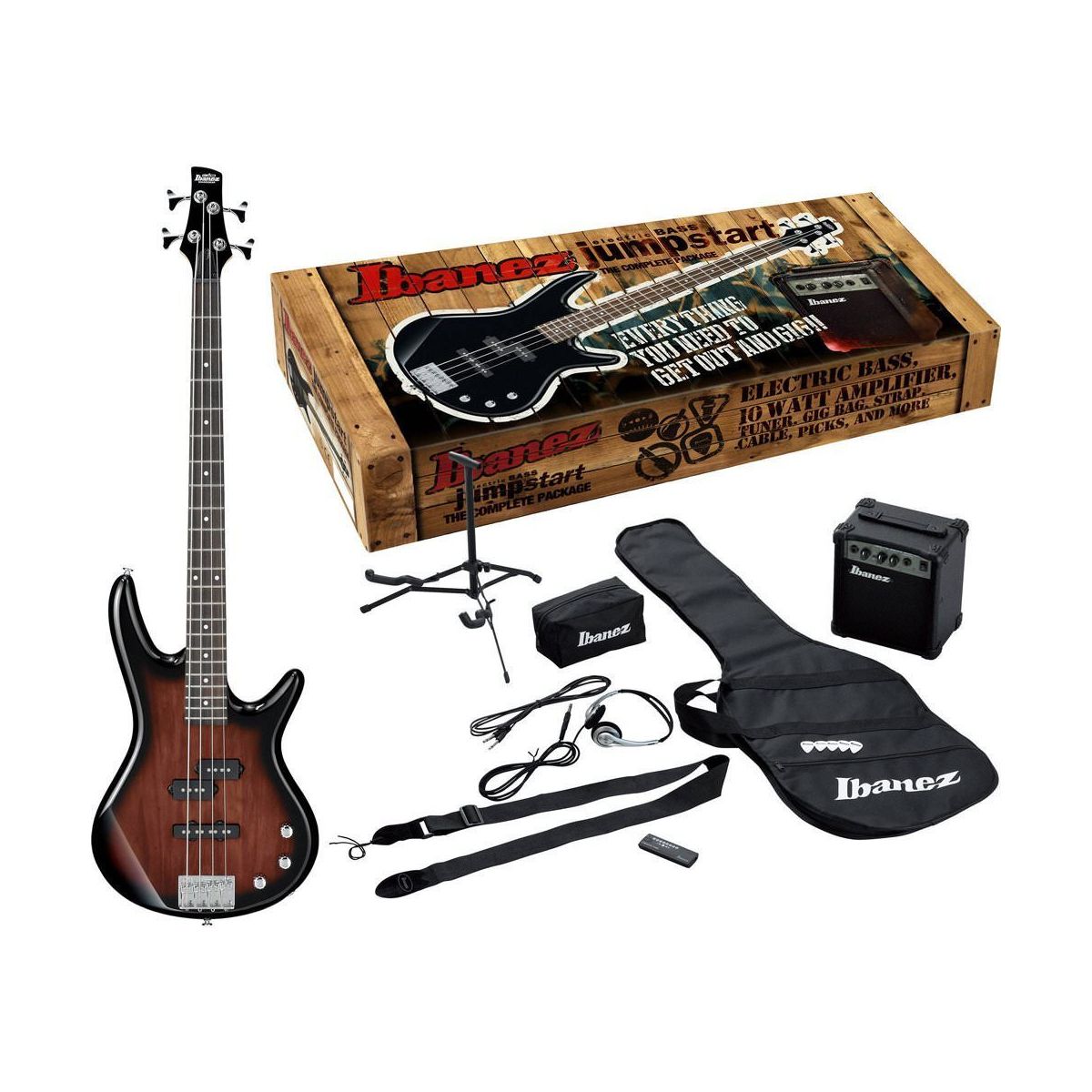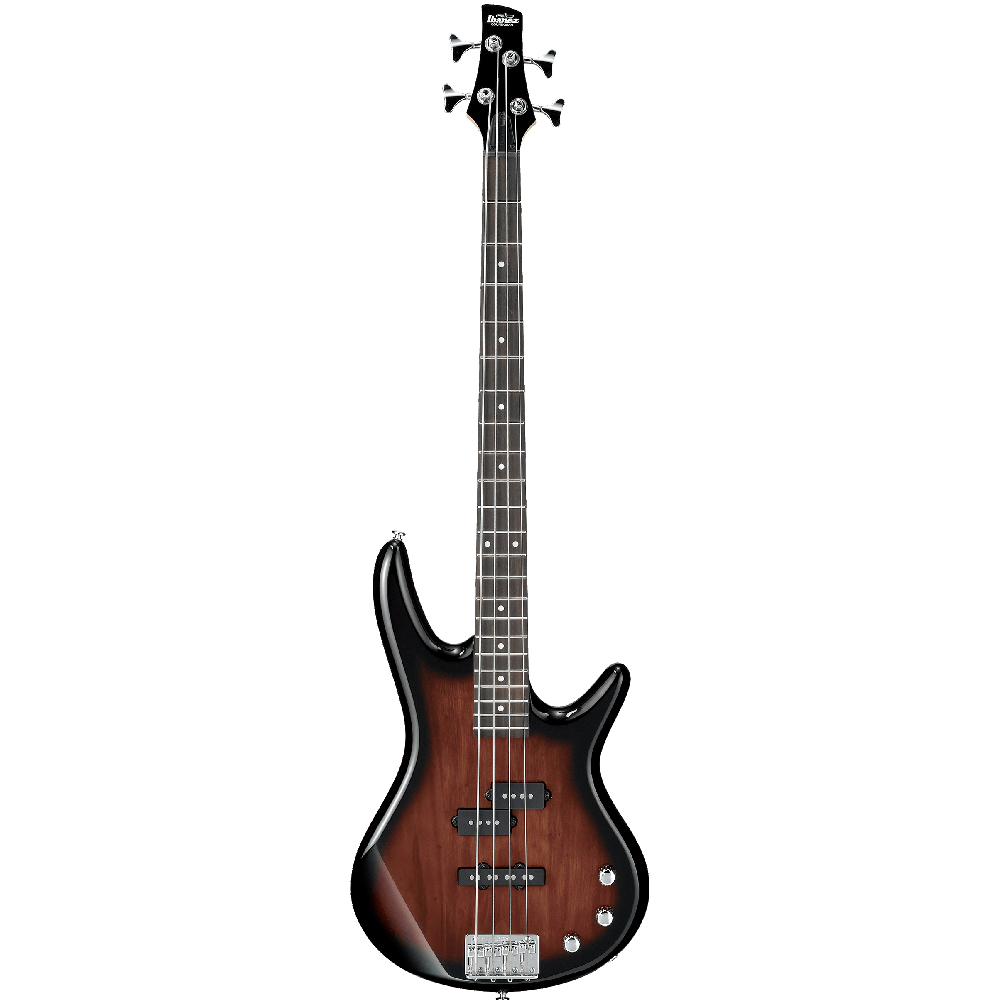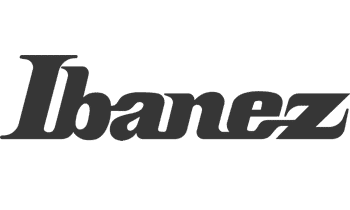 ---
$499
PRICE DROPPED FROM $550
---
---
---
A Great Way to Learn the Bass-ics!
The Ibanez IJSR190N Jumpstart Bass Pack is your perfect entryway into the world of holding down the low end! In this value-packed bundle, you get an Ibanez GSR190 bass that's built to play — it features a GSR4 neck for fast fretting; a poplar body providing fat, warm tones; and a pair of pickups in a P/J configuration for a wide variety of sound options. Eye-catching chrome hardware rounds out the appointments. To amplify your bass, the IJSR190N Jumpstart pack offers a 10-watt amp that's great for practicing or even an intimate performance. A strap, an electronic tuner, a gig bag, and an instrument cable round out the package. If you've been wanting to get into bass, the IJSR190N Jumpstart Bass Pack is the place to start!
Quality woods and punchy-sounding electronics
The Ibanez GSR190 bass is made from lightweight and resonant poplar. Ultra-strong maple is used for the neck; the purpleheart fretboard feels sleek and smooth while providing a full sound. A pair of passive pickups generate the classic bass tones you want and need. Among Sweetwater bassists, the P/J pickup arrangement (as featured on the GSR190) is one of the most popular electronics layouts. The middle-position split-coil delivers fat, warm tones that are complemented by the upper-midrange growl of the single-coil at the bridge. The GSR190 sports volume controls for each pickup (as well as a master tone control), letting you dial in your ideal signature tone.
The perfect bass amp for practicing
The Ibanez IJSR190N Jumpstart Bass Pack includes a 10-watt solid-state bass amp. It has the perfect volume for low-level practicing around the house. The built-in headphone output is great for late-night rehearsals. Popping over to a friend's house for a jam session or musical collaboration? With its compact size, this amp is easy to tote.
All the accessories you need to get started
On top of the GSR190 bass and 10-watt amp, the Ibanez IJSR190N Jumpstart Bass Pack outfits you with all the basic accessories you'll need to begin your bass playing journey. You get a gig bag, a high-quality strap, an electronic tuner that clips right onto the headstock of your bass, and a shielded instrument cable.
An all-in-one bass and amp package for beginners
Poplar-bodied bass with maple neck and purpleheart fretboard
P/J pickup configuration for big bass tones
10-watt bass amp and electronic tuner to get you playing immediately
Also includes a strap, hex wrench, and shielded instrument cable