Blue Microphones Spark SL Blackout
Large-diaphragm Cardioid Condenser Microphone with Shockmount and Wood Storage Box - Blackout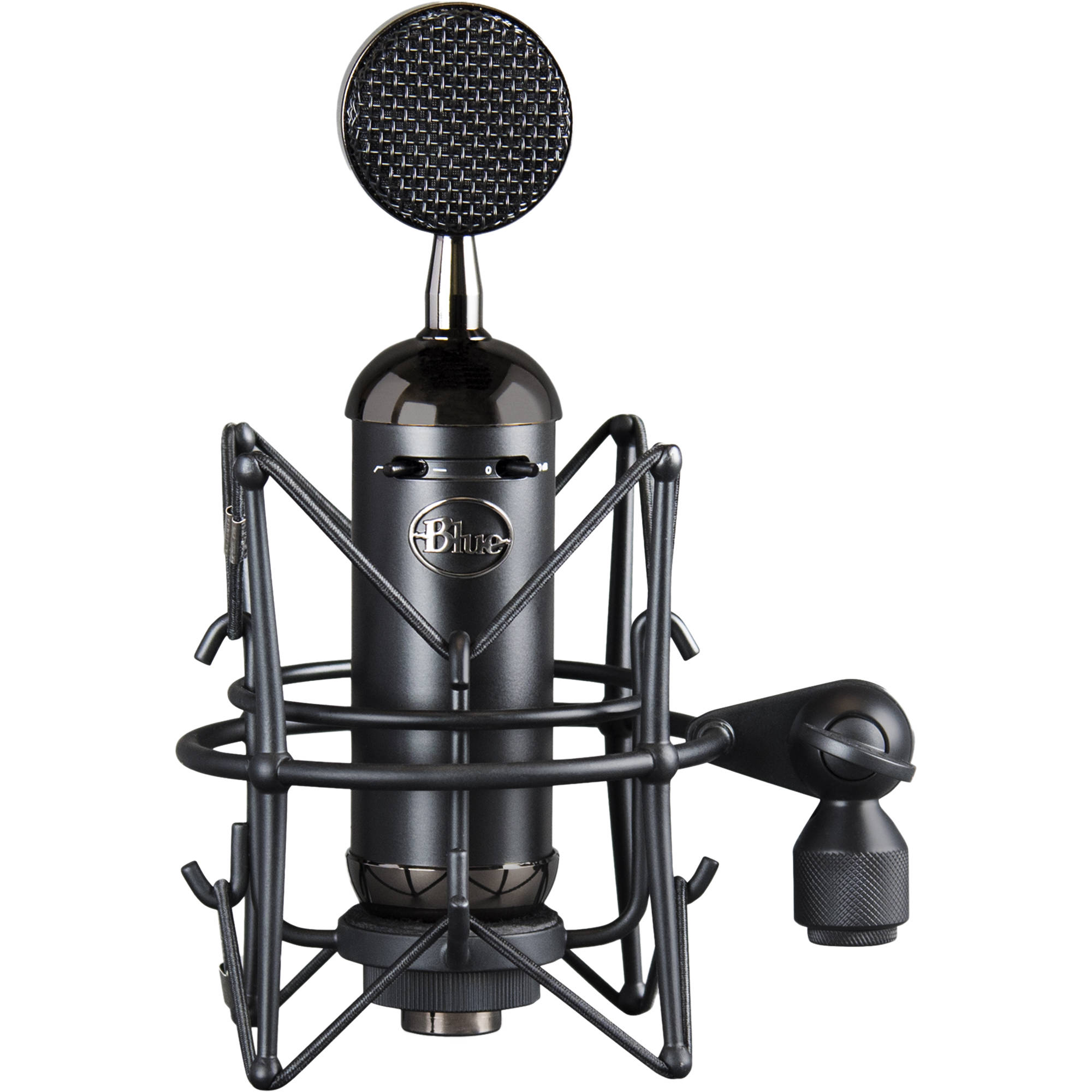 XLR Condenser Mic with Shockmount and Case
Electrify your audio recordings with the stylish Blue Microphones Blackout Spark SL condenser mic pack. The lollipop-style Blackout Spark SL promises premium audio for game streams to podcasts, with an executive look that will inspire and delight. This versatile XLR condenser mic features a highpass filter to reduce mud and rumble and a -20dB pad to tame loud sound sources, such as drums, guitar amps, and aggressive vocalists. Also included are a matching black shockmount for cleaner, clearer recordings and a wood box for storage and travel. Take your audio work to new heights with the Blue Microphones Blackout Spark SL from Sweetwater.
Inspired by Blue's flagship mics
The Blackout Spark SL's gold-sputtered 0.9" capsule and phantom-powered internal preamp are direct descendants of Blue's studio-standard Blue Bottle series. The result is an affordable mic with uncommonly low distortion characteristics across the audible frequency spectrum.
Highpass filter and -20dB pad
Mud, rumble, and low-frequency noise can be detrimental to your recordings. The Blackout Spark SL's switchable highpass filter rolls off extreme low end for cleaner-sounding tracks. And for loud sound sources, like drums and guitar cabinets, a -20dB highpass switch promotes distortion-free recordings.
Includes shockmount and wood storage box
Adding value to the Blackout Spark SL are a matching shockmount to isolate the mic from HVAC noise and footsteps, as well as a wood box for storage and transit.
Large-diaphragm cardioid condenser microphone with a modern sonic signature
For podcasting, gaming, voiceover work, and audio production
Transparent sound with superb detail and rich harmonic content
Hand-tuned diaphragm ensures accurate and transparent sound
Proprietary preamp design delivers extremely low distortion across the entire audible frequency spectrum
Highpass filter reduces mud and rumble
-20dB pad tames loud sources, such as drums and guitar cabs
Includes matching shockmount and protective wood box