Behringer Europower EPQ304 Power Amplifier
4-channel Power Amplifier, 75W Peak/ch at 4 Ohms, with Built-in Limiters, Accelerated Transient Response technology, 1U rackmount chassis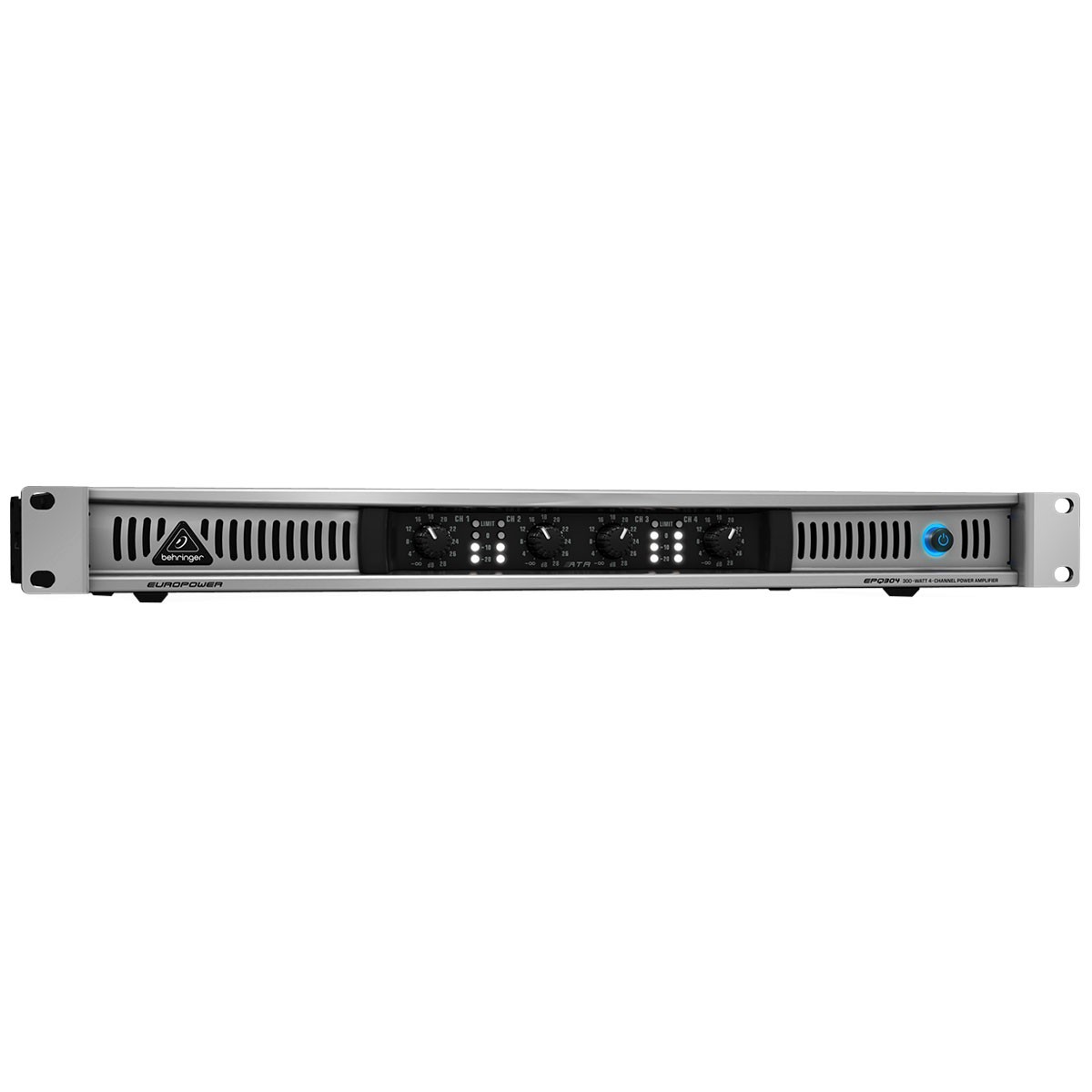 Multi-channel Amp in an Affordable Package
Get the multi-channel power you need at an affordable price with the Behringer Europower EPQ304 stereo power amplifier. This lightweight 1U package gives you the great sound and reliability for any use. Perfect for studios, rehearsal spaces, and churches, the EPQ304 has everything you need packed into its trim, no-nonsense chassis. Straightforward front and rear panel layouts make setup and teardown a breeze, and operation is simple with flexible I/O, detented gain controls, and onboard limiters. If you need an affordable, reliable, multi-channel power amp, check out Behringer's Europower EPQ304.
Accelerated Transient Response provides killer sound
The Behringer Europower EPQ304 has been over-engineered, with hyper-attention paid to every part of the circuitry. It takes massive pulses of current and voltage to move a woofer cone quickly enough to reproduce a kick drum beat. We're talking transient response - the holy grail of amp designs. Employing carefully selected transistors with ridiculously high slew rates, the EPQ304 can react immediately to even the most challenging electronic low frequency impulses. If your PA system's woofers can keep up with the music, your audience will hear tighter, crisper sound. And that's a good thing.
Built-in features give you plenty of flexibility
The Behringer Europower EPQ304 is fitted with a Clip Limiter, so you can wring max power out of the amplifier without overdriving it - or your speaker system. Built-in circuitry automatically senses when the EPQ304 is about to clip, then momentarily reduces input levels to sidestep clipping. All this occurs in a few thousandths of a second, giving you an inaudible method to avoid audible distortion. Sweetwater knows that sound reinforcement is important to you, and we're confident that the Behringer Europower EPQ304 can do the job.
Built for reliable performance night after night
Behringer's Europower EPQ304 is packed with a switching-mode power supply that is much lighter and runs cooler than toroid transformers. And due to its efficiency, the switching-mode power supply delivers more punch and response. Independent DC and thermal overload protection circuitry on each channel protects the amp (and your speakers) from show-stopping meltdowns. Best of all, there's no need for fuses - one less headache to deal with. If reliability is important to you (and why wouldn't it be?), the Behringer Europower EPQ304 stereo power amp will give you peace of mind, along with great sound.
4 x 75-watt multi-channel power amp with a lightweight design
ATR (Accelerated Transient Response) technology for ultimate punch and clarity
Built-in limiters offer maximum output level with reliable overload protection
Detented gain controls for precise setting and matching of sensitivity
Power, Signal, and Clip LEDs let you monitor performance
XLR and 1/4" TRS input connectors for easy compatibility
Professional speaker connectors support most speaker wiring systems
Independent DC and thermal overload protection protects your amplifier and speakers
Back-to-front ventilation keeps your amp cooler
Rugged, impact-resistant, all-steel 1U rackmount chassis
High-quality components and rugged construction for long life