Novation MiniNova 37-key Synthesizer with Vocoder
37-mini-key Synthesizer/Vocoder and USB Controller with Realtime Performance Controls, 14 Filter Types, 6 Envelope Generators, 3 LFOs, and Gooseneck Mic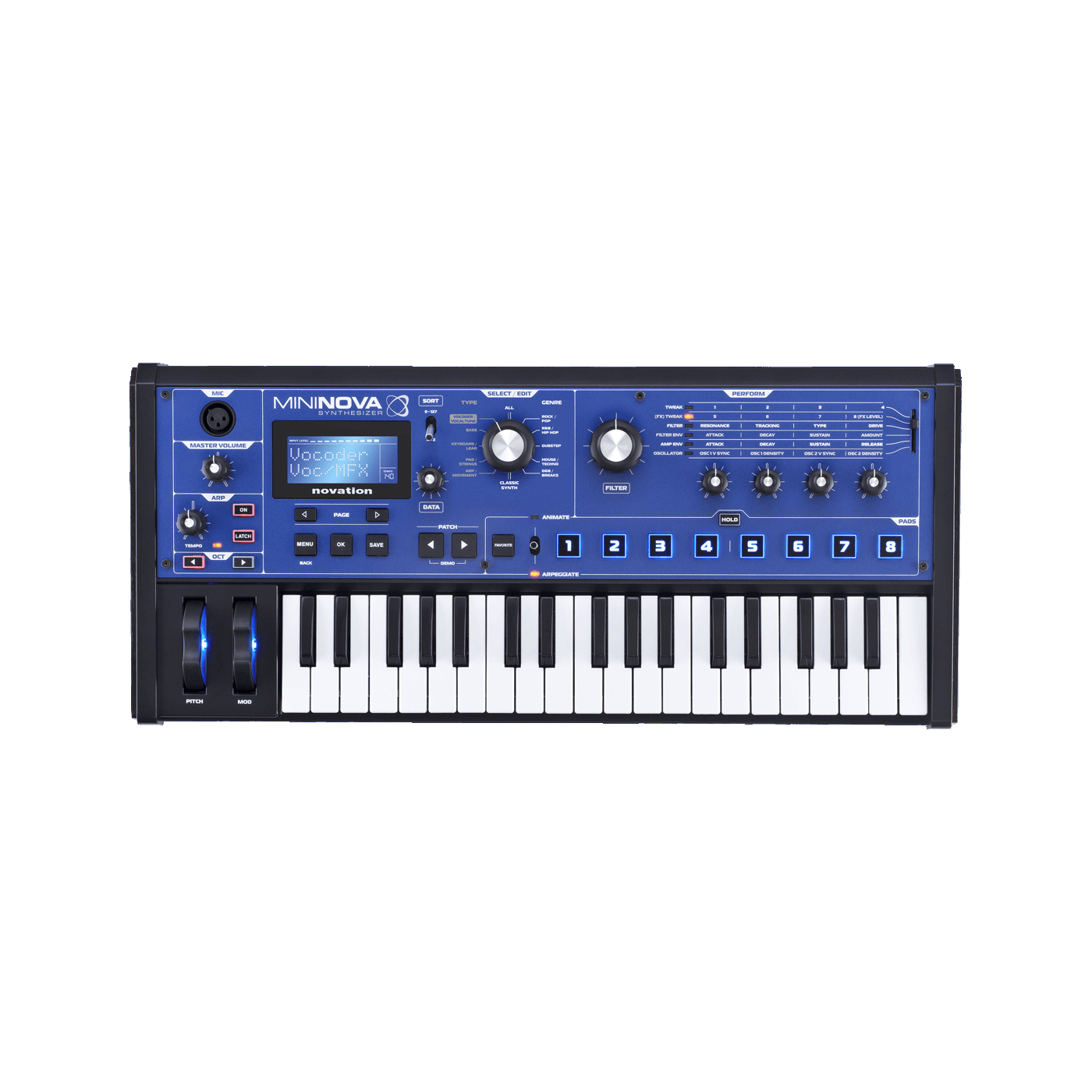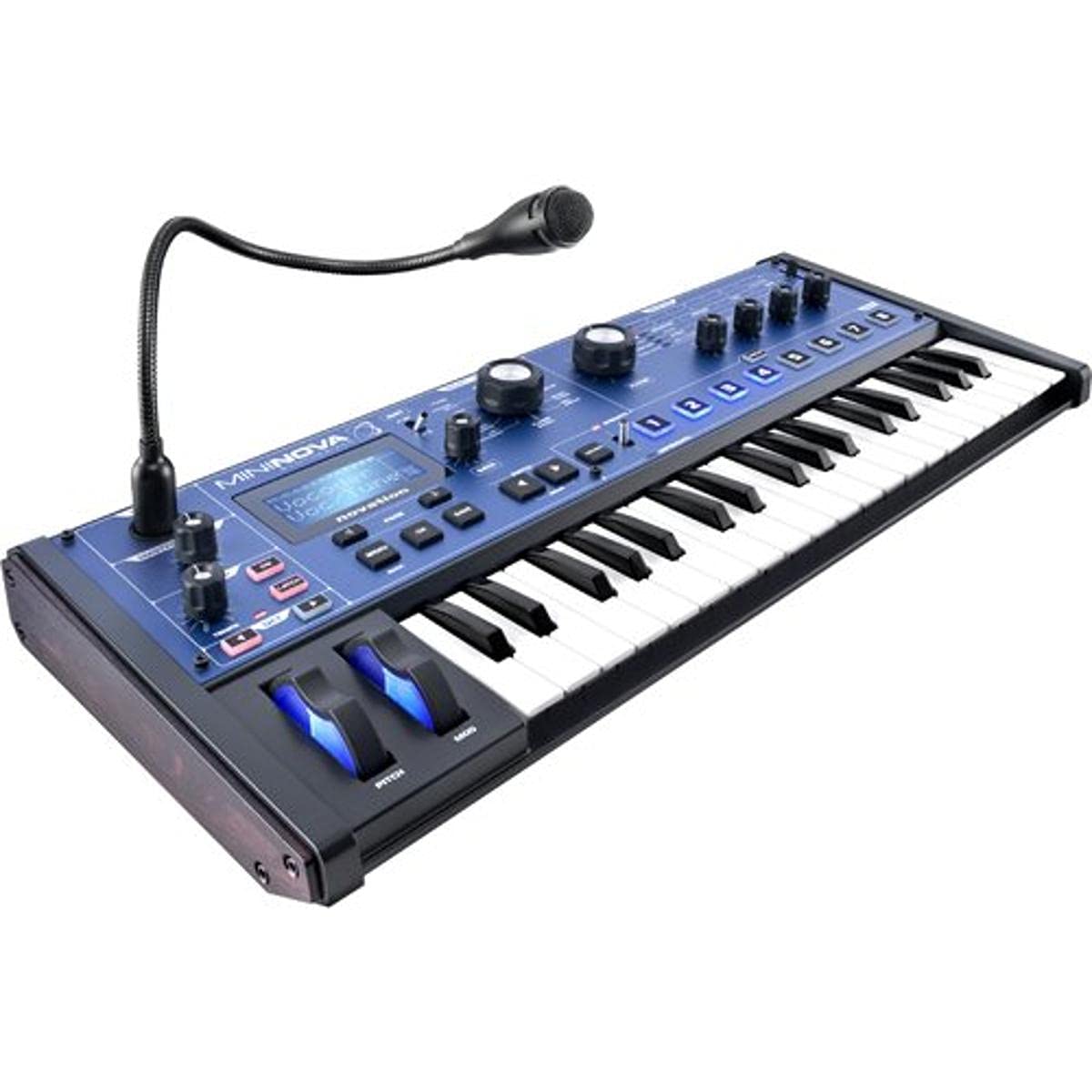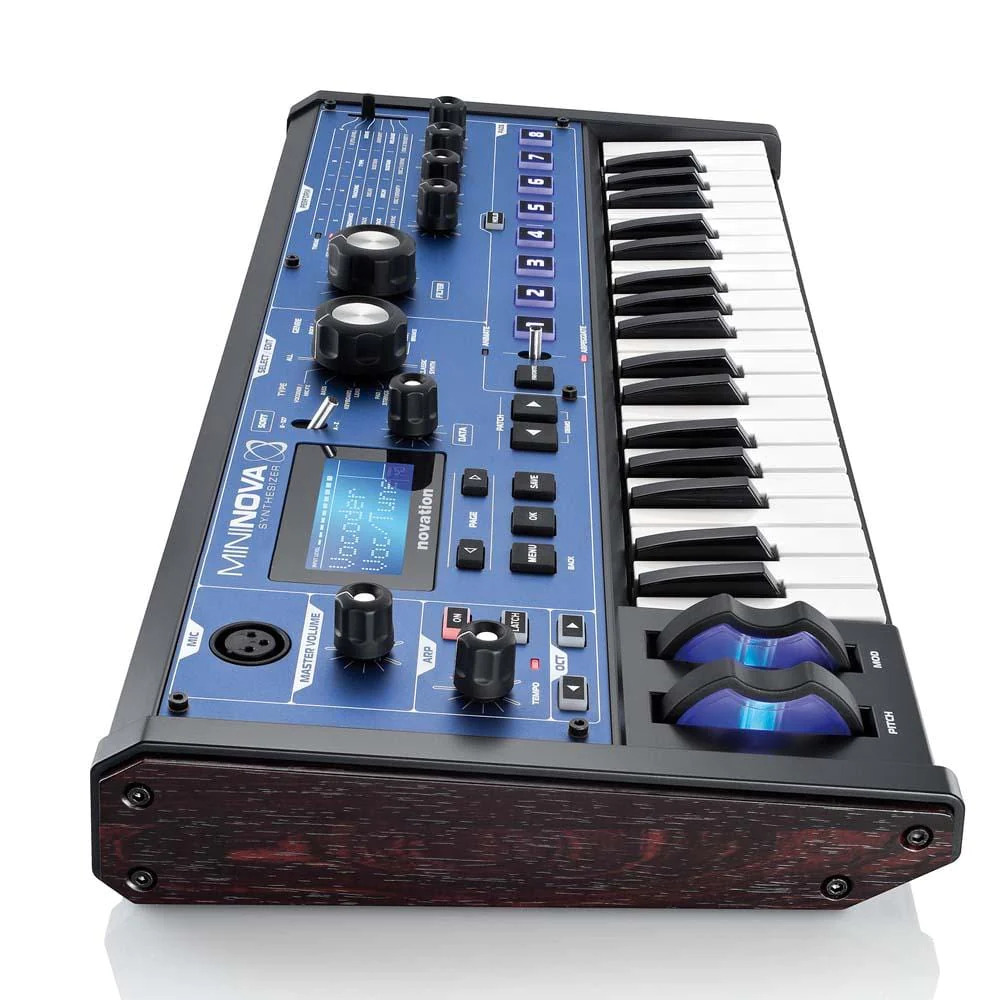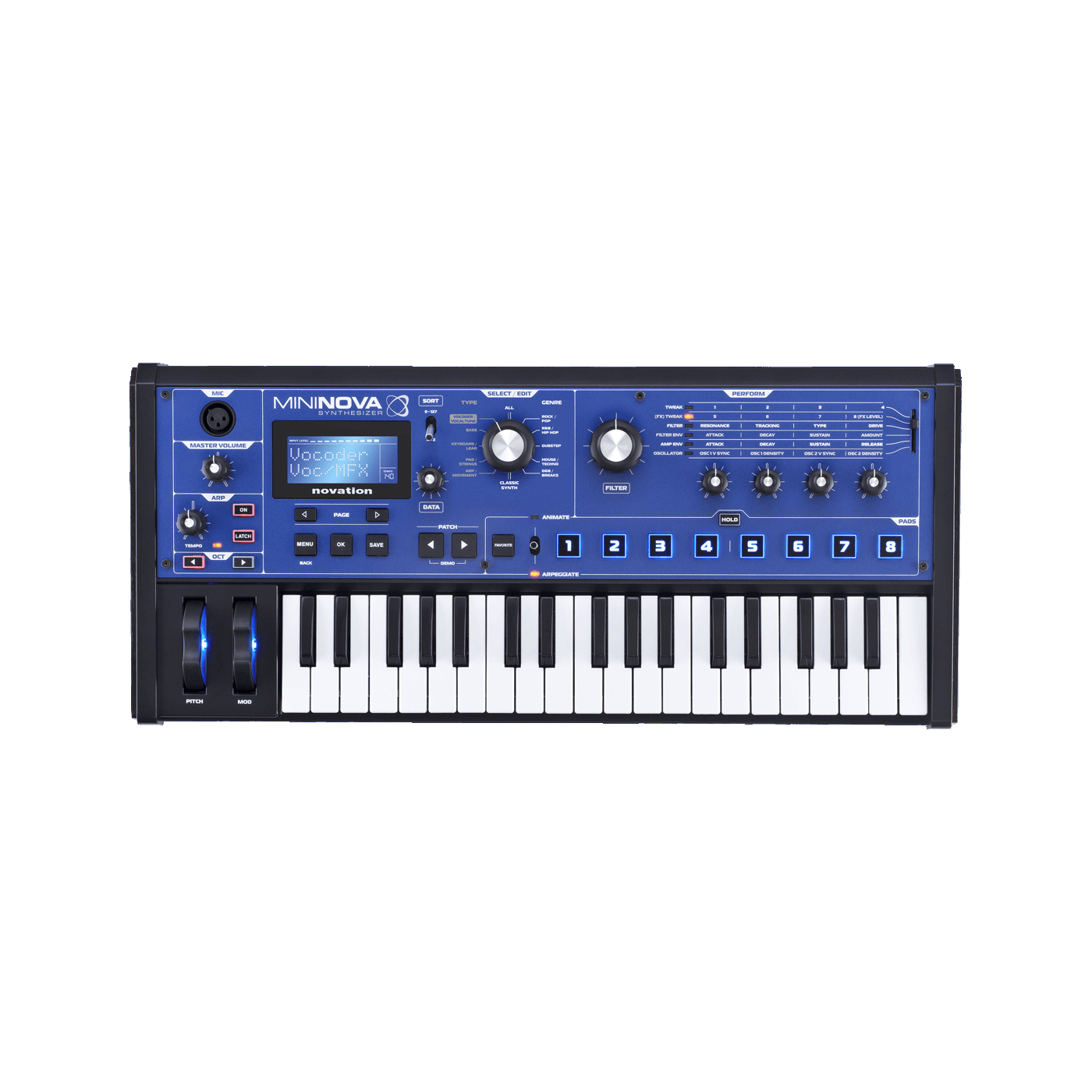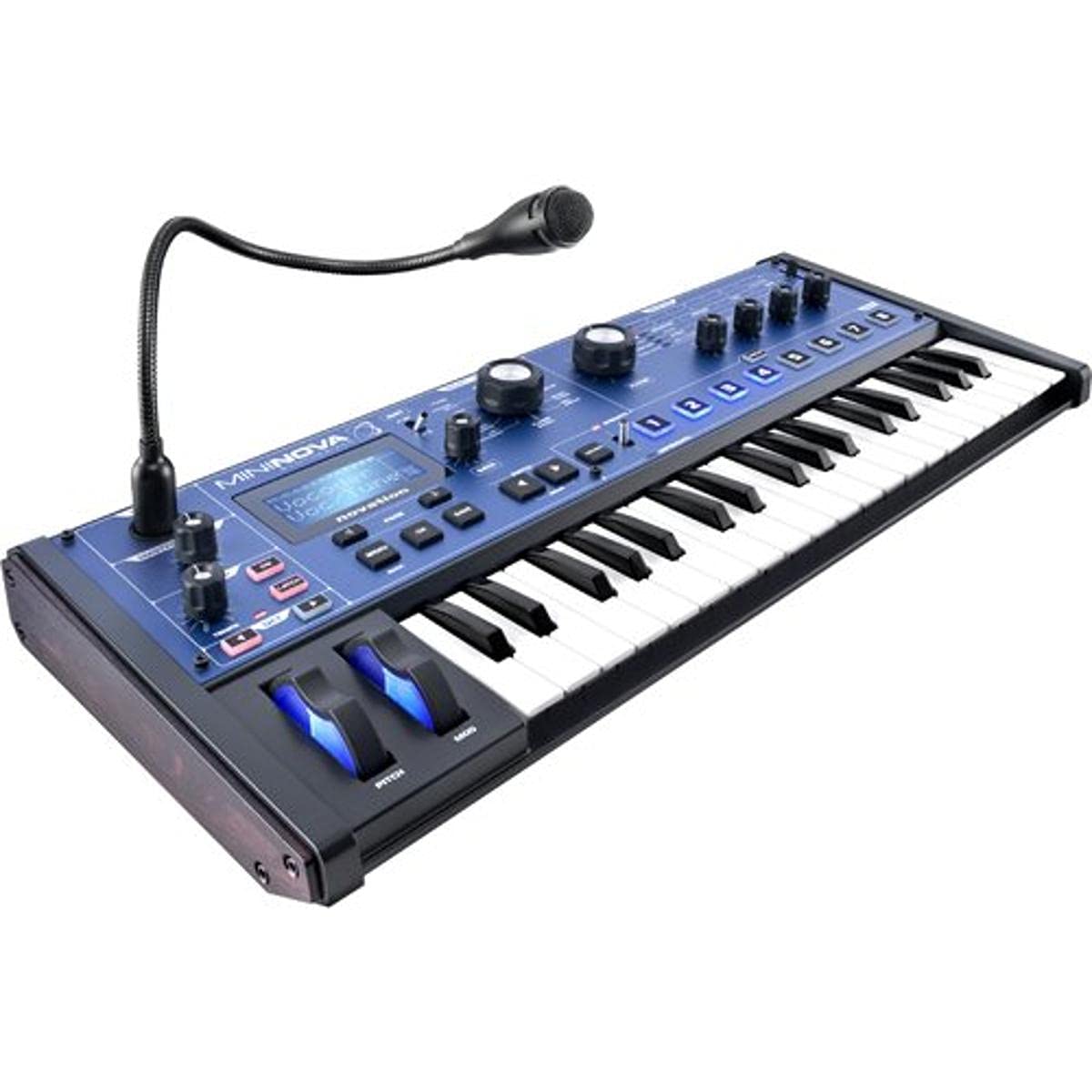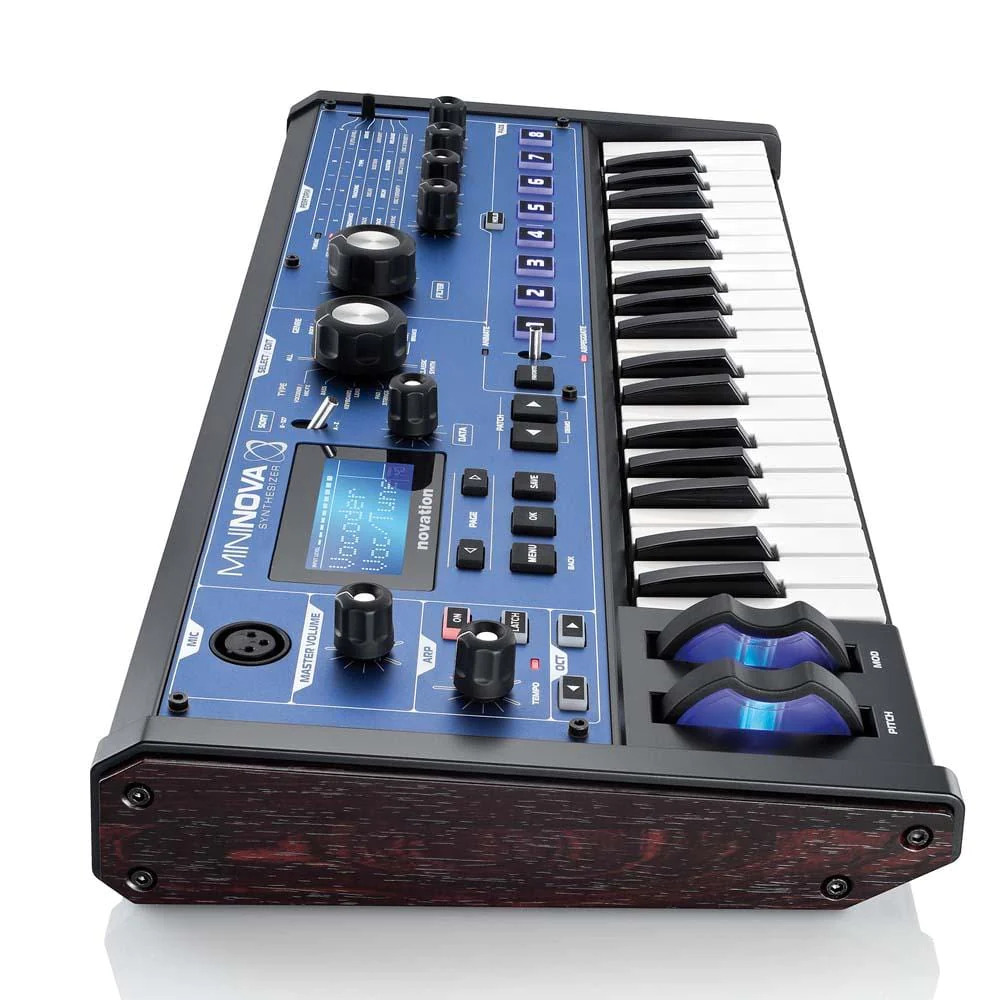 It's MiniNova!
Small yet beastly, Novation's MiniNova 37-mini-key synthesizer/vocoder gives you robust performance controls that let you tweak and warp 256 great-sounding onboard presets - and your voice - in real-time. Under the bonnet, MiniNova sports the same potent synth engine as its big brother UltraNova. String synth engine modules together in the 20-slot modulation matrix to create monster patches. Jam to patterns you create with the onboard arpeggiator. Connect MiniNova to your computer via USB and use it as a MIDI controller. Want boatloads of synth in a pint-sized package? You want Novation's MiniNova.
Gets its attitude from its big brother
The Novation MiniNova is endowed with the same sound engine as its big brother, the UltraNova. It ships with 256 dynamite patches that you can tweak using five knobs - or completely warp with MiniNova's eight Animate buttons. MiniNova also sports an onboard voice-tune effect as well as a classic vocoder. The net result is a powerhouse of a synth in a tidy, trim package.
A beefy synth engine juiced with great-sounding effects
Novation's MiniNova has the beefiest synth engine ever put into such a compact synth. You get 14 waveforms (square, sine, sawtooth, pulse, and triangle, plus variations), 36 wavetables, plus 20 digital waveforms. Each of the three oscillators (per voice) sports Density/detune for fattening up sounds, Virtual Sync, and Hardness - which functions as an additional lowpass filter. Speaking of filters, MiniNova is fitted with 14 different types (you can run two simultaneously), six envelope generators, three LFOs, and a modulation matrix with 20 slots in which you can string synth engine modules together to create a sonic beast. Effects? Definitely. With MiniNova, you can add up to five effects to each voice - that includes distortion, reverb, compression, EQ, chorus/phase, delay, and Novation's proprietary Gator effect. Wow!
Knobs and buttons (oh, goody!)
Novation's MiniNova has unique and powerful sound-shaping capabilities for such a bantamweight. You get knobs, naturally, that let you tweak your sounds, but you can also "animate" sound using eight back-lit buttons that trigger mods in the synth engine that warp your patches in real-time as you play. There's a large knob for filter cutoff so no matter what else you are doing, you always have instant control over the filter. MiniNova also sports a 33-pattern arpeggiator, and you can use the eight buttons to jam with these patterns, creating completely new sequences (in real-time) in the process.
Massively powerful mini-synth with UltraNovasound engine
Voice-tune and classic vocoder effects
Tweak and warp your sounds in real-time
256 amazing sounds onboard, instantly searchable
Layer up to five effects per voice
Comes with editing software and a software patch librarian
Run guitars andother instruments though the vocoder and effects
Also functions as a 37-key controller keyboard with MIDI I/O