M-Audio Keystation 88 MK3 88-key Keyboard Controller
88-Key USB-MIDI Controller with with Velocity-sensitive, Semi-weighted Keys, Pitch and Modulation Wheels, Transport Controls, and Bundled Software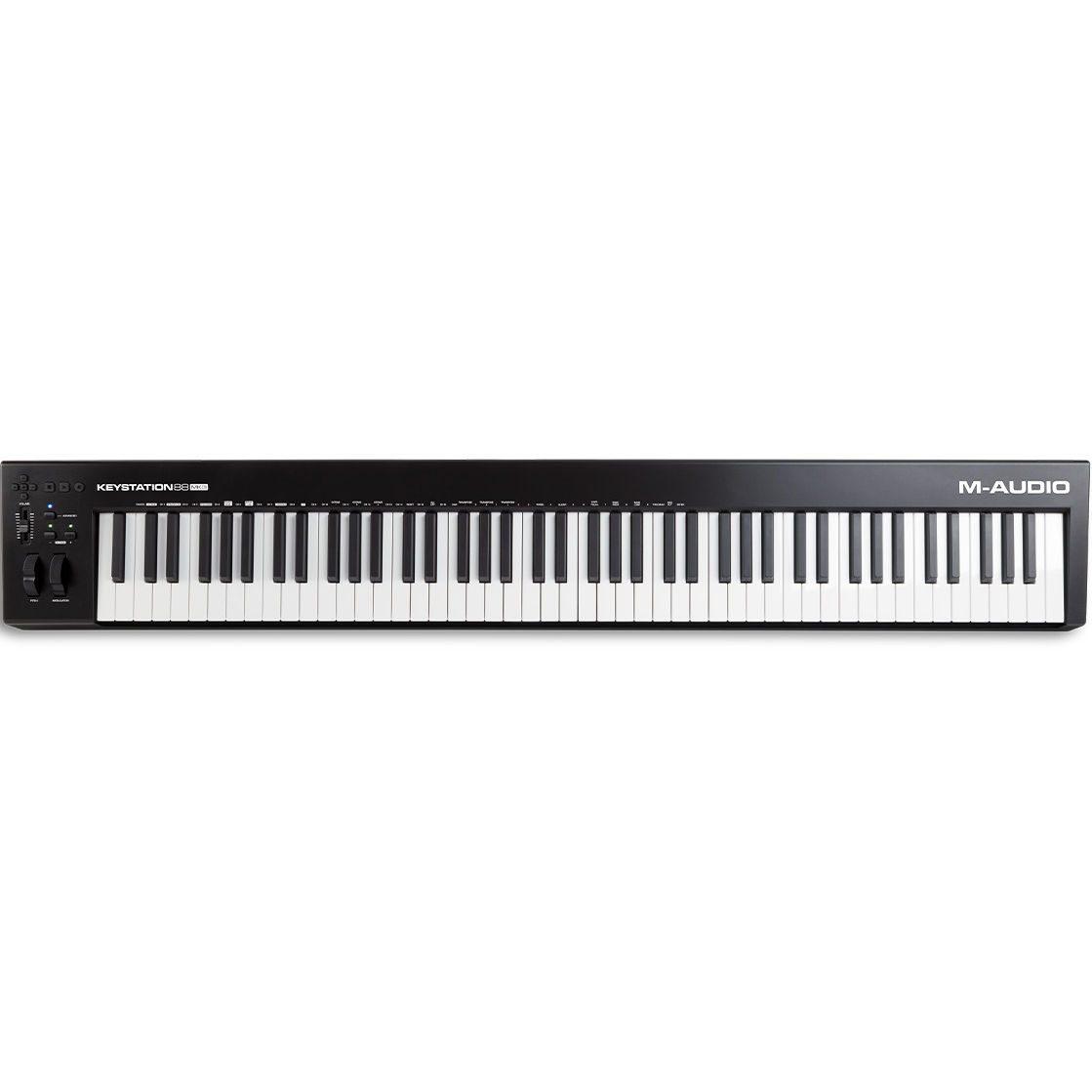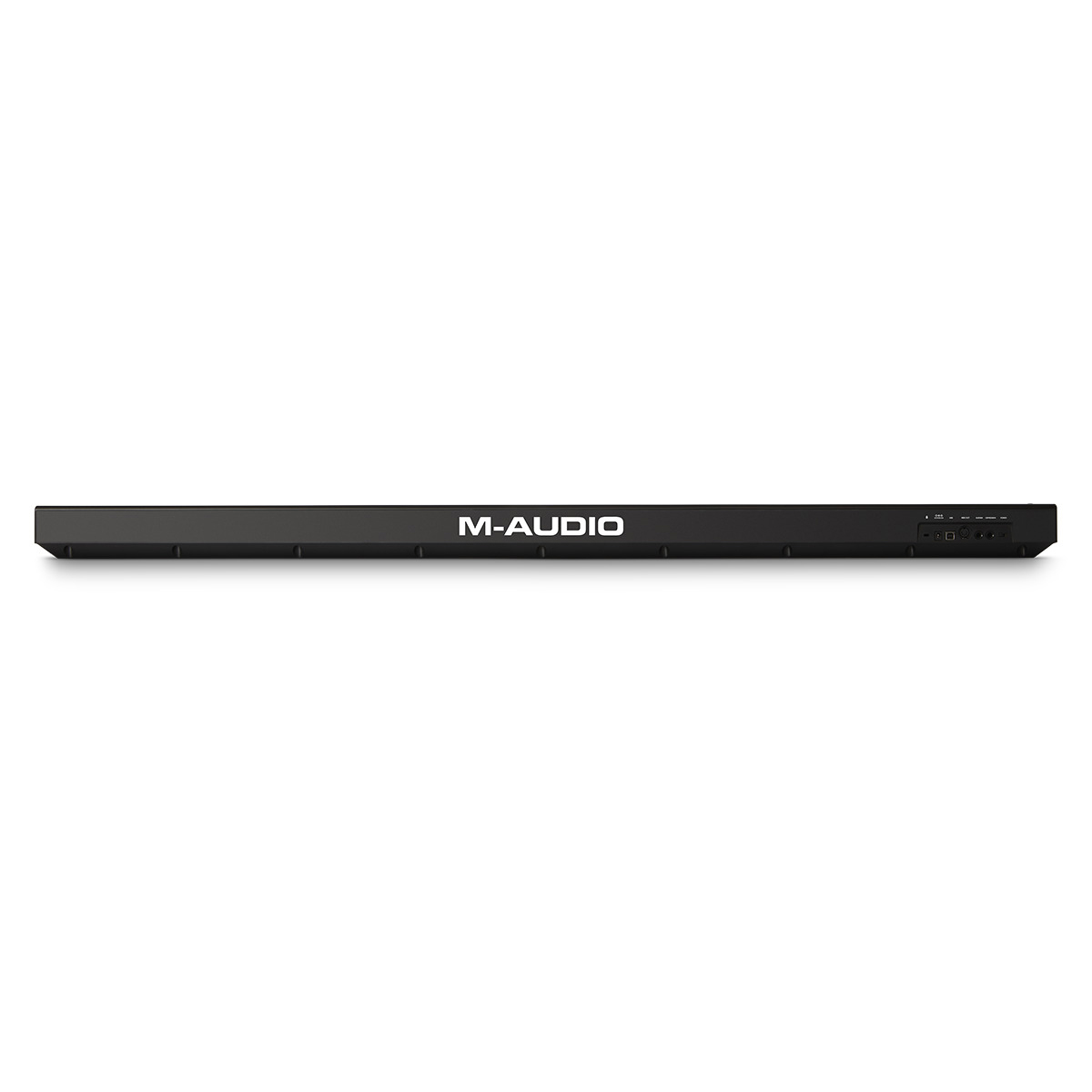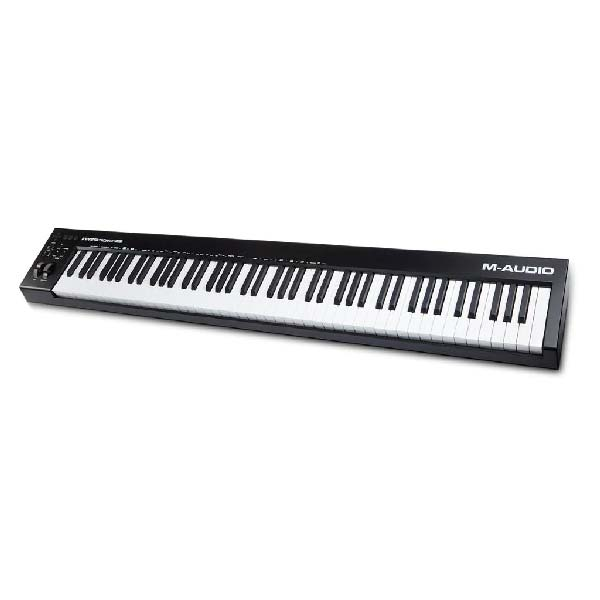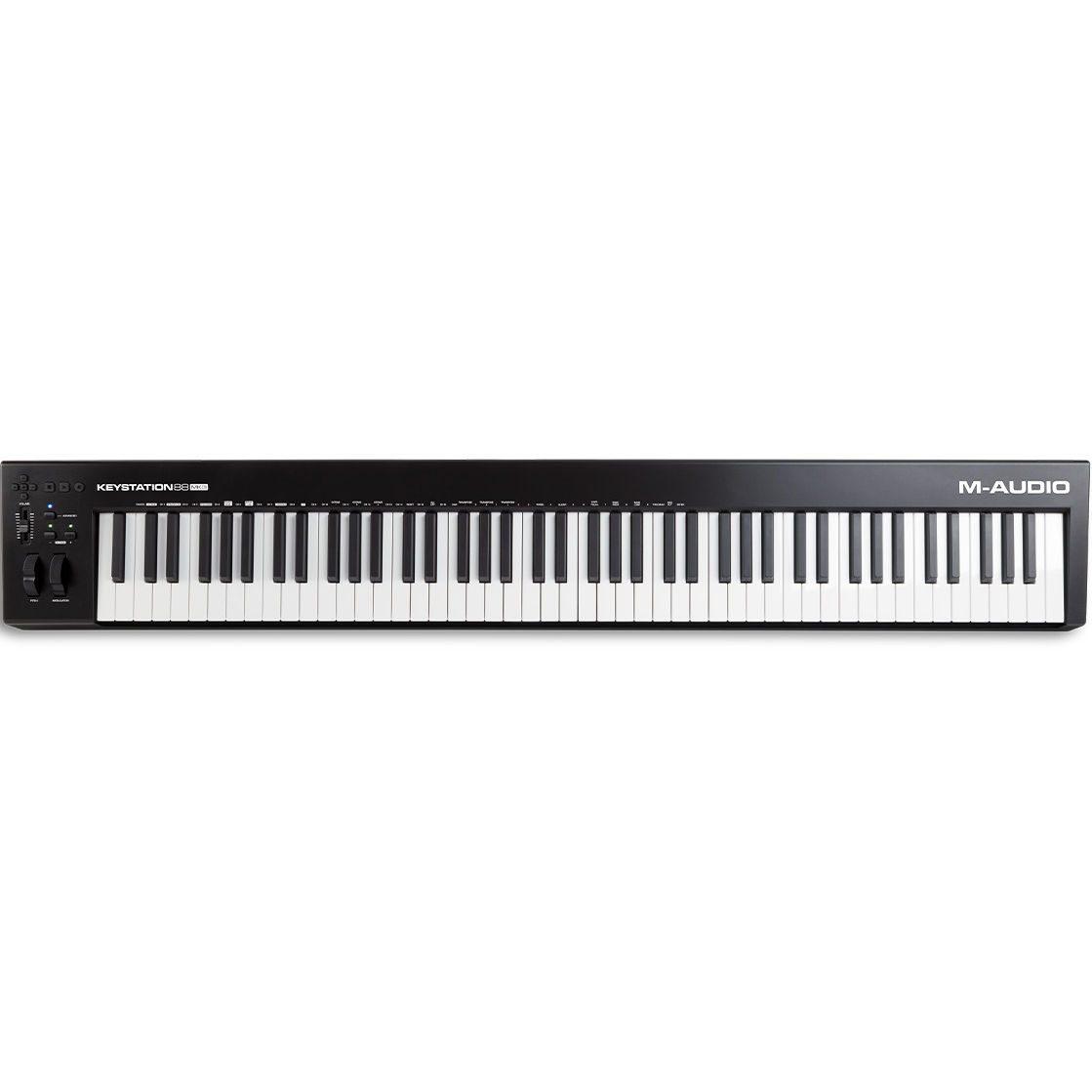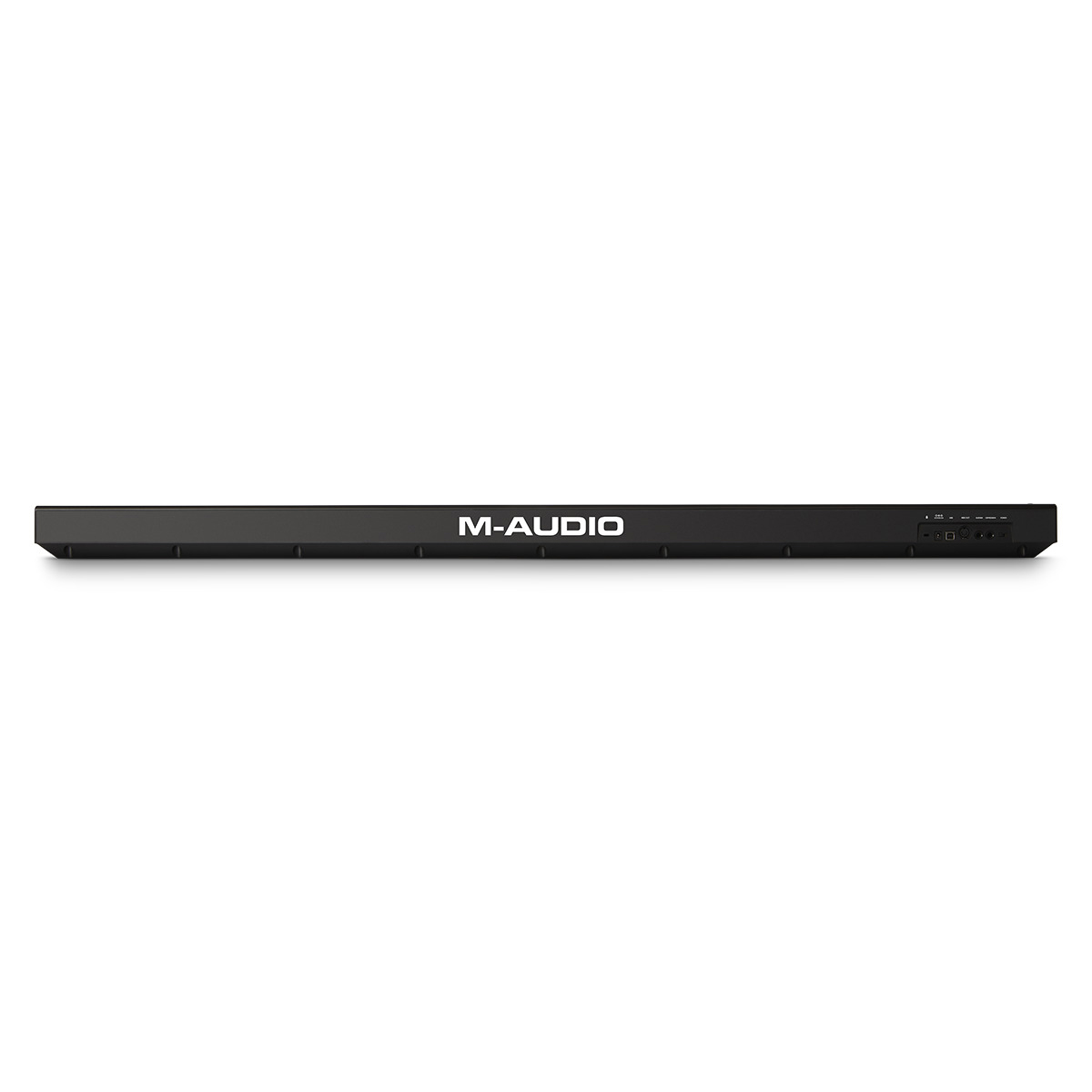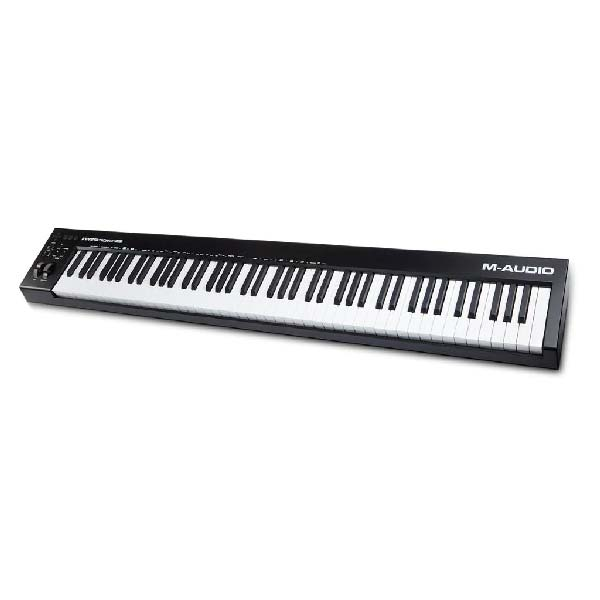 M-AUDIO
---
$350
PRICE DROPPED FROM $500
---
---
---
Streamlined 88-note Keyboard Control
The M-Audio Keystation 88 MK3 is the third generation of the world's top-selling 88-note keyboard controller, and it incorporates improvements and refinements across the board. Many electronic musicians like having access to the full range of a piano keyboard. But not every keyboardist needs (or wants) hammer-action keys, along with the added weight, bulk, and expense. That explains why the M-Audio Keystation 88 series has been a best-seller here at Ragtime , and indeed, worldwide. For these legions of players, the Keystation 88's smooth semi-weighted key feel, streamlined control set, lightweight portability, and robust build quality hit the sweet spot. You don't have to be a pianist to benefit from having 88 full-sized keys in front of you. If you've never experienced the freedom of having the full range of music at your fingertips, take it from us: you're in for a serious creative boost.rnrnThe Keystation 88 MK3 gives you all the control you need to take your creativity to the next level and get the most out of your DAW, hardware synths, and virtual instruments. This controller includes an assignable slider that doubles as a volume control, plus octave up/down buttons, pitch bend and mod wheels, DAW transport controls, sustain and expression pedal inputs, and more. With the optional Apple camera connection kit, it's also perfect for hooking up to your iPad for mobile music production. Plus, you get three world-class DAWs and a powerful software production package, along with free lessons from Skoove and Melodics. Rocking a sleek new design, the M-Audio Keystation 88 MK3 is ready to Ignite your creativity.
88 great-feeling semi-weighted keys
The M-Audio Keystation 88 MK3 has 88 full-sized, semi-weighted keys. This makes it a great choice for players who prefer a lighter touch when playing a wide variety of virtual instruments. Whether you're performing complex two-handed piano parts, grooving bass lines, or fleet-fingered drumming, the velocity-sensitive keybed is spot on with a semi-weighted action that feels great to dig into; providing the perfect amount of resistance while not being too stiff. By popular request, M-Audio has given the third-generation Keystation 88 matte black keys. It is perhaps a minute detail, but it's much appreciated by serious keyboardists.


Powerful basic control set
On the left cheek of the Keystation 88 MK3 are ergonomically designed pitch and modulation wheels for control of these essential synth and MIDI parameters. The slider is preset to send MIDI CC 7 (channel volume) messages but it can be assigned to any other MIDI value. You also get dedicated sustain and expression pedal jacks, which, again, can be reassigned as needed. Add to that a dedicated set of transport controls and directional buttons (so you don't need to use a mouse) and you've got a complete system that's perfect for streamlined setups.
Premium software package
The Keystation 88 MK3 gives you more than a great keyboard controller; it comes with a premium software package that includes Ableton Live Lite and MPC Beats. Then, you get professional virtual instruments from top developer AIR Music Tech. From the ultra-modern sounds of Xpand!2 to the classic EP sounds of Velvet, the punchy vintage drums of Boom, the epic tonewheels of DB-33, and the shimmering pianos of Mini Grand; the Keystation 88 MK3 virtual instrument suite will supercharge you creativity, right out of the box. You also get killer MPC expansion packs: MPC Beats Producer Kits, F9 Instruments Beats Edition, plus Laniakea Sounds, MSX Audio, and ADSR. On top of all that, a 3-month subscription to Skoove and 40 free online lessons from Melodics are included upon registration, so you can develop your musical chops to take full advantage of all those beautiful ebonies and ivories in front of you.

88 full-sized, velocity-sensitive semi-weighted keys with natural feel
USB-MIDI connection for controlling software and playing virtual instruments
5-pin DIN MIDI output jack for connecting to your legacy MIDI gear
Volume fader, transport and directional buttons for easy control of your software
Ergonomically designed pitch and modulation wheels for expressive performances
Advanced function assigns hardware controls to any DAW or plug-in parameter
Compact, lightweight, portable design is perfect for desk, studio, and stage setups
Plug-and-play MIDI-over-USB for Mac and PC; no drivers required
USB bus powered with computer connection; no power supply required
Compatible with iOS devices via Apple USB to Camera Adapter (available separately)
Octave up and down buttons; Sustain pedal input; Expression pedal input
Includes Ableton Live Lite and MPC Beats DAWs
Includes a 3-month subscription to Skoove
Includes 40 free lessons from Melodics
Includes a complete software production package