Hercules 500 Complete kit
2-ch DJ Controller/Audio Interface with Microphone Input, 2 Jog Wheels, 16 Backlit Pads, Serato DJ Lite and DJUCED Software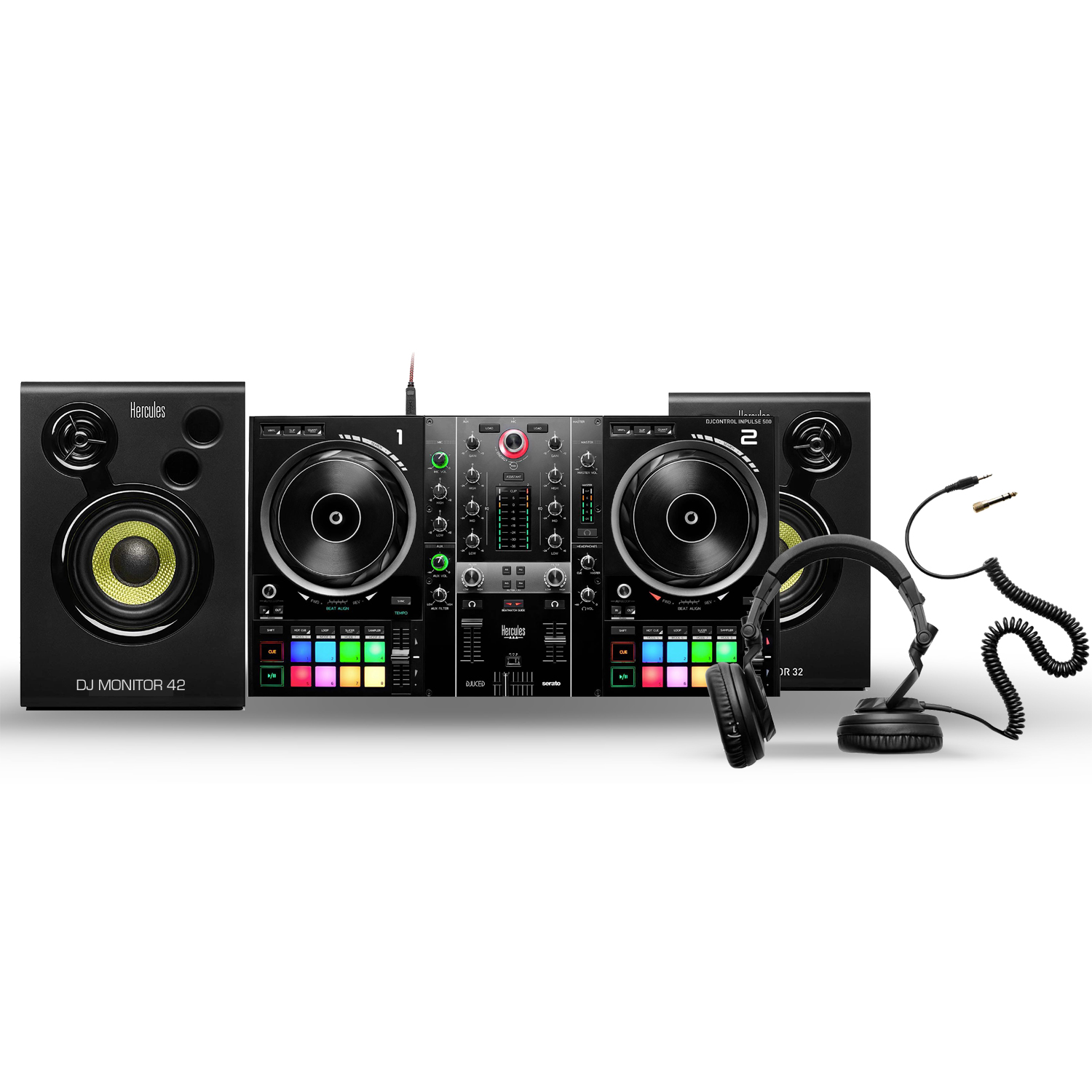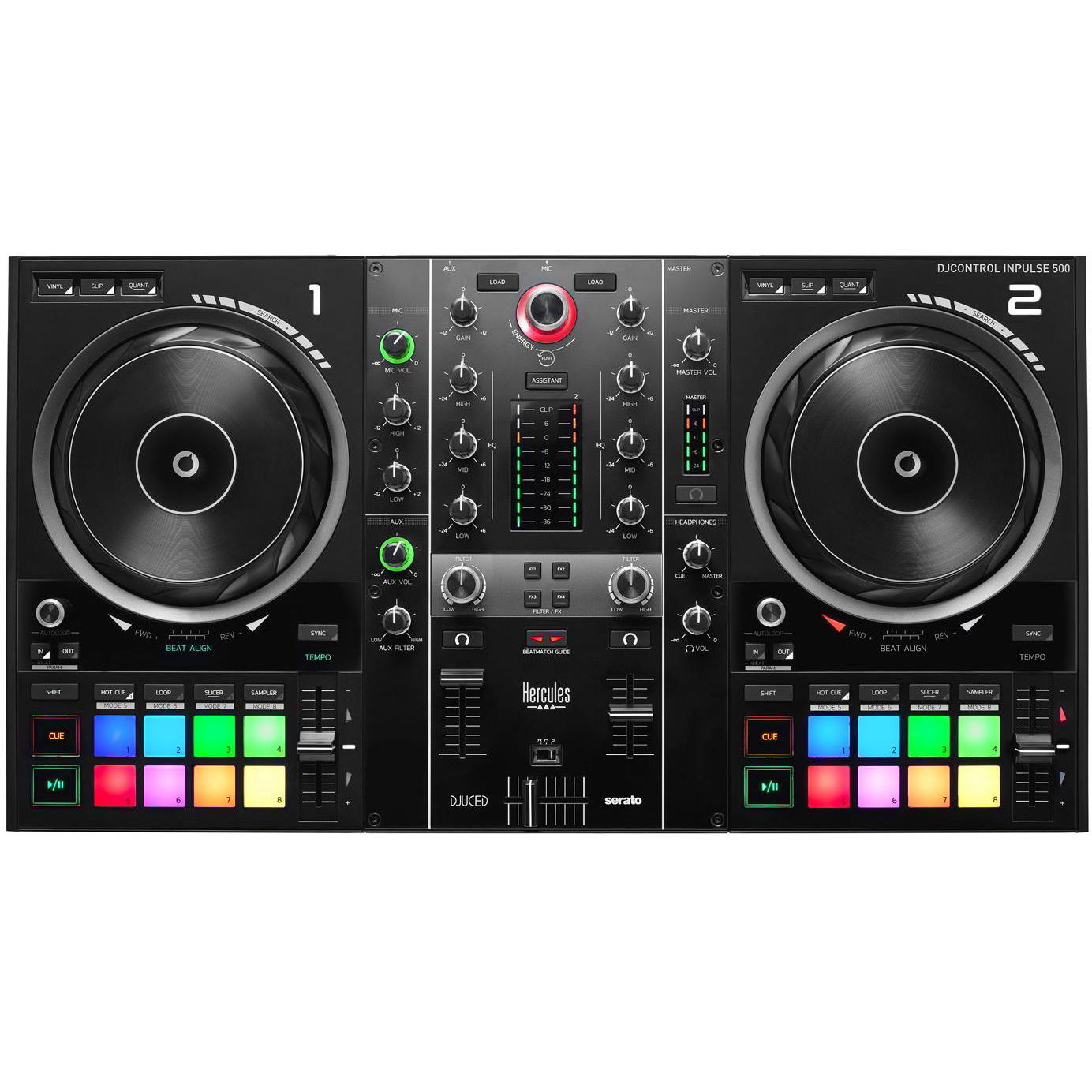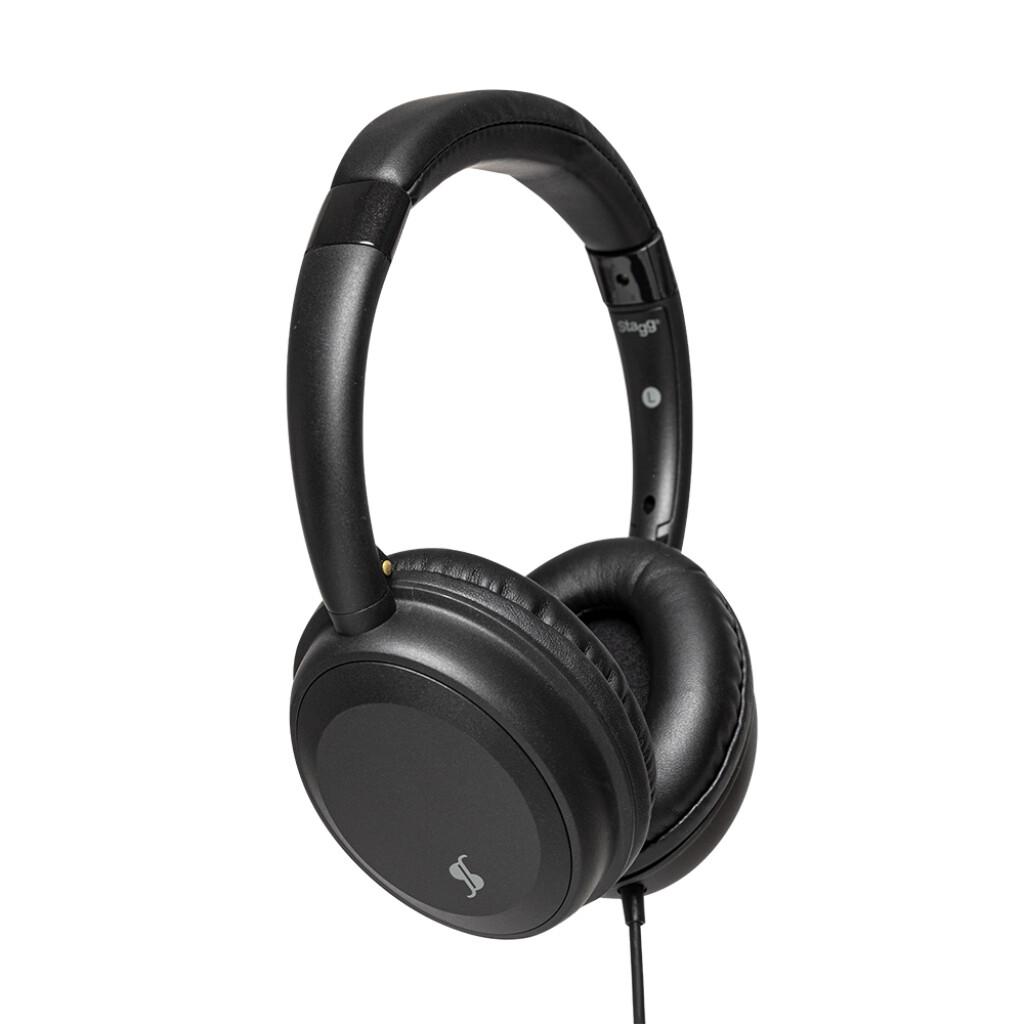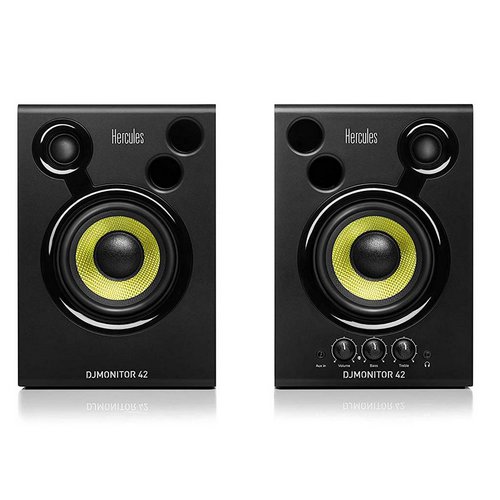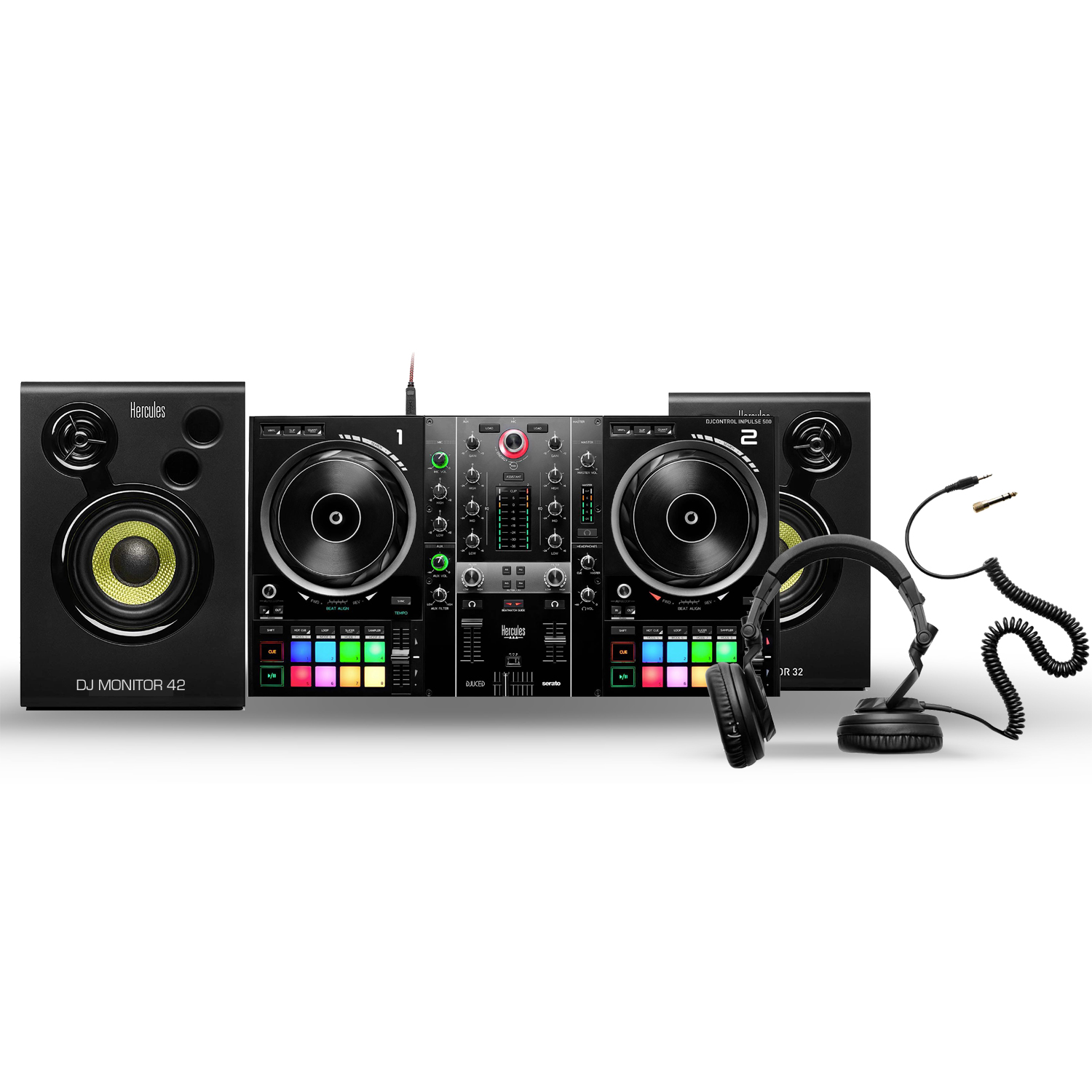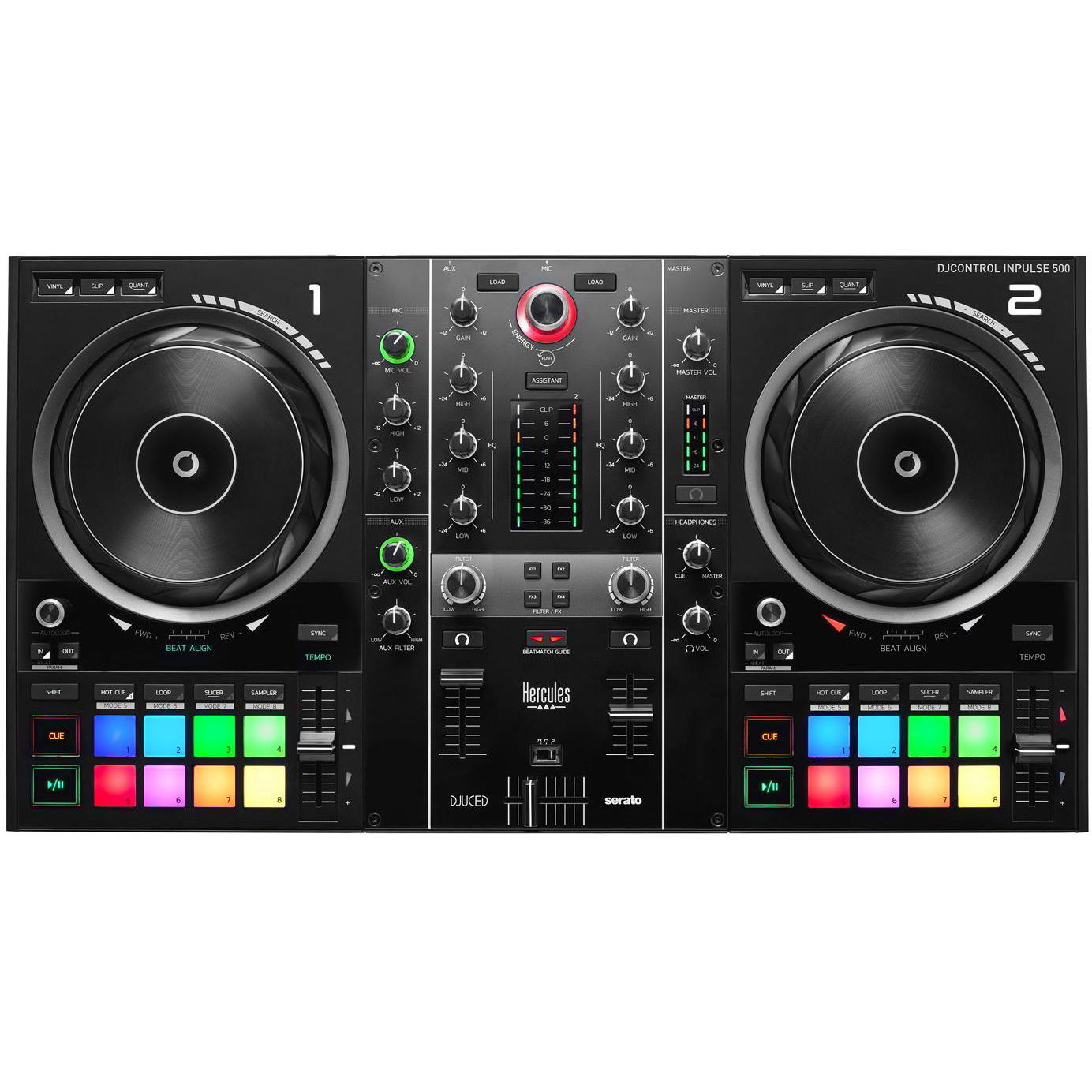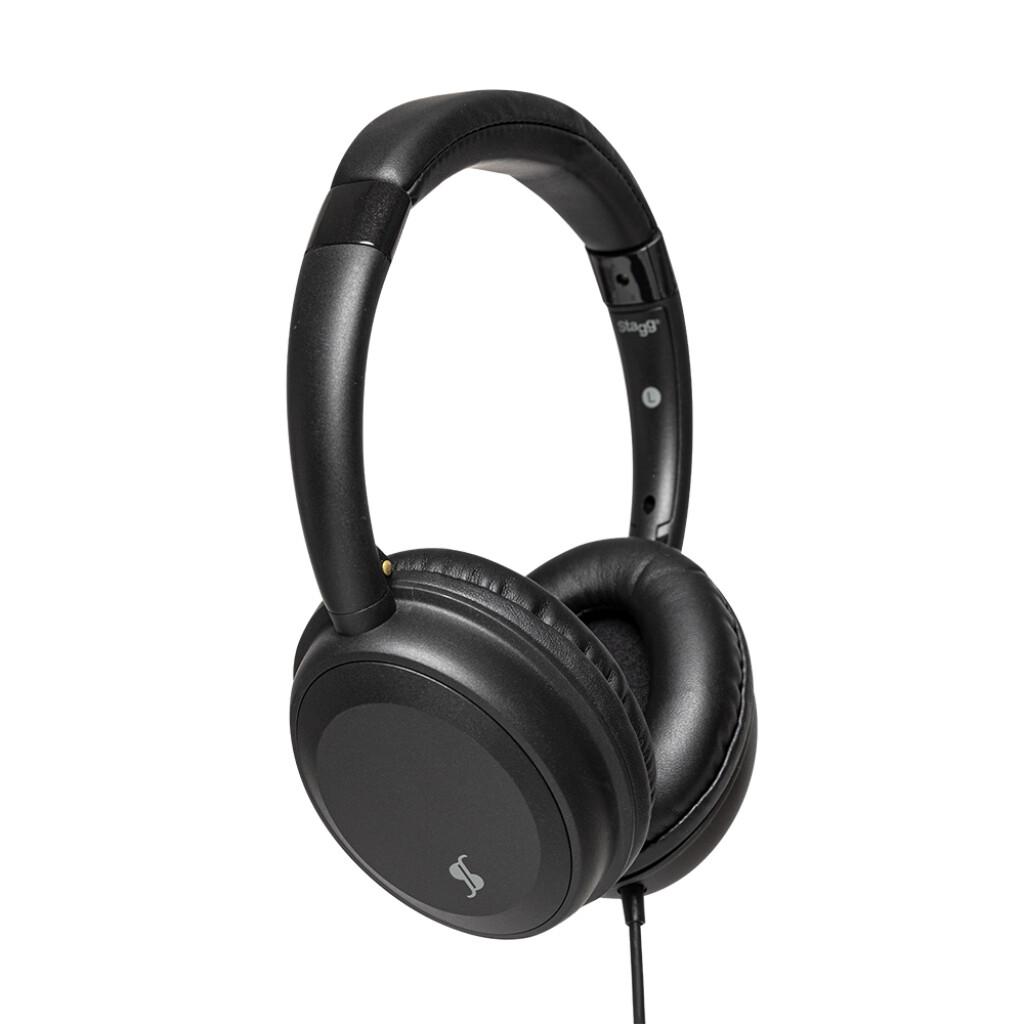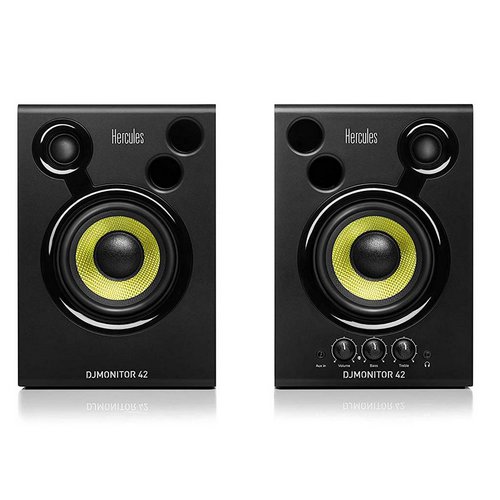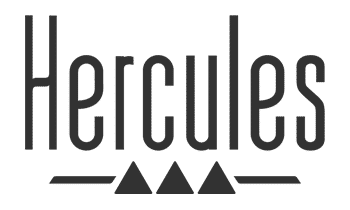 ---
$550
PRICE DROPPED FROM $750
---
---
---
All-in-one DJ Starter Pack
The Hercules 500 COMPLETE Kit is the perfect all-in-one starter pack for would-be DJs. It includes the DJControl Inpulse 500, which is a powerful 2-channel DJ controller in its own right, that also boasts top-shelf training capabilities that work in tandem with the included SERATO INTRO DJ software. DJMonitor 42 speakers supply you with top-notch sound. You also get HDP DJ45 headphones for effortless monitoring of upcoming tracks. If you want to learn to DJ, this bundle is a great way to gain and show off your skills.
Teeming with pro-level features for performing DJs
Tailor-made for the performing DJ, the DJControl Inpulse 500 is teeming with pro-level features. Two high-resolution jog wheels with easy-to-use rings boast touch detection for responsive scratching. A Filter/FX section supplies smooth, customizable transitions between tracks. Manually sync up your tracks with Beatmatch Guides, using either Serato DJ Lite or DJUCED. You also get 16 RGB-backlit pads, a vinyl function, and Loop In/Loop Out buttons, plus a crossfader with a Curve switch for changing the crossfade curve without taking your hands off the controller. The DJControl Inpulse 500's Intelligent Music Assistant (IMA) works in conjunction with the included DJUCED software to suggest the best-suited upcoming track (you can use Serato DJ Lite's Autoplay function, as well).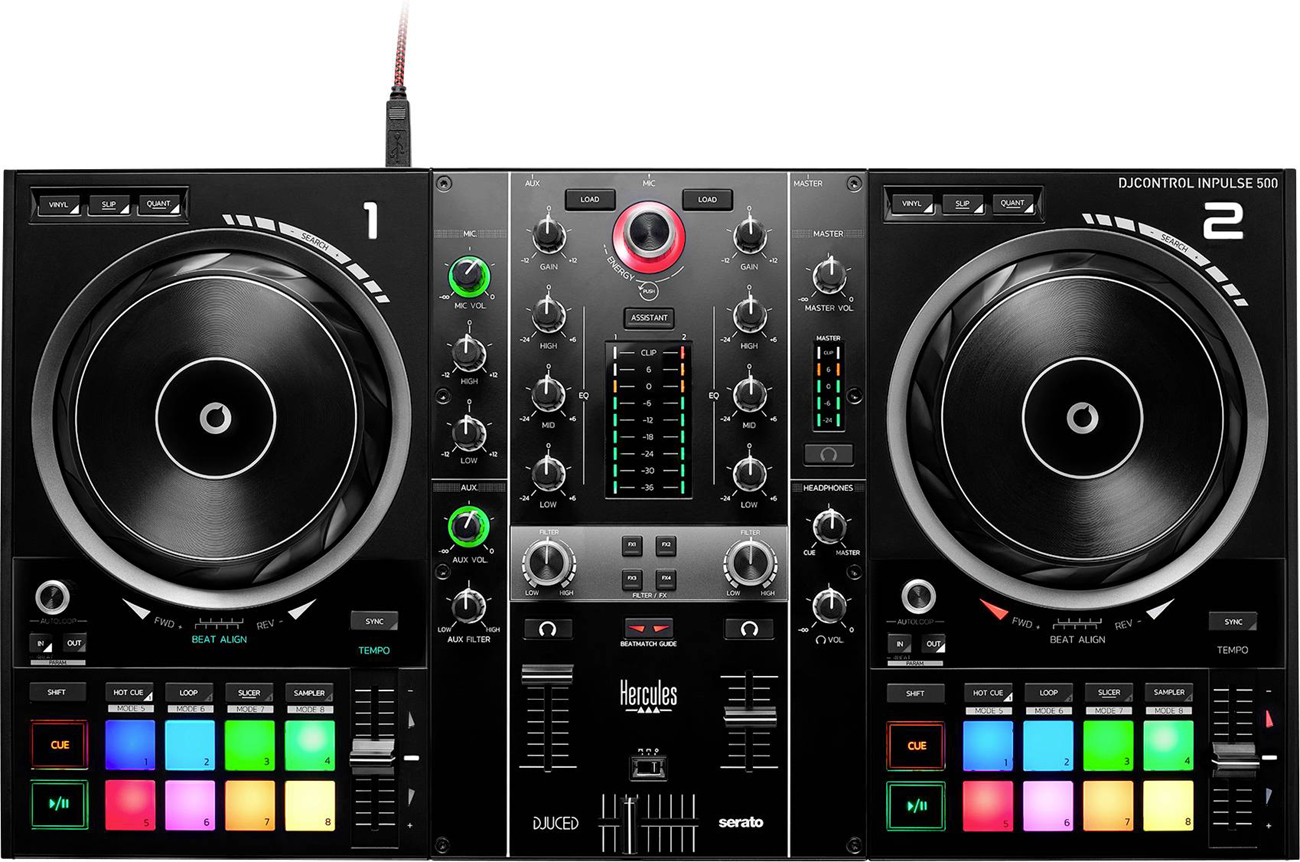 Built-in audio interface and hardware mixer with tons of I/O
The Hercules DJControl Inpulse 500 boasts a built-in audio interface and hardware input mixer with a full complement of I/O. This bus-powered 2-channel DJ controller includes a balanced microphone input, two 1/4-inch and two RCA master outputs, a 1/8-inch stereo mini jack input, two RCA aux inputs, and two headphone outputs. Connect your microphone to the DJControl Inpulse 500's balanced input and sculpt it with High EQ and Low EQ knobs. Then plug your smart device or media player into the aux input and add ear-grabbing filter effects — independent of your software. At Sweetwater, we appreciate the DJControl Inpulse 500's cutting-edge design.
Includes two top-drawer DJ software applications
The DJControl Inpulse 500 comes with both Serato DJ Lite and DJUCED DJ software. Serato DJ Lite contains the best features of the industry-standard Serato DJ software. Whether you're emulating traditional turntable DJing or taking advantage of the extreme flexibility of the DJControl Inpulse 500's high-tech features, Serato DJ Lite provides you with the best in-the-box DJing experience you could ask for. Ready to step up to the big leagues? The DJControl Inpulse 500 is also compatible with Serato DJ Pro (sold separately). The DJControl Inpulse 500 also includes DJUCED. This feature-rich DJ software includes a powerful modular interface, a full suite of effects, loops, hot cues, beat jumps, and multilayer samples, plus synchronization of up to four decks, slip mode, and multiple quantize modes. And thanks to DJUCED's integrated video DJ Academy, interactive help, Intelligent Music Assistant, and Beatmatch Guides system, it's also the ideal software to guide the uninitiated through the world of DJing.
The including items
1- Hercules Inpulse 500
2- Hercules Djmonitors 42 INCHES
3- Rane RH-1
4- Full Djuced software
1- Hercules Inpulse 500
2- Hercules Djmonitors 42 INCHES
3- Rane RH-1
4- Full Djuced software