Behringer PMP980S
8 Channels mixer with power delivers superior sound quality for small club gigs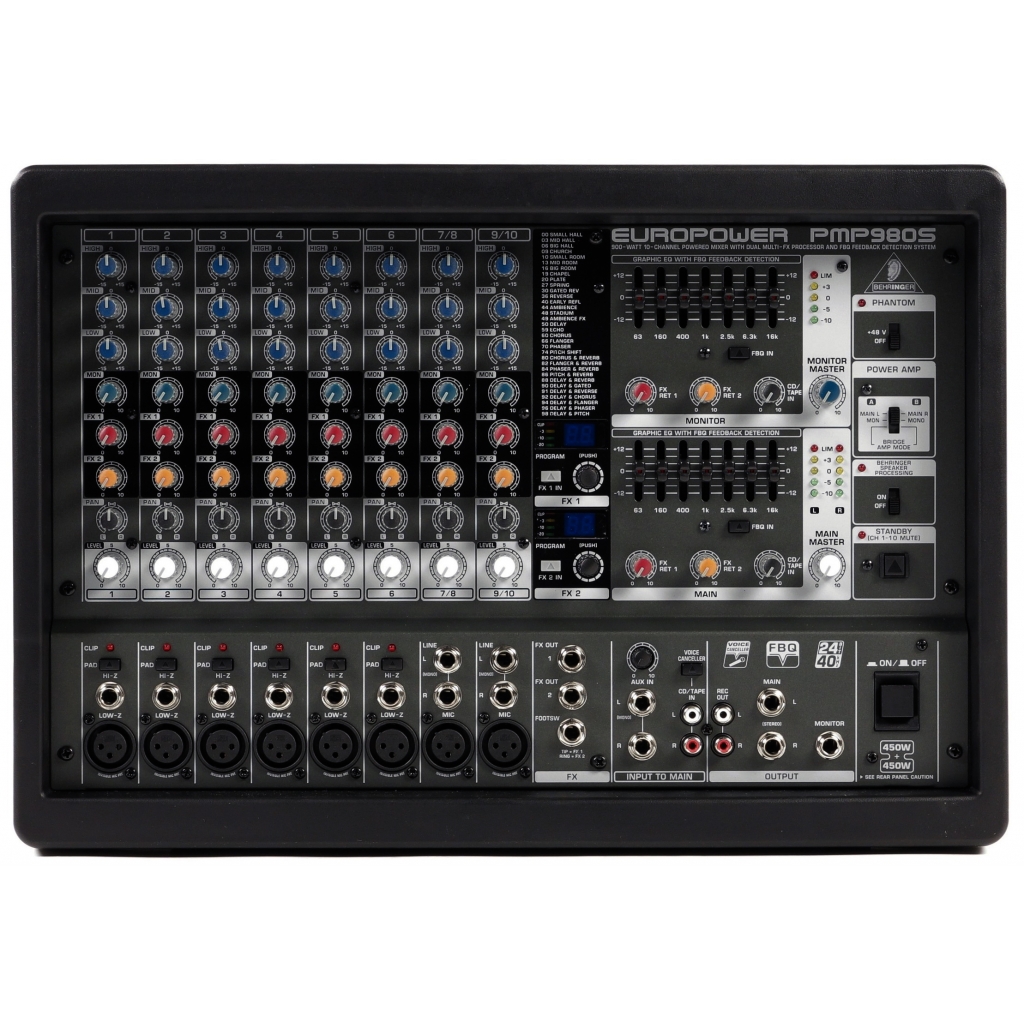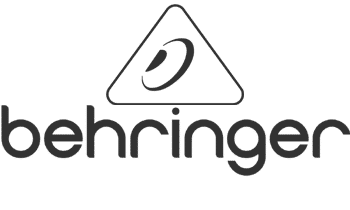 ---
$495
PRICE DROPPED FROM $899

---
---
---
Classic control, state-of-the-art sound
Each of the mic inputs on the Behringer PMP980S mixer contains top-quality built-in mic preamps with switchable +48V phantom power for condenser mics"just like in our studio mixers. Suddenly you can leave the mic preamps at home, and the kind of sound quality that was once only available in the studio is ready to go wherever you do. Plus with dual 24-bit FX processors built right in, you get 100 mind-blowing digital effect presets such as delay, chorus and reverb that you can apply two-at-a-time to any channel you like, as well as to the monitors and main output. No outboard gear needed. This mixer comes loaded with Behringer's amazing FBQ feedback detection system, which automatically pinpoints trouble frequencies so you can snuff them out before you"or the audience"go deaf. Just touch a button and watch as trouble frequencies are indicated by red LEDs on the 7-band graphic EQ.
The Ins and Outs
The Behringer PMP980S gives you loads of flexibility in accommodating whatever the center of attention happens to be. Channels 1-6 are for mics, bass guitars or other mono instruments. Channels 7-8 and 9-10 can be used as stereo channels. You can connect up to 8 microphones or other mono instruments or six mics or mono instruments along with two stereo instruments (keyboards, for example) or the A/V equivalent.

In the bottom right corner of the Behringer PMP980S mixer, you'll find the FX, INPUT TO MAIN and OUTPUT sections. The FX section features a FOOTSW(itch) input. This lets you connect a footswitch like the AB200 so you can remotely enable/disable either FX channel. FX OUT 1 & 2 are used to connect up to two outboard effects processors. The AUX IN 1/4" inputs in the INPUT TO MAIN section allow you to route an external stereo signal to the main mix.

The AUX IN control adjusts the volume of the external signal in the main mix. Use the 2TR IN RCA inputs to feed in external stereo signals from CD players or tape decks. The VOICE CANCELER switch allows you to eliminate the vocals from pre-recorded music for karaoke applications.

In the OUTPUT section, the REC OUT RCA outputs send line-level signals from the mixer to a recording device, so you can finally get to work on that triple-live album you've always dreamed of. The MAIN 1/4" connectors are there just in case you want to connect more amps. Connect your monitor power amps or active monitor speakers to the MONITOR output.
Ultracompact 450W dual mono powered mixer
Revolutionary amplifier technology: enormous power, incredible sonic performance and super-light weight
Ultracompact design at nearly half the depth and weight of conventional powered mixers means no more lugging around dead weight
8-channel mixer with 6 mono and 2 stereo channels plus separate tape returns
24-bit stereo FX processor with 100 awesome presets including reverb, chorus, flanger, delay, pitch shifter and various multi-effects
Revolutionary FBQ Feedback Detection system instantly reveals critical frequencies for easy feedback removal
6 high-quality mic preamps with switchable +48 V phantom power for condenser microphones
Effective, extremely musical 3-band EQ, switchable Pad and Clip LEDs on all channels
Dual 7-band graphic EQ allows precise frequency correction of monitor and main outputs
Voice Canceler function removes singer's voice from recordings for Karaoke applications
Selectable double mono (main/main, main/monitor) or bridged mono amplifier operation mode
Speaker Processing function adjusts frequency response to match professional speaker systems like BEHRINGER EUROLIVE series, etc.
Standby switch mutes all input channels during breaks while background music is provided via tape inputs
Adjustable Aux input for connecting external signal sources
Internal switch-mode power supply, noise-free audio, superior transient response and very low power consumption
Rack mount brackets included
High-quality components and exceptionally rugged construction ensure long life
Conceived and designed by BEHRINGER Germany