TC-Helicon Singthing All-in-One Vocal Processor with speaker microphone and cable
an extremely practical all-in-one solution with built-in effects processor and a 150W speaker for processing and amplifying vocals as well as acoustic guitars.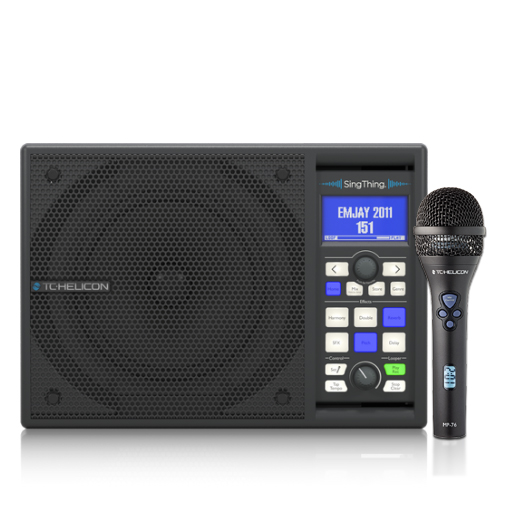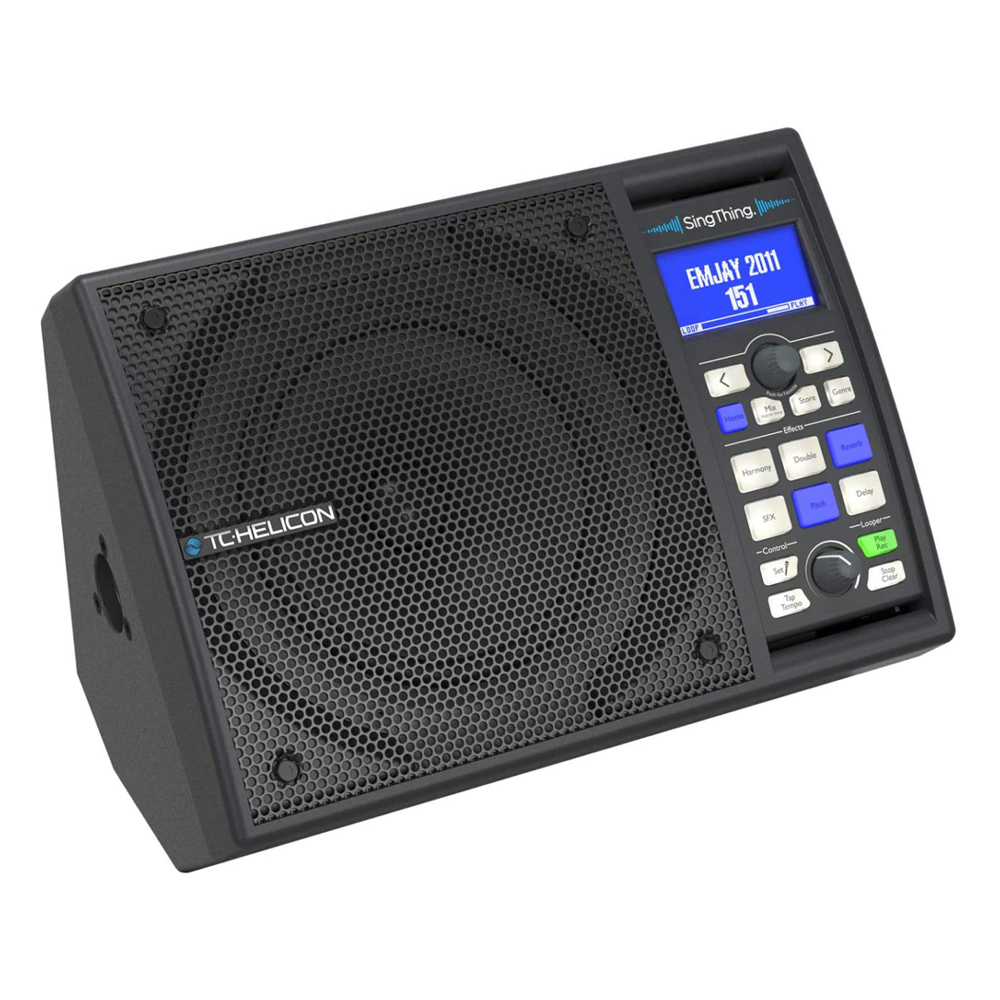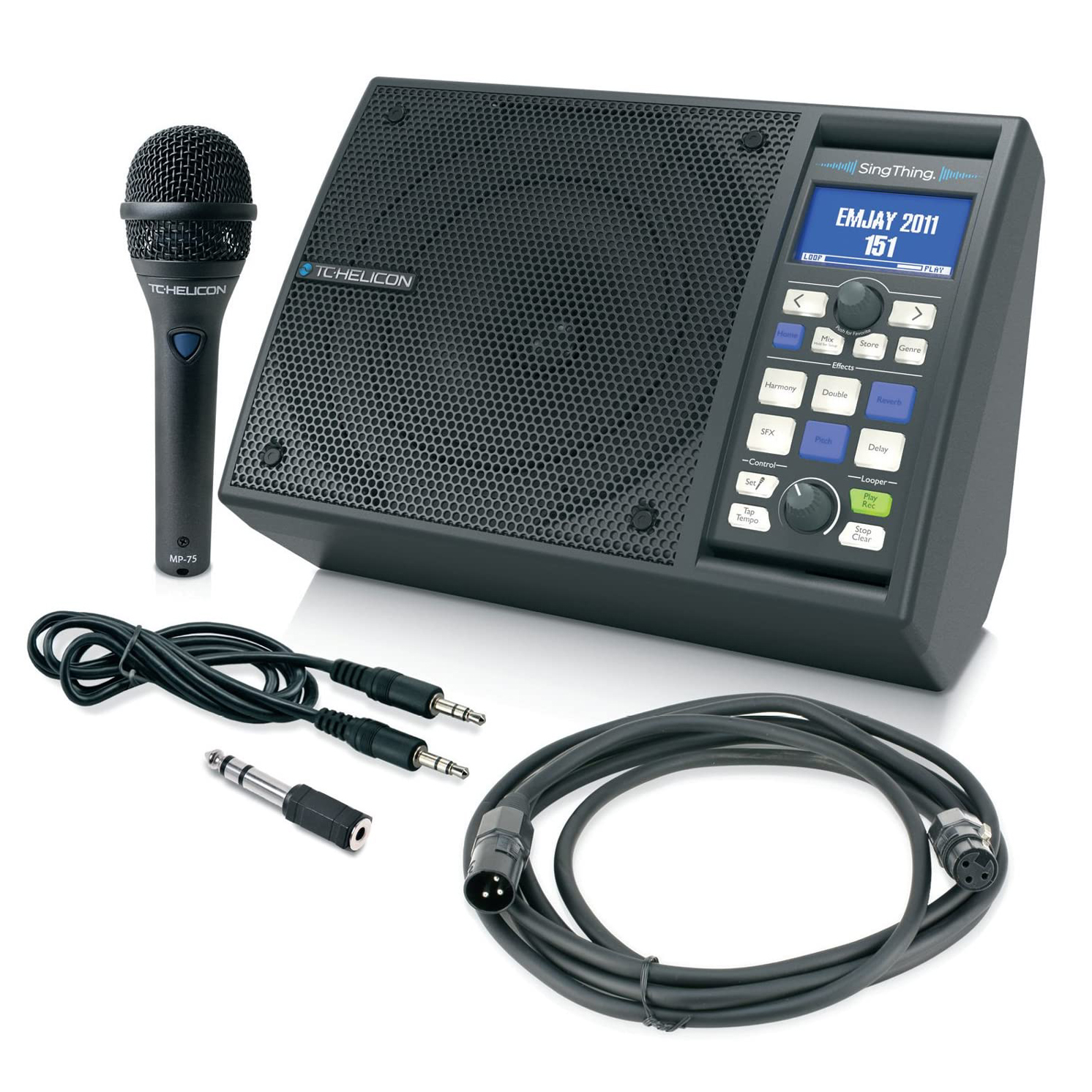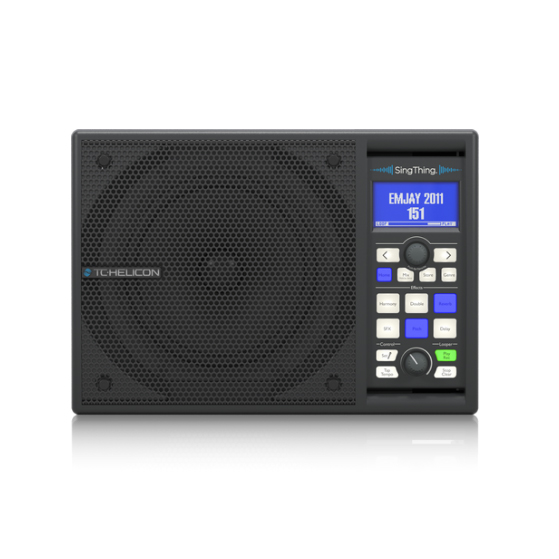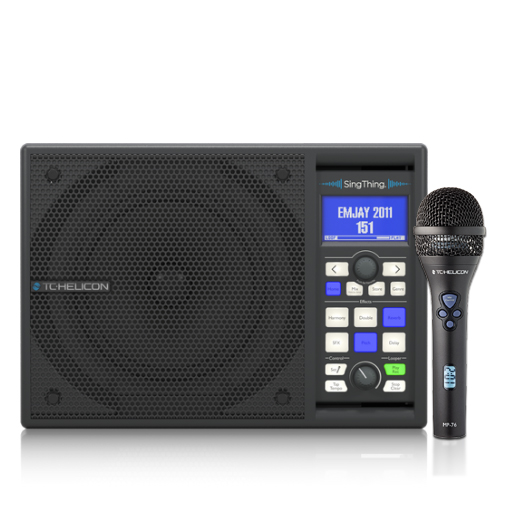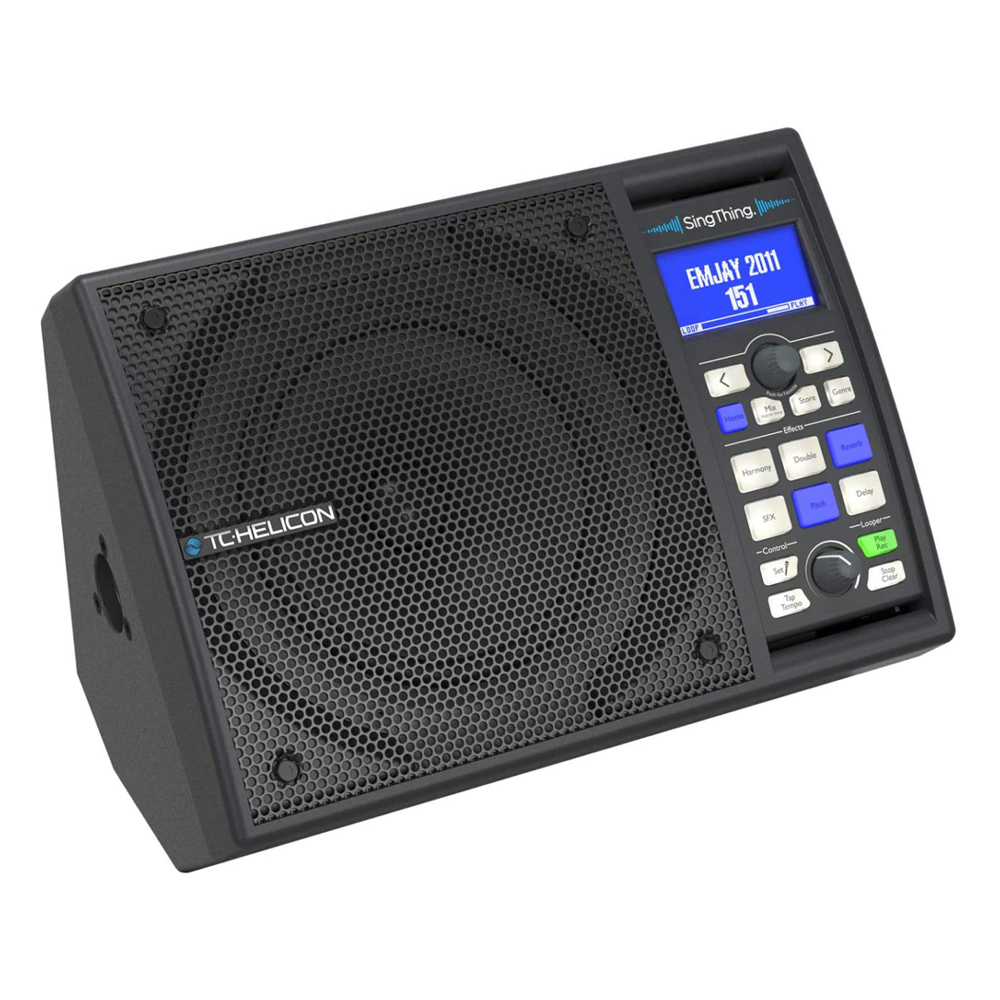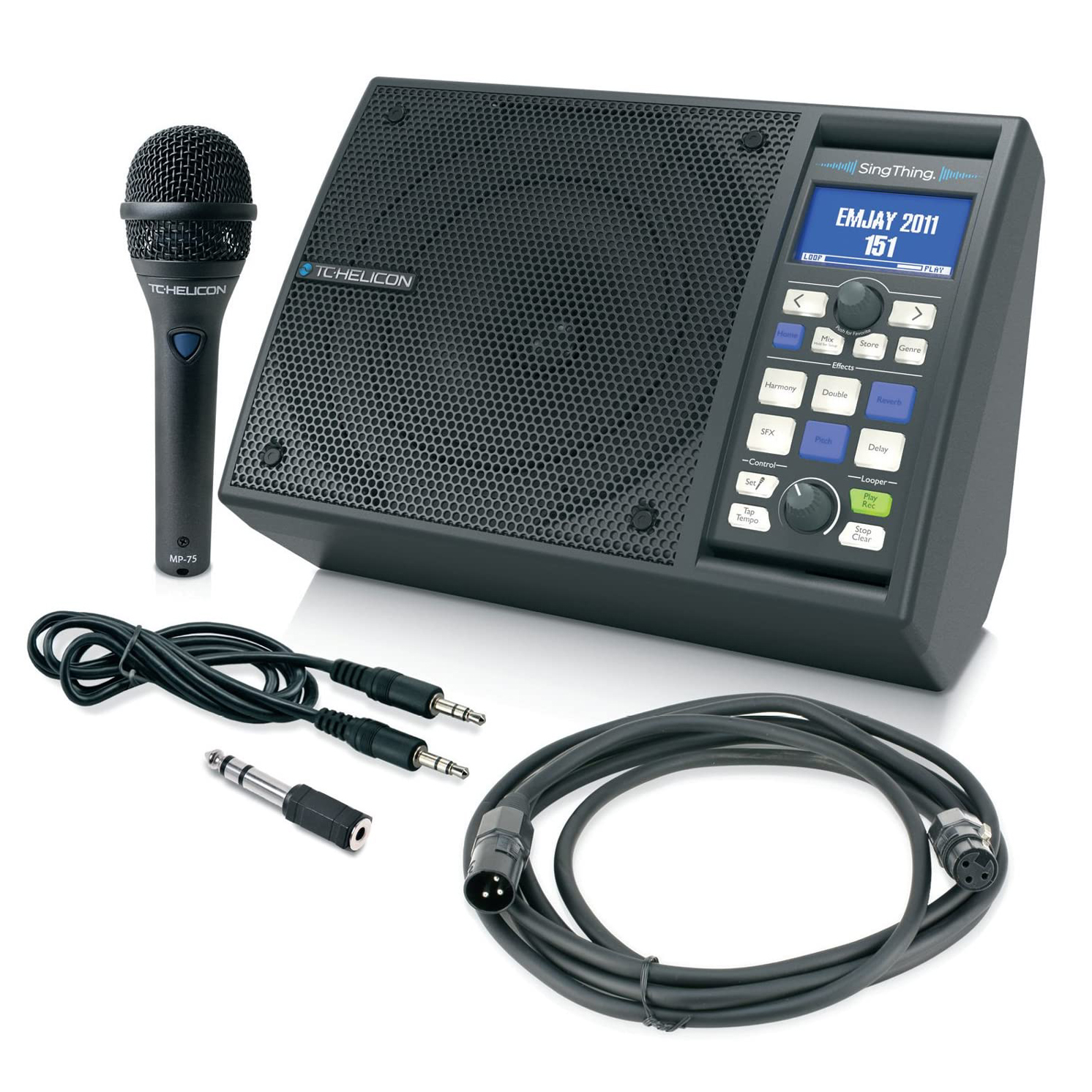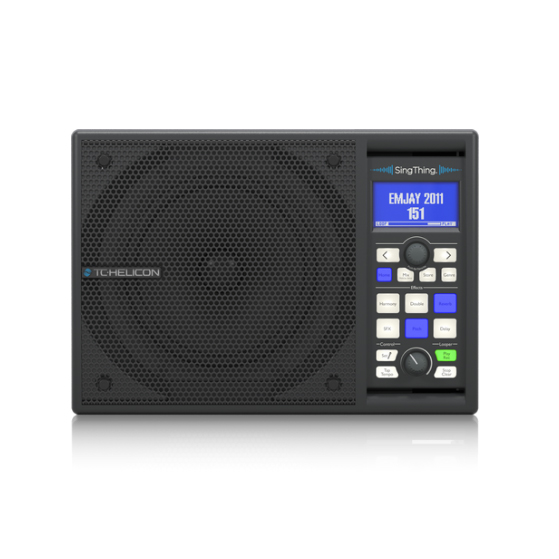 All-In-One Vocal Processor with Speaker, Microphone and Cables
With over 200 professional presets based on well-known songs or artists, combined with the instrument connectors, a microphone and all necessary cables, you can easily find the right setting without having to study sound technology, all controls are clearly structured and clearly arranged on the front panel, while all connections such as the microphone input, midi and the output for passing on the signal are located at the rear. The device can be attached to any microphone stand via integrated holders.
Better than Basic
SINGTHING. has all the vocal effects you need to create any sound you can imagine. From pop to rock, country to R and B and beyond, SINGTHING. has got you covered.
Harmonize!
Adding harmony to your music just got easy. Connect your guitar, keyboard or music player and SINGTHING. selects the right harmony parts automatically!
Strum Along
Most acoustic guitar pickups tend to sound boxy with an unnatural "quack" to their tone. SINGTHING. once again comes to the rescue with BodyRez. It gives your acoustic guitar a much enhanced, natural tone to make it sound fantastic!
Homemade Jam
Looping allows you to capture elements of your performance and then jam along with them. It's great for both live performance and songwriting. Plus, SINGTHING. recognizes the tempo of your first loop and sets the Echo tempo automatically.
Dive In
SINGTHING. includes more than 200 song and artist-inspired presets covering a wide range of musical genres. Plus, there are nearly 1000 more available for free download via our VoiceSupport 2 program. Want to create something completely original? Any of the presets can easily be edited, renamed, and saved quickly.
Go Live
From practice to performance, SINGTHING. is the only tool you'll need. Whether it's the local pub, your favorite coffee shop or even a friend's back yard, SINGTHING. is as gig ready as you are. Check out SingThing. at your TC HELICON dealer, or get yours online today.
All-in-one vocal processor with a powerful built-in speaker takes your vocals to a new level
Vocal effects for studio-quality vocals
Built-in 150W speaker for powerful monitoring
Includes TC HELICON MP-75 Modern Performance Vocal Microphone, XLR and 3.5mm jack "AUX cable and a 6.3mm to 3.5mm jack adapter
The guitar input directs the harmony and hardtune FX while the BodyRez filter gives your acoustic guitar a more natural sound.
MIDI keyboard input automatically sets harmony key and scale with Natural Play
VLOOP Performance Looper with automatic tempo function creates the possibility of unlimited overdubs
200+ song and artist inspired presets, with hundreds of other presets available online