TC-Helicon GoXLR Mini USB Streaming Mixer with USB/Audio Interface
24-bit/48kHz 4-channel USB Streaming Mixer/Audio Interface with Customizable RGB Controls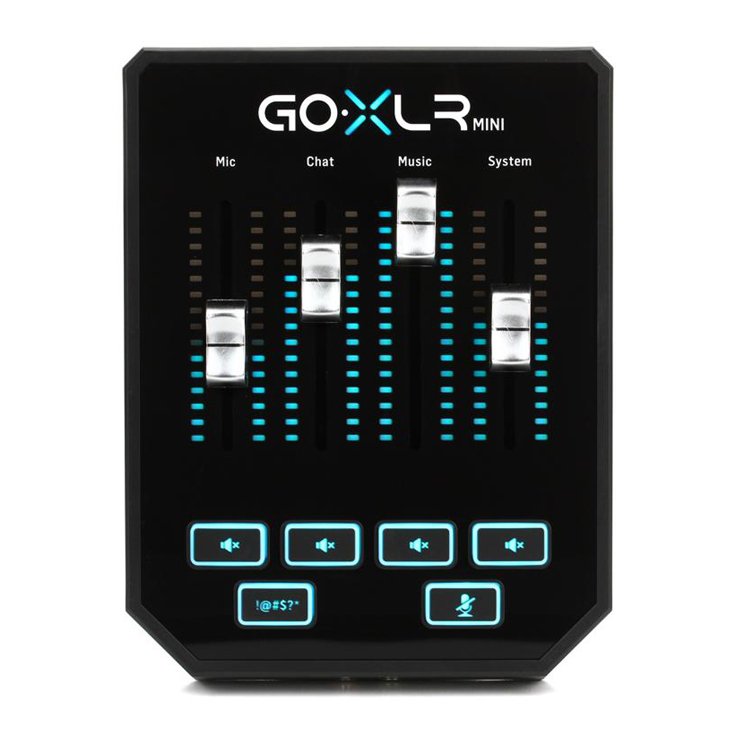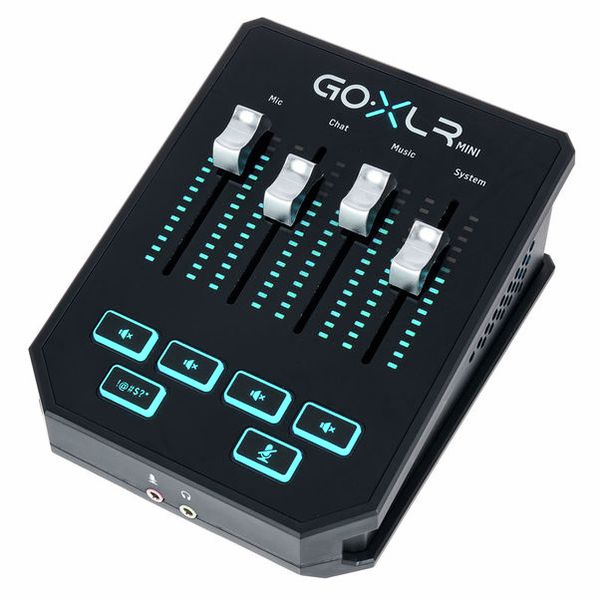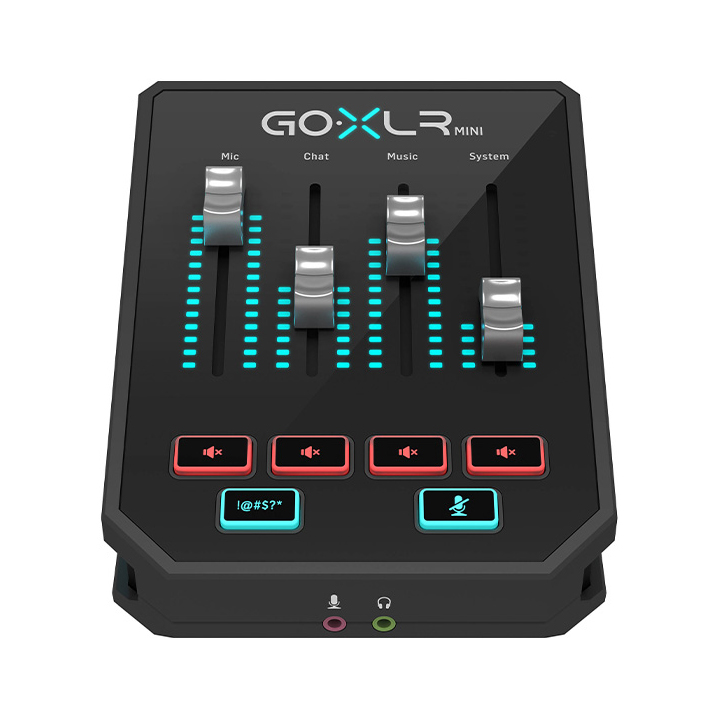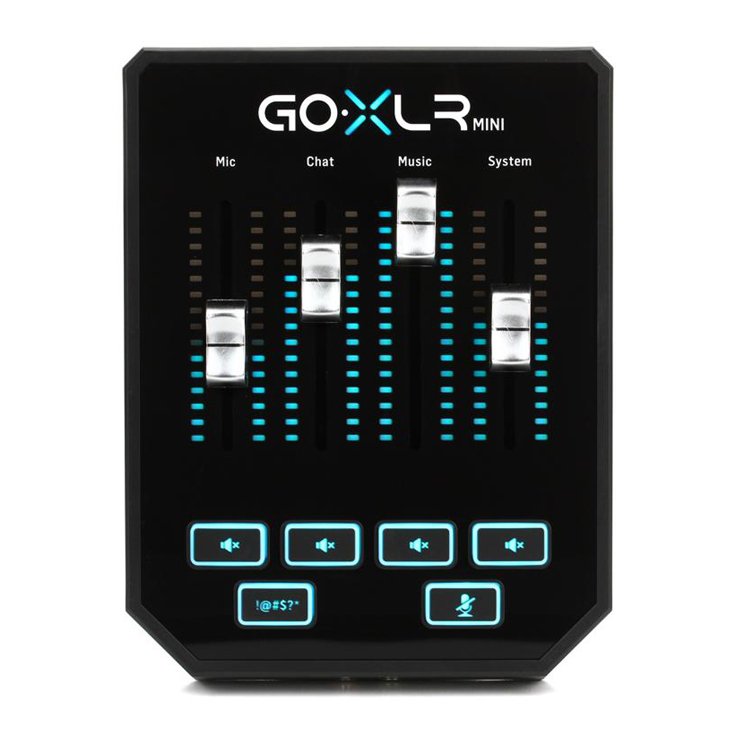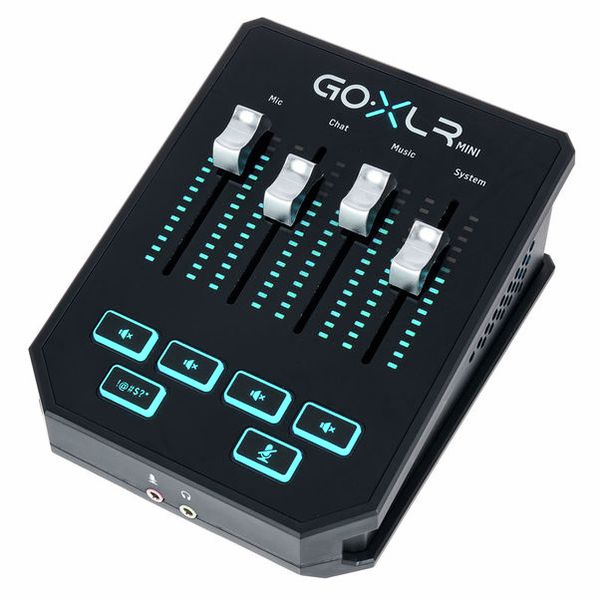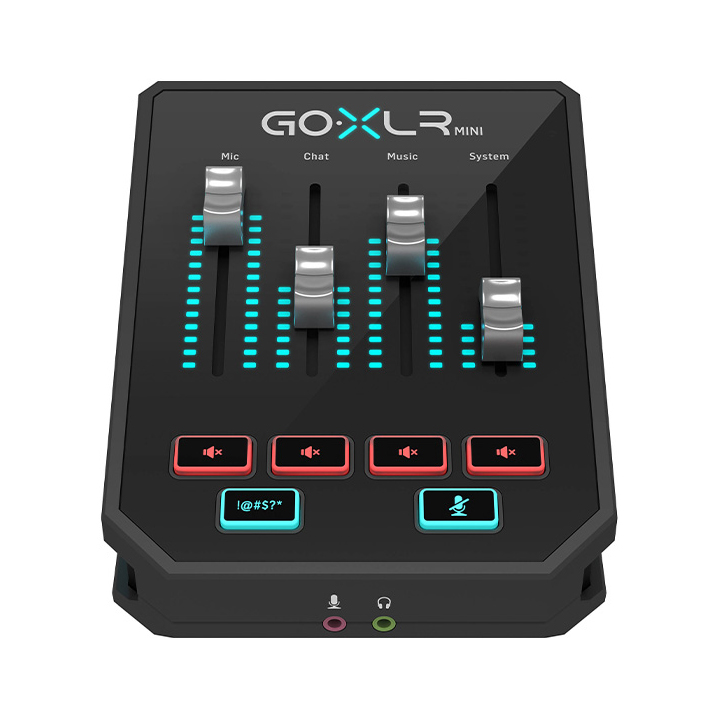 GoXLR Mini: Big Features in a Small Package
Designed for content creators and livestreaming, TC-Helicon's GoXLR Mini is the small-format mixer you need. This mini mixer makes juggling multiple sources, including a microphone, and headset, a gaming console feed, and audio from your computer a breeze. Each of the four channels has its own fader and programmable mute button. Finish it off with a dedicated mic mute button and flexible onboard DSP that's easy to program, and you'll get a ton of mileage out of your GoXLR Mini.
Impressive power under the hood
The GoXLR Mini is a stripped-down version of the GoXLR, with a minimalist hands-on control surface that lets you keep your attention on your content. What's great is that there's a ton of power below the surface. For starters, the GoXLR Mini App lets you customize the backlighting, define your audio routing, set mute modes, and handle other important setting. And you can save and recall these settings to effortlessly switch from gaming to podcasting, and beyond.
Tap into killer DSP
What do you need to sound your best? A bit on EQ? How about compression? And a gate sure is handy for keeping out noise. Guess what: you get all of those built right into TC-Helicon's GoXLR Mini. What's more, the GoXLR Mini App lets you completely control these processors, so you can set them up to best meet your needs. No one-size-fits-all processing here. And because all of this processing takes place in the GoXLR Mini's hardware, you don't have to worry about sacrificing frame rate for superior audio.
Stunning MIDAS preamp onboard
The GoXLR Mini is far more than meets the eye. With the equivalent of 12 sound cards in one, you can customize your audio routing in up to 24-bit/48kHz resolution for your most important inputs microphone, music, game audio, stream alerts, and more. The analog side of the GoXLR Mini is easily as impressive, thanks to its premium MIDAS preamp. You get plenty of clear gain for even classic low-output broadcast mics, plus phantom power for condenser mics.
Simple and compact 24-bit/48kHz digital mixer designed for live streaming and content creation
4-channel design lets you mix microphones, headsets, external sources, computer audio, and gaming consoles
GoXLR Mini App lets you control and program every aspect of the layout from your computer
Configure the assignable channel mute buttons to fit your workflow
Mic mute button and censorship control let you cut or bleep out audio easily
MIDAS mic preamp with phantom power accommodates low-output dynamic broadcast mics and studio condensers alike
DSP equalization, compression, and gating provide essential processing without taxing your computer