M-Game RGB Dual Streaming Mixer
USB Audio Mixer with 2 USB Inputs, 1 XLR Input, Optical Input, Headset I/O, Programmable Voice Effects, Onboard Sampler, Customizable RBG LEDs, and Software Control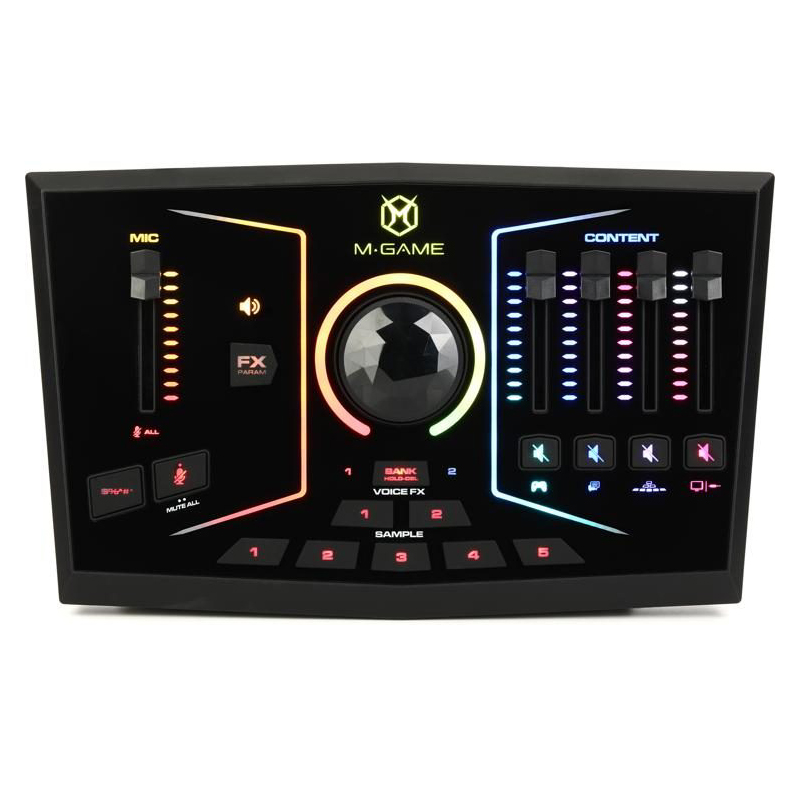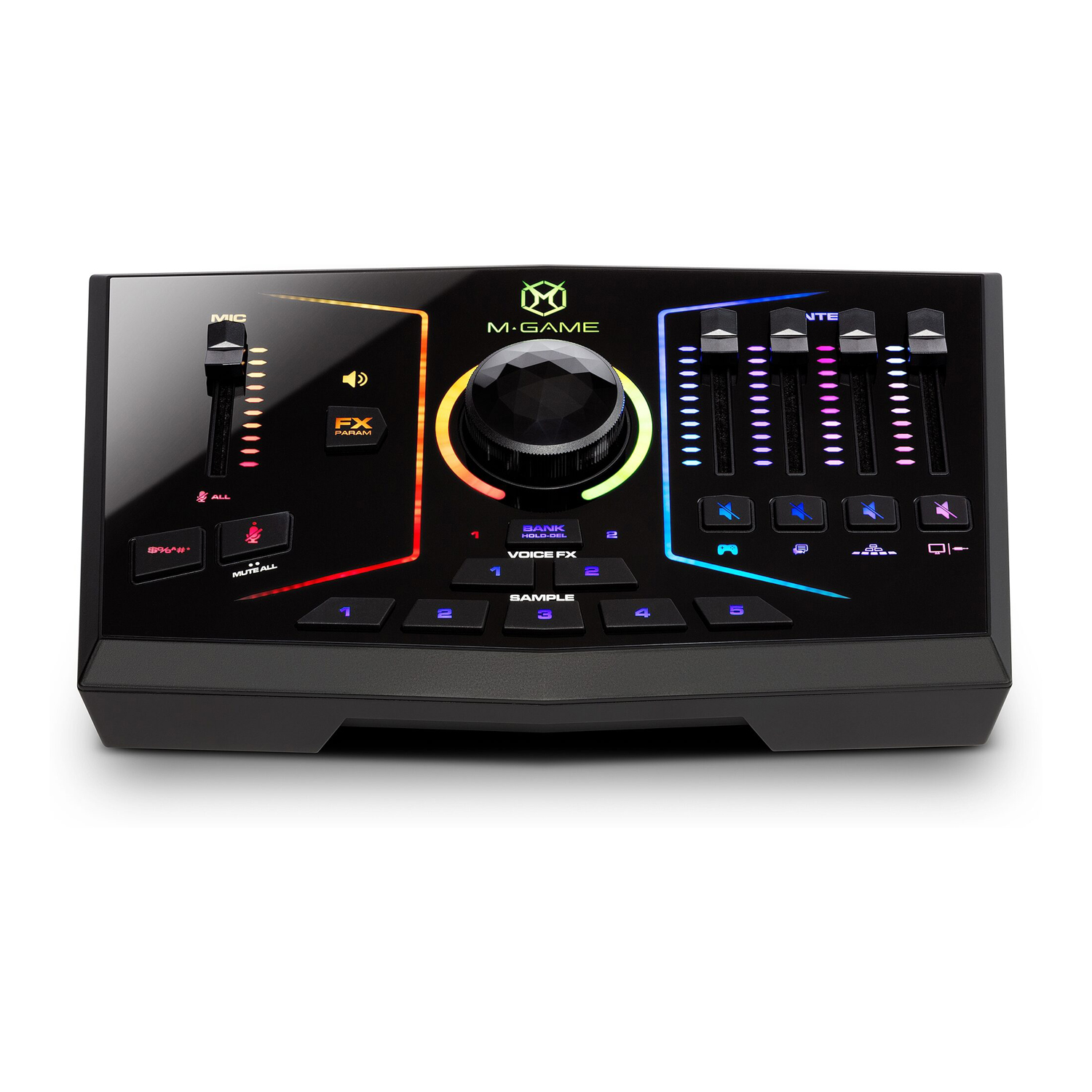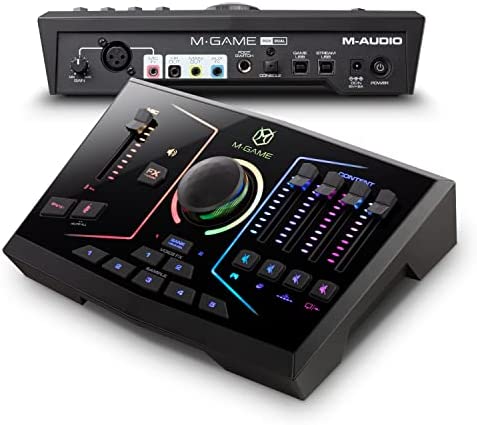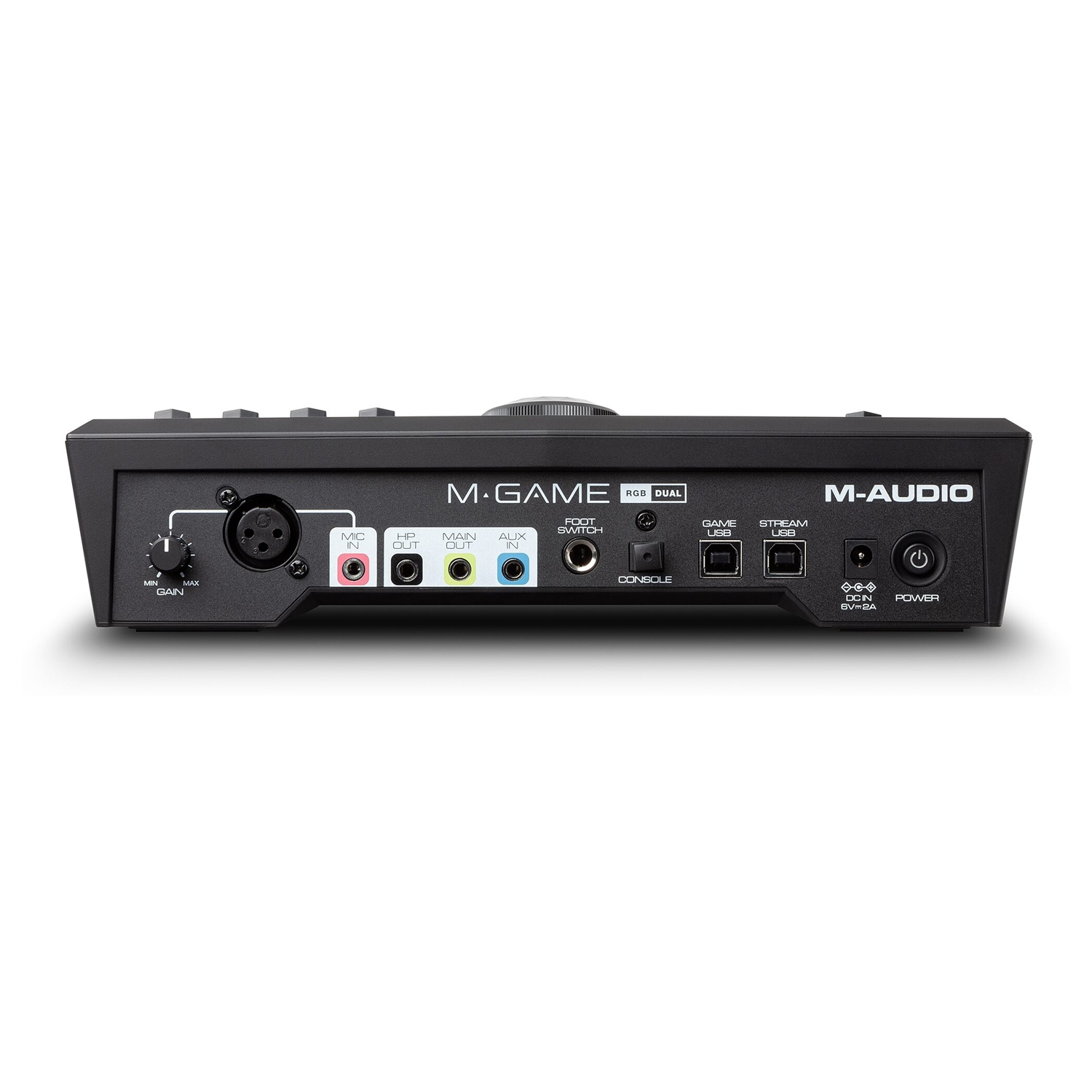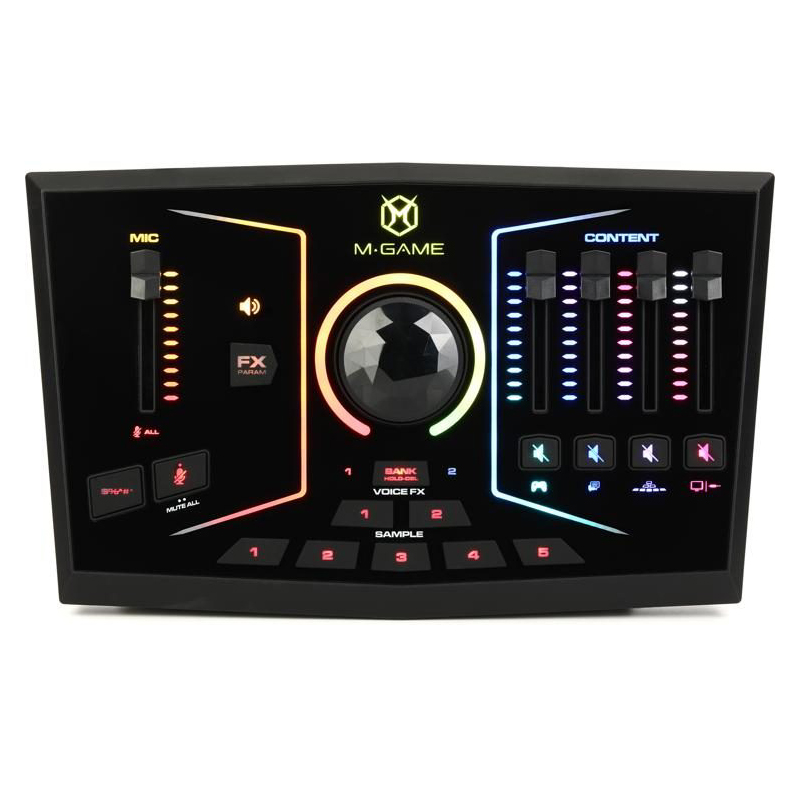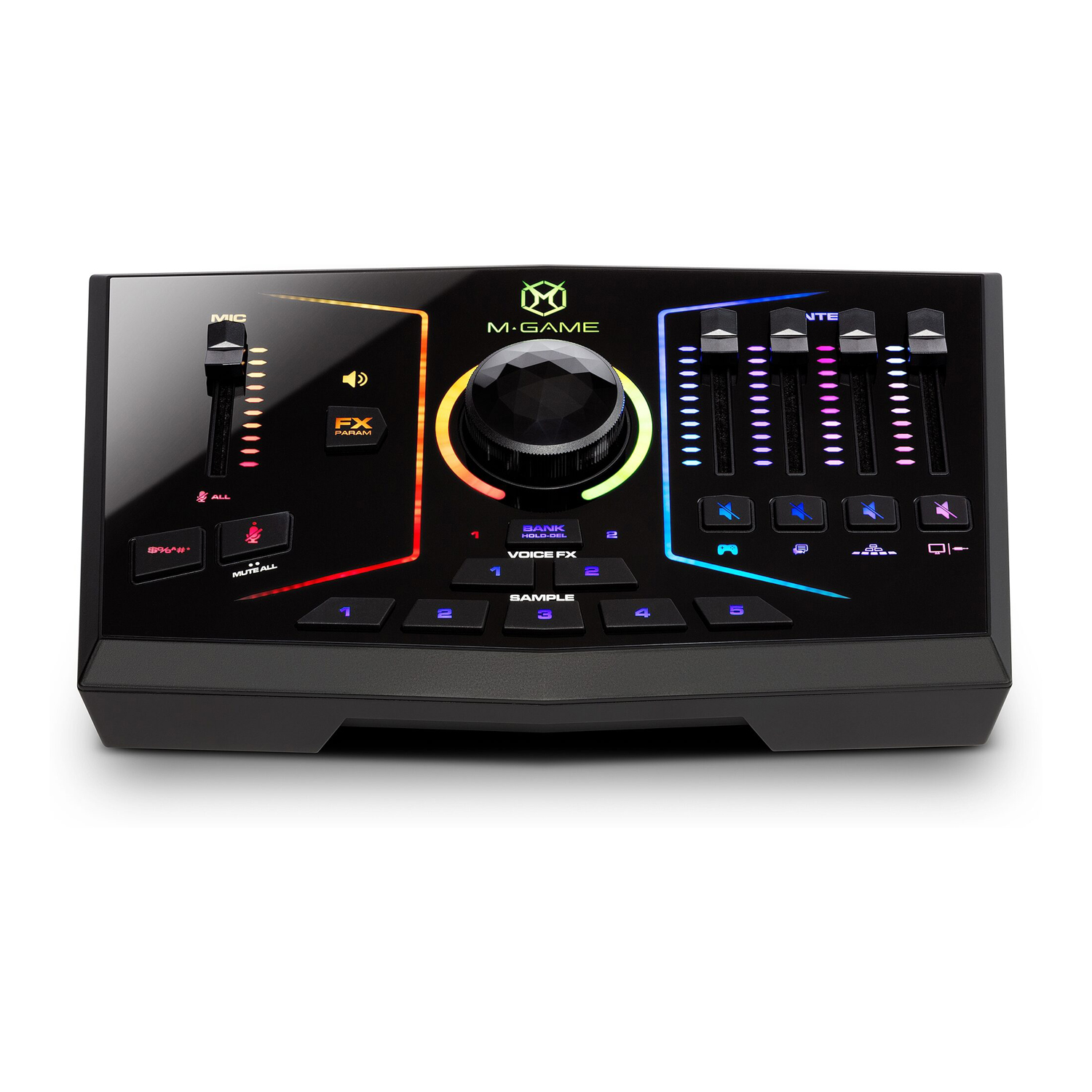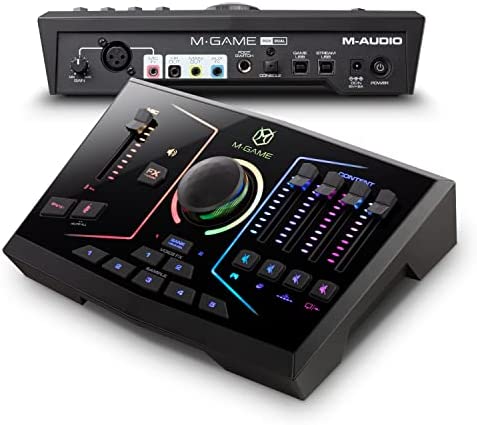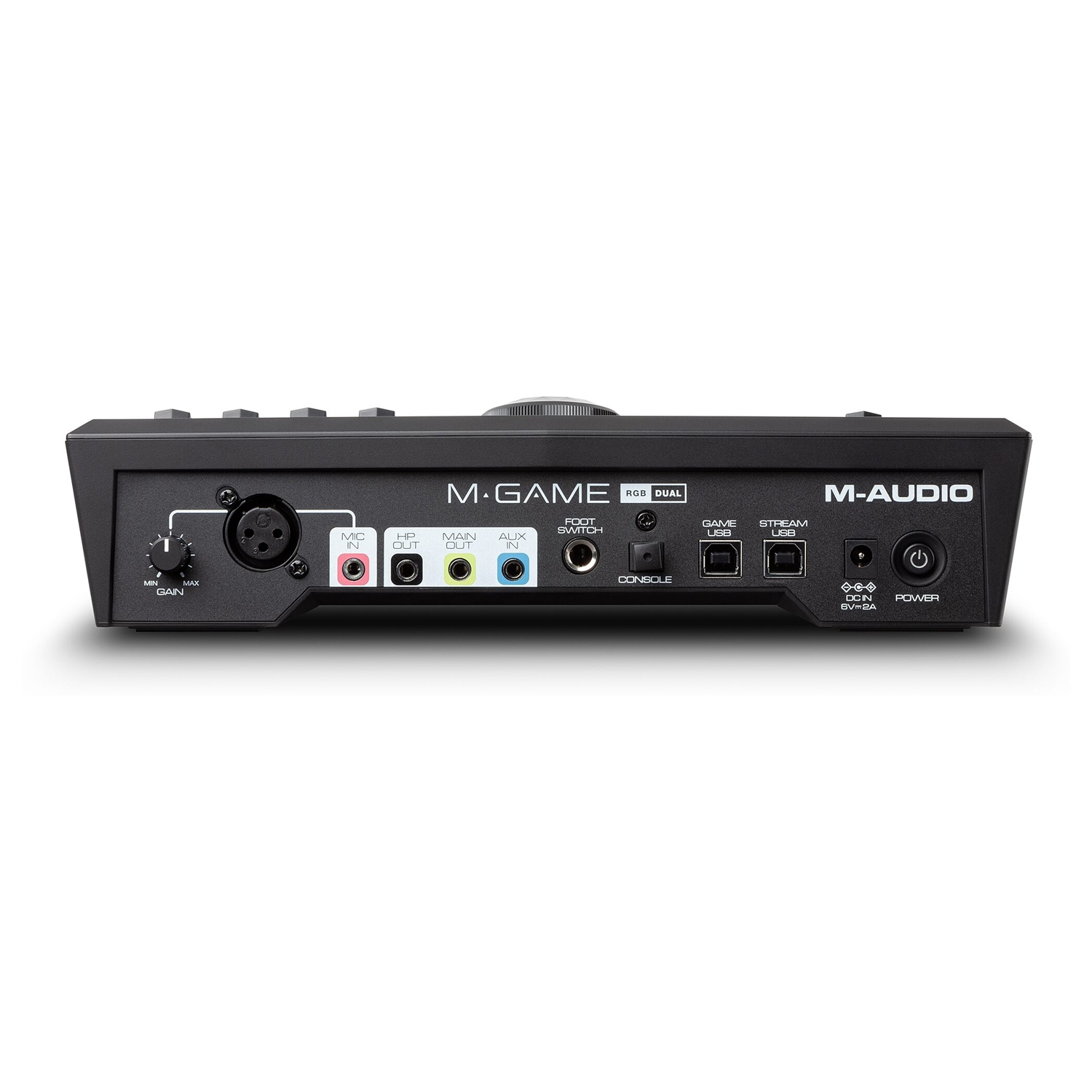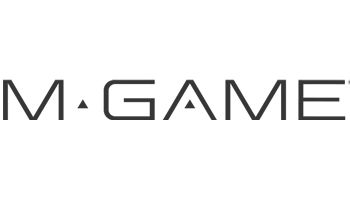 ---
$299
PRICE DROPPED FROM $333
---
---
---
Up Your Game with Smoother Streams
Designed in collaboration with the creative minds at M-Audio, the M-Game RGB Dual makes running your livestream easier than ever before. This dual-USB streaming audio mixer is intended for users who run a 2-PC streaming setup. And with RGB Dual's smooth fader-based design, it's easy to set the levels for your music, game, microphone, live chat, and sampler. Plus, the onboard sampling capabilities allow you to capture sounds and store them onboard for instant playback. And with free control software, you can add vocal effects, program the LEDs, and modify the routing of the entire interface. With its powerful, streamlined design, the M-Game RGB Dual is a veritable streaming game changer.
Perfect for dual-computer setups
Before RGB Dual, running a 2-PC streaming setup meant dealing with complex routing setups and adding a rat's nest of cables to your room. Now, M-Game changes the equation, offering an elegant solution that's powerful enough to handle anything. The interface has two USB and console connections, allowing you to link your gaming machine to your streaming PC without adding buzz and hum. The RGB Dual can integrate into any setup since it comes with both a standard XLR input for a dynamic mic and a headset input.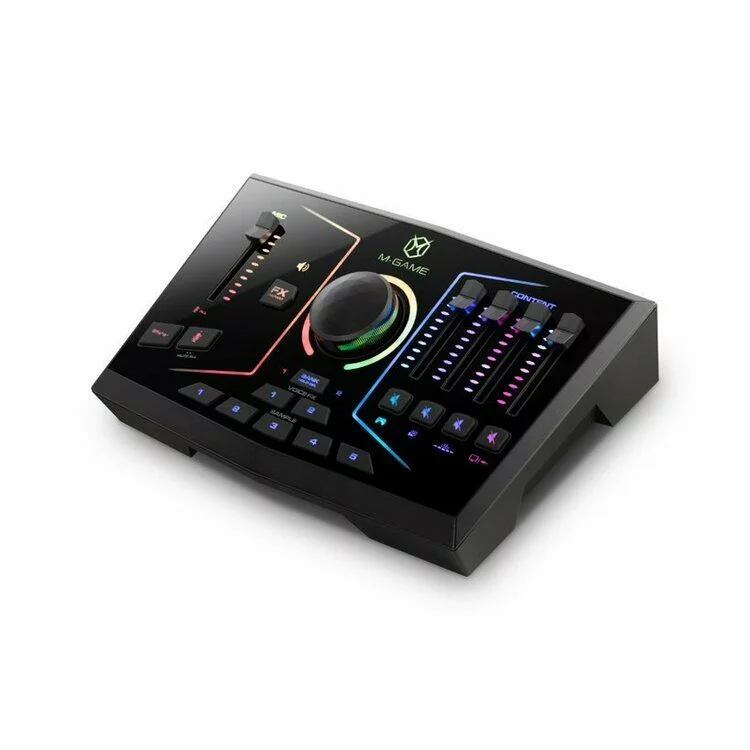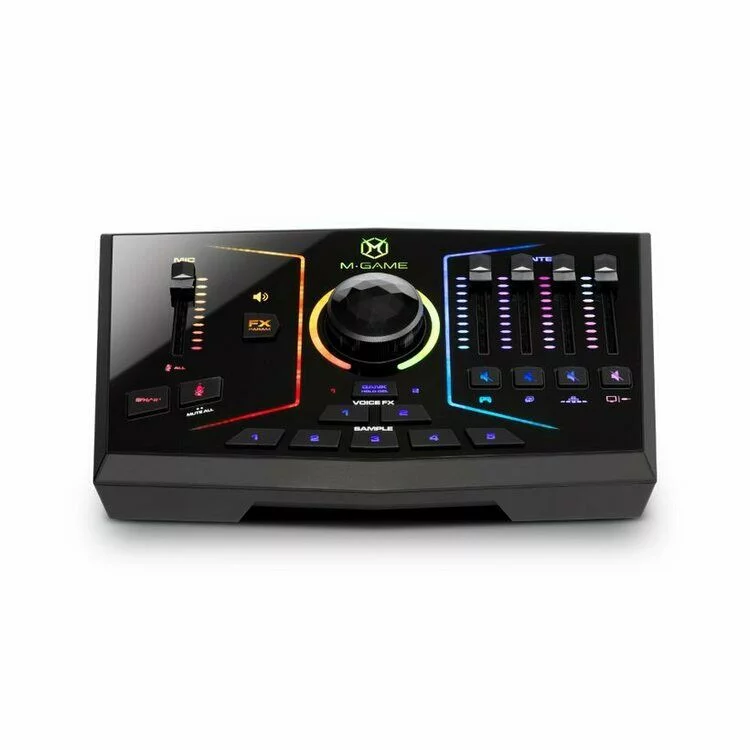 Take command with free control software
An interface this powerful demands a reciprocal level of control capabilities. Sweetwater is happy to report that the RGB Dual includes M-Game's free control software: boot it up, and the control software allows you to add voice effects, distortion, chorus and modulation, reverb, and much more — and that's just the audio performance! The control software allows you to create and save presets for specific microphones, LED setups, and routing schemes. The M-Game control software will enable you to flex your creative muscles on every aspect of the interface.
Streamlined workflow keeps the focus on gaming
Who wants to add an overly complicated piece of gear to their rig? Not many streamers. That's why M-Game consulted numerous streaming pros while designing the RGB Dual. The layout is simple and efficient — use the five individual faders to set the level of your mic, chat, headphones, game, and samples. Better still, each fader has a separate mute button. Program the large multi-function center knob to control whatever you want; when it's time, trigger a sample, sound, or voice effect from one of the programmable buttons. And if you're running a family-friendly stream, the onboard "#$%&" button makes it easy to censor yourself. The bottom line? The RGB Dual's user-friendly interface lets you focus on your stream, not your mixer.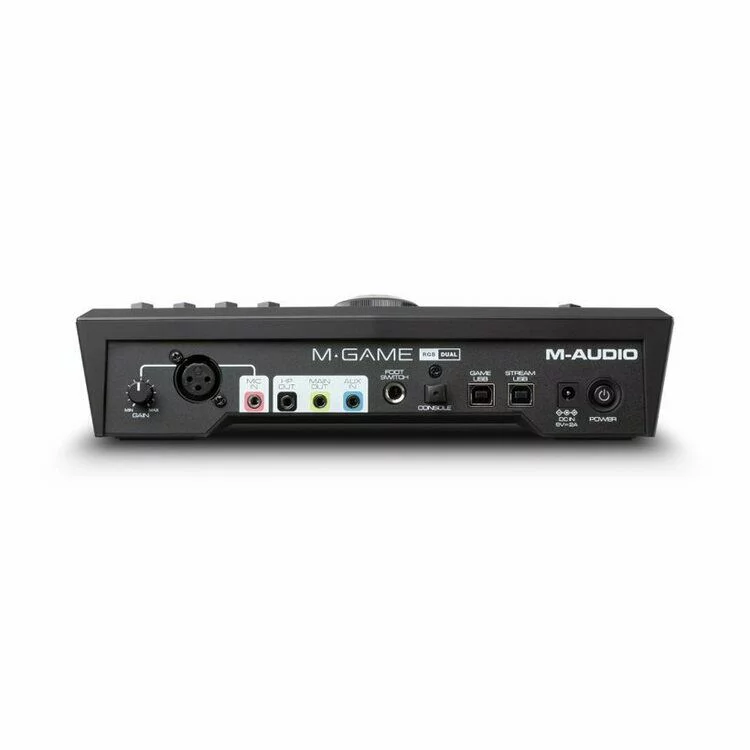 Streamlined USB streaming interface for PC and Mac
Dual USB connections transfer audio between computers seamlessly
Multi-purpose 360 control knob controls headphone/speaker volume or effects parameters
5 intuitive faders let you set levels for every audio source
Individual mute buttons silence any audio source on demand
Comes with both XLR and headset mic inputs
Onboard headphone output lets you monitor your audio with ease
Vocal effects processing enables you to achieve the perfect sound for any situation
Included M-Game control software gives you total control over the interface's functionality
Programmable LEDs allow you to set the mood and match your other lighting
"#$%&" button makes censoring foul language easy