Essential plus
The most affordable solution for producer at home!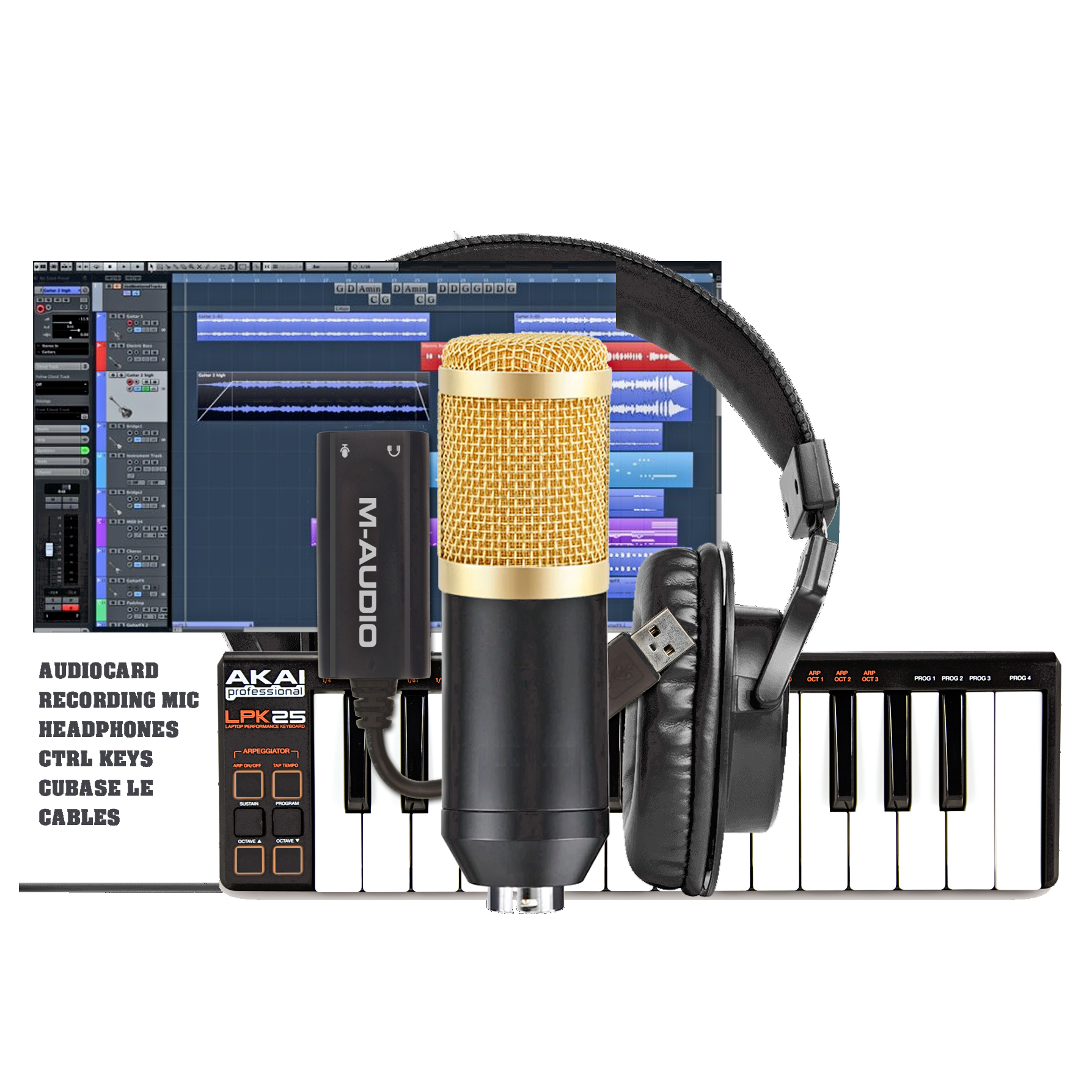 RAGTIME
---
$195
PRICE DROPPED FROM $350
---
---
---
Essential Gear to start producing music at home
The bundles is been carefully setup to provide the lowest budget price solution in the market covering hardware and softare that helps young producer to start playing and making music at home
M-AUDIO 24/96KHZ USB
This audiocard provide a reliable dynamic range with mic input and headphones or line output that could be used either on your PC or even on your phone
Reburst mic
Sensitive Capture: The Reburst mic features thin material diaphragm or "capsule" which vibrates and sends a signal to the output when engaged and is hit by sound waves, it provides an extremely accurate and highly detailed representation of what's being played
Stagg SHP5000 headphones
Deluxe stereo headphones with Circumaural ear-pads. 50mm driver and high sensitivity neodymium magnet. Impedance: 32 Ohms. Sensitivity (SPL): 101dB +- 3dB at1kHz. Frequency response: 10Hz to 25 kHz - weight: 200g / 7.5oz - foldable, compact design for easy storage. 6.3mm (1/4") gold plated stereo plug adaptor.
Steinberg original Cubase LE
Cubase LE is a special, original compact version which uses the same core technologies as Cubase Pro. It provides all the basic tools for recording, editing and mixing - from the initial idea to the final masterpiece. Cubase LE is the perfect entry into the world of computer-based music production and offers powerful, yet easy-to-use software tools for all genres.
AKAI LPK25 controller keyboard
The LPK25 laptop performance keyboard is a USB-MIDI controller for musicians, producers, DJs and other music creators. It measures less than 13 inches across and weighs less than a pound to easily fit into a laptop case, backpack or messenger bag for extr
USB 2IN/2OUT dongle USB
Large Diaphram condenser mic
Close type headpones
Akai LPK25 small portable 25keys controller keyboard
Steinberg Cubase LE original daw recording system