Alesis Harmony 61 Pro 61-Key Portable Arranger Keyboard full package
61-key Keyboard with 580 Premium Sounds, 180 Patterns, 177 Demo Songs, Sampler, Built-in Microphone, X/Y Touch Pad, Pitch Bend Wheel, Onboard FX, USB-MIDI Connectivity, SD Card Slot, Built-in Speakers, Stereo 1/4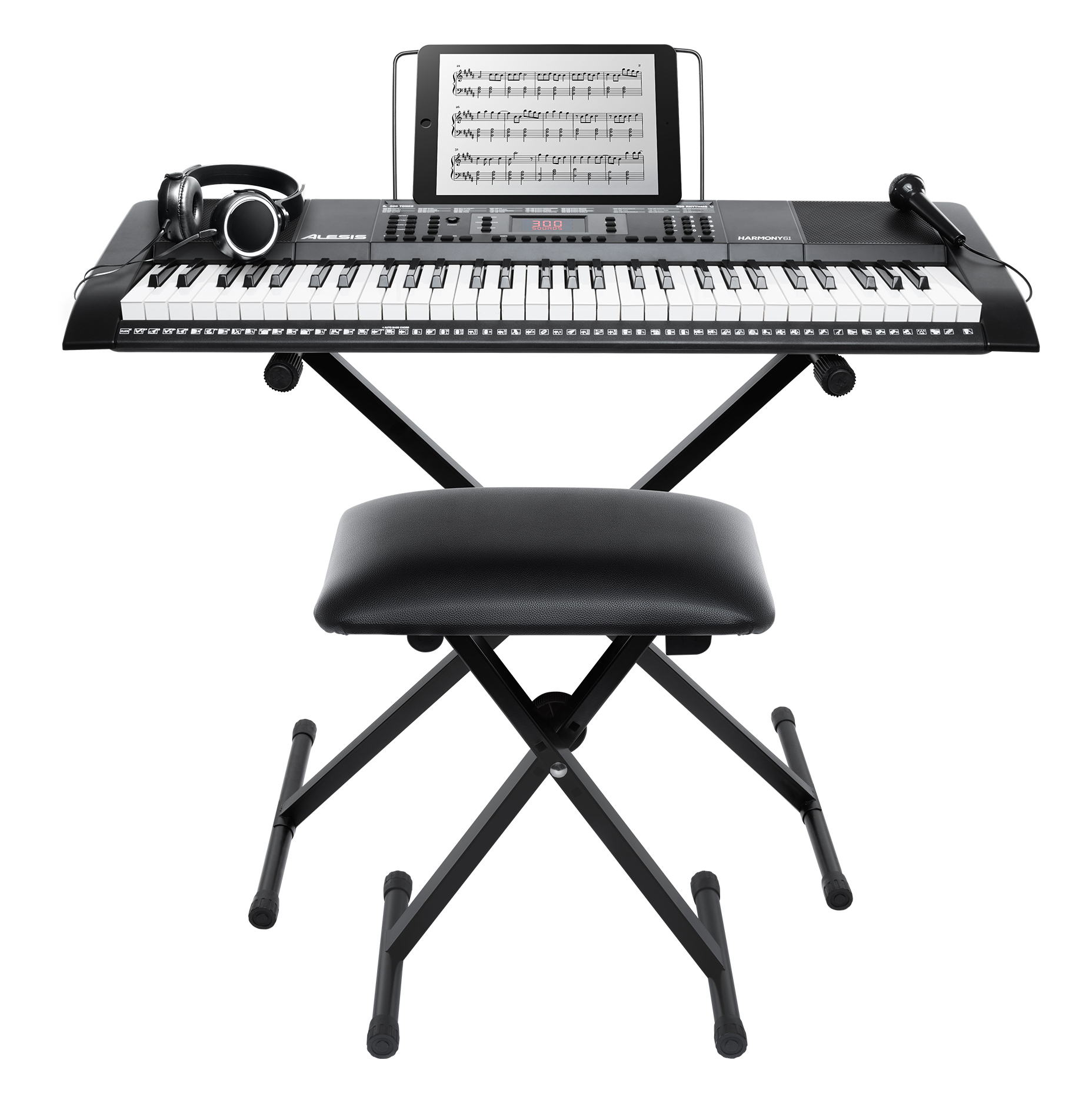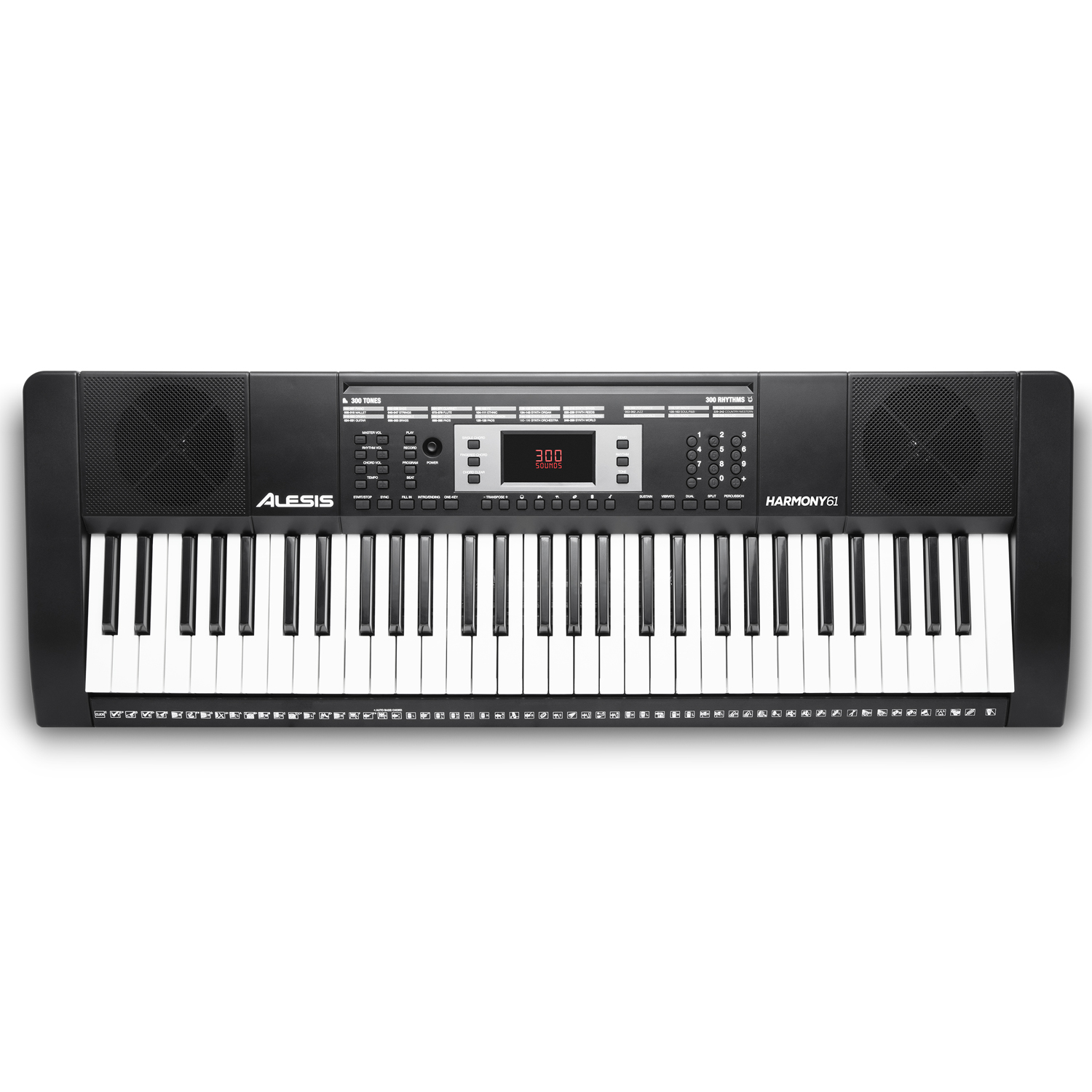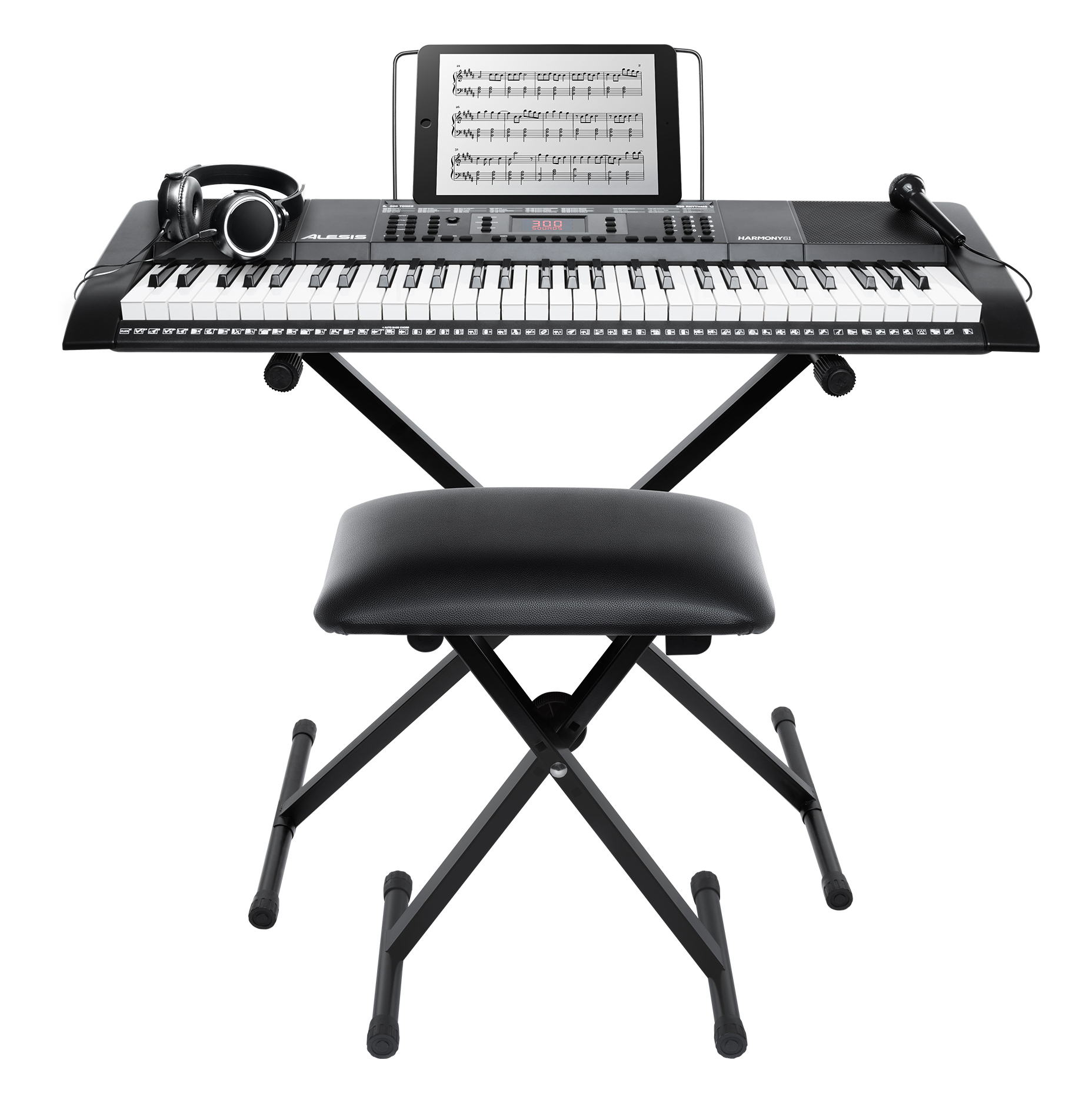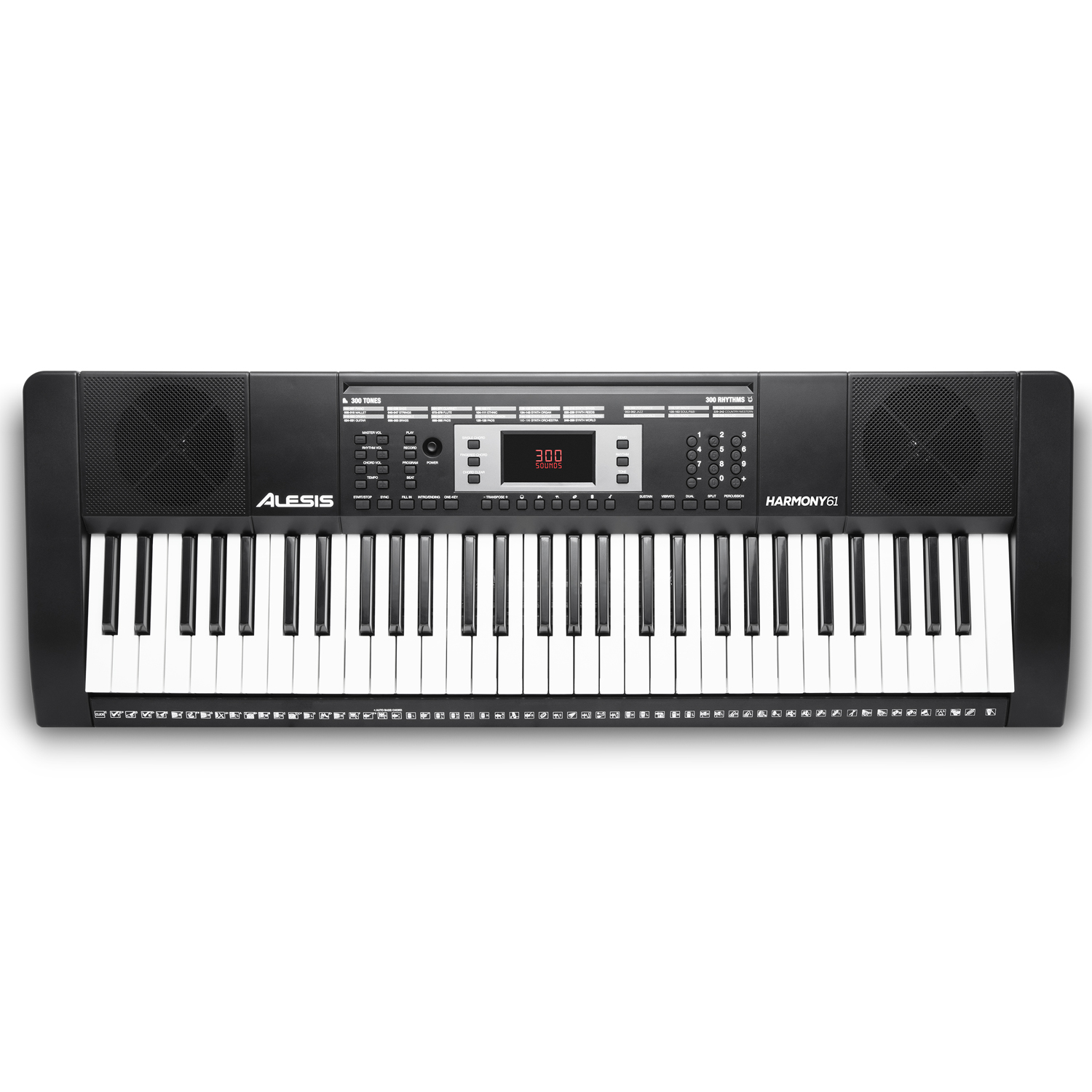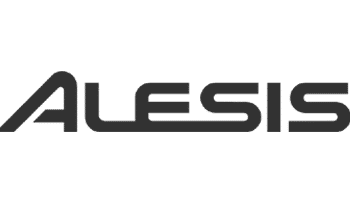 ---
$295
PRICE DROPPED FROM $350
---
---
---
61 Keys of Perfect Harmony
With the Harmony 61 Pro, Alesis has elevated their arranger keyboard to become an essential tool for education, expression, and exploration. Experience 580 premium sounds any way you please, thanks to impressive 64-note polyphony, and the layering functionality allows for easily splitting the keys for versatile compositional needs. A robust suite of onboard FX are accompanied by the DJ-style Mix Mode, letting you make on-the-fly adjustments with the responsive X/Y performance touch pad. Instantly sample and play your own sounds with the built-in keyboard, or take advantage of the onboard rhythms and accompanying tracks, perfect for songwriting, education, practice, and more. The user-friendly LCD display makes sound selection and modification a breeze, also allowing you to access any number of deeper parameters, as well as practice-track notation and a convenient chord dictionary. Keyboardists at Ragtime agree that the Harmony 61 Pro maximizes portability without sacrificing creative opportunity, hosting 30 watts of high-quality, built-in speakers and an optional battery-powered mode. Versatile recording capabilities and connectivity options include CD-quality encoding, perfect for demos and education.
Perfectly portable performance
With a library of 580 sounds, 180 accompaniment patterns, and 177 demo songs, it's easy to overlook the expressive potential of the Harmony 61 Pro. A reactive X/Y touch pad lets you engage the Mix Mode, with five sections for each of the 30 different styles of live performance tools. Generate evocative textures with the bevy of always-ready FX, including ten reverbs, eight chorus options, and two slicer effects. The "Dual" mode lets you layer different sounds to encourage dynamic audio design, with the split mode turning your keyboard into a total production powerhouse. Record CD-quality audio at a moment's notice, thanks to the SD card input, creating 16-bit, 41.1kHz .WAV files on the fly. Or use the USB-MIDI connection to seamlessly integrate the Harmony 61 Pro into your practice or performance setup. Two 15-watt speakers deliver crystalline audio, and a 1/4-inch stereo output ready to meet any larger audio needs. A 1/8-inch (3.5mm) stereo input allows you to easily play your own tunes. Plus, six AA batteries are all you need to take the whole system on the go.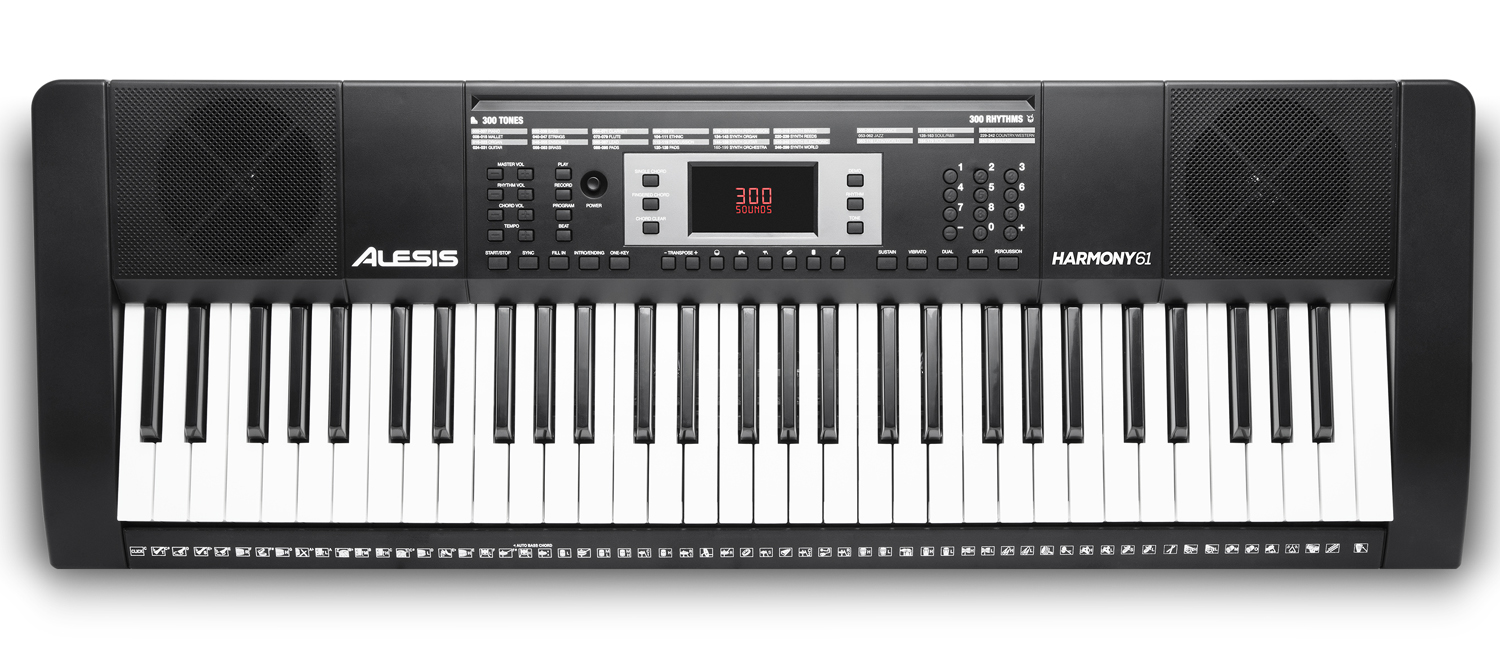 An educational edifice
Teachers and students, alike, will enjoy the streamlined UI, with a clear, backlit LCD display, 10-digit number pad, and rotary wheel accommodating selection and editing with ease. You'll also find notation for any of the demo songs, as well as a hearty chord dictionary. Key sensitivity can also be adjusted, allowing you to dial in a precise, natural response pattern. With 64 notes of total polyphony, you'll experience uninterrupted output across a suite of sounds at any tempo, as the built-in metronome ranges from 5-280 BPM. If you're looking to learn, practice, or hone your skills, Alesis includes a menagerie of educational opportunities, letting you exercise your musical muscles straight out of the box.
61-key keyboard features adjustable sensitivity for natural, individual playstyles
580 premium onboard sounds can be layered in "dual" mode, or split, providing endless modularity in sound design and composition
Mix Mode lets you incorporate FX and on-the-fly modifications with a responsive X/Y touch pad
180 rhythmic accompaniment patterns and 177 demo songs make practice, education, demos, and more a breeze
Built-in microphone allows you to instantly sample and playback audio of your choice
Onboard speakers deliver 30 watts of powerful, clear audio for playing anywhere
Robust FX suite includes 10 reverb, 8 chorus, and 2 slicer effect options for texture and depth
Versatile I/O, USB-MIDI, and SD card input provide diverse opportunities for high-quality recording, performance, and accompaniment
Streamlined UI includes a backlit LCD display for accessing sounds, notation, and the onboard chord dictionary
Optional battery mode lets you ditch the power adapter (included) with just 6 AA batteries, taking the full suite on the road
Alesis provides fantastic educational opportunities from TakeLessons, Skoove Premium, and Melodics, right out of the box