Behringer FLOW 8 8-input Digital Mixer with Bluetooth
8-ch Digital Mixer and 10 x 2 USB Audio Interface with Bluetooth Connectivity and Remote Control App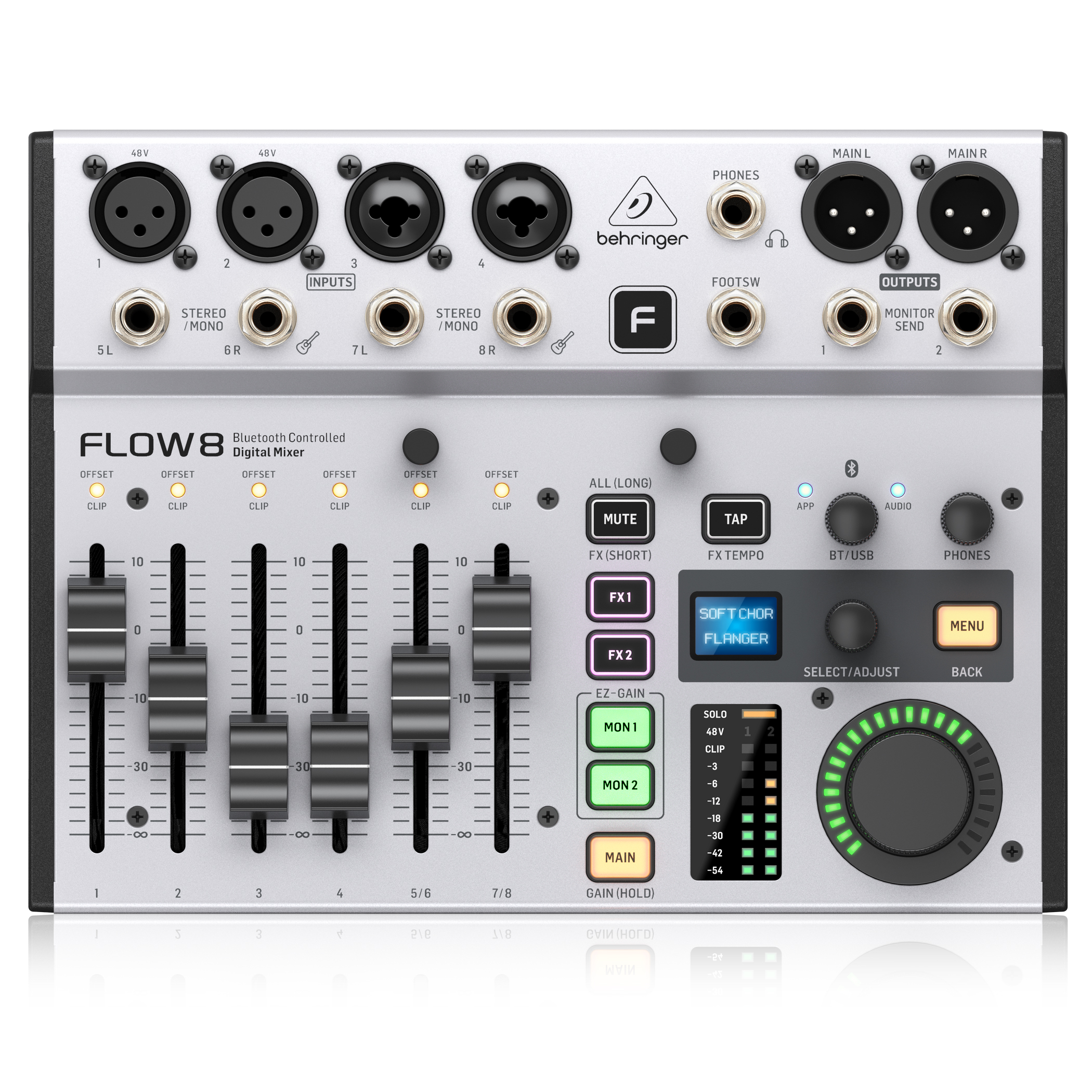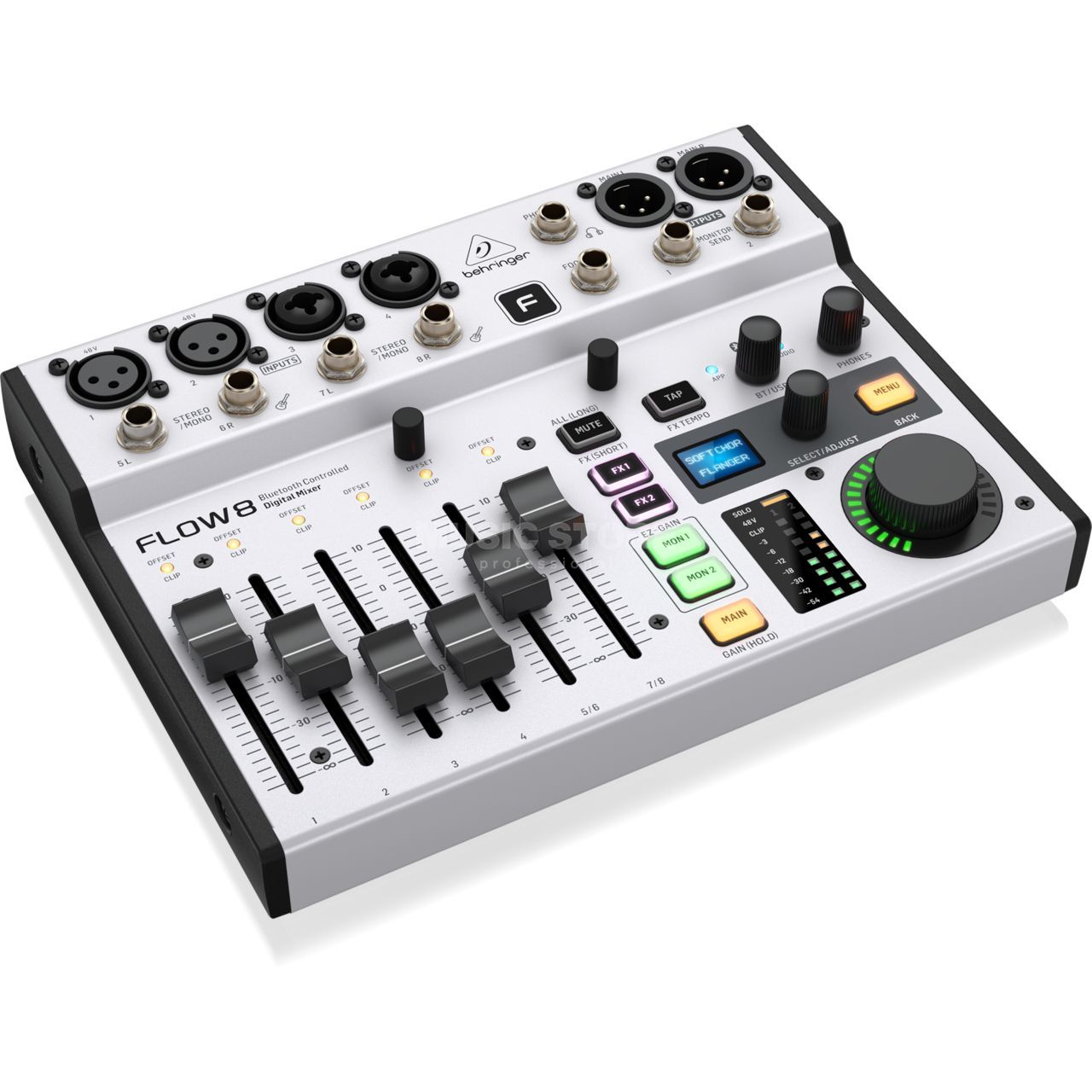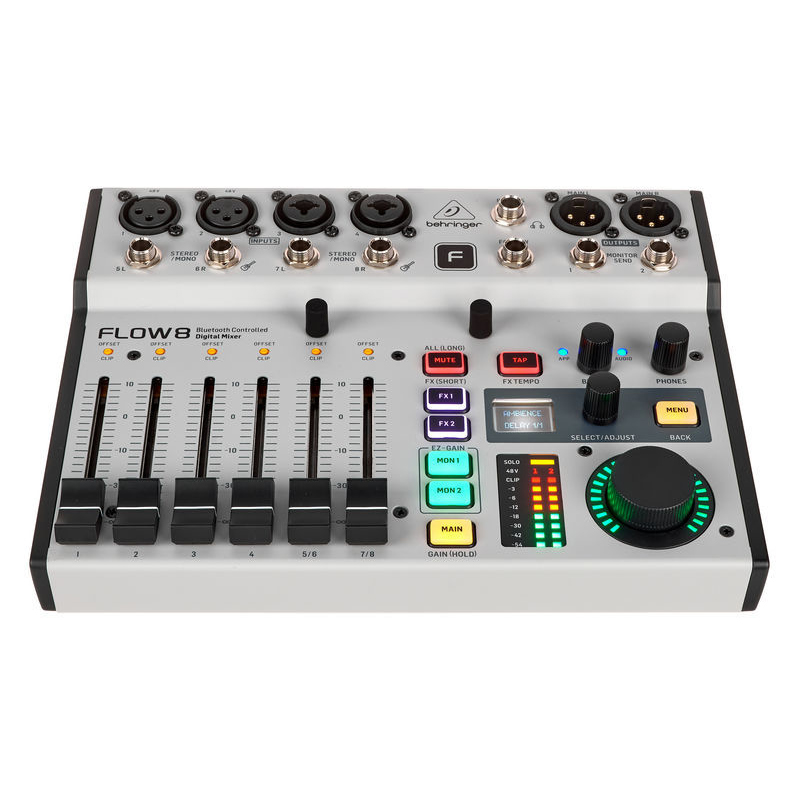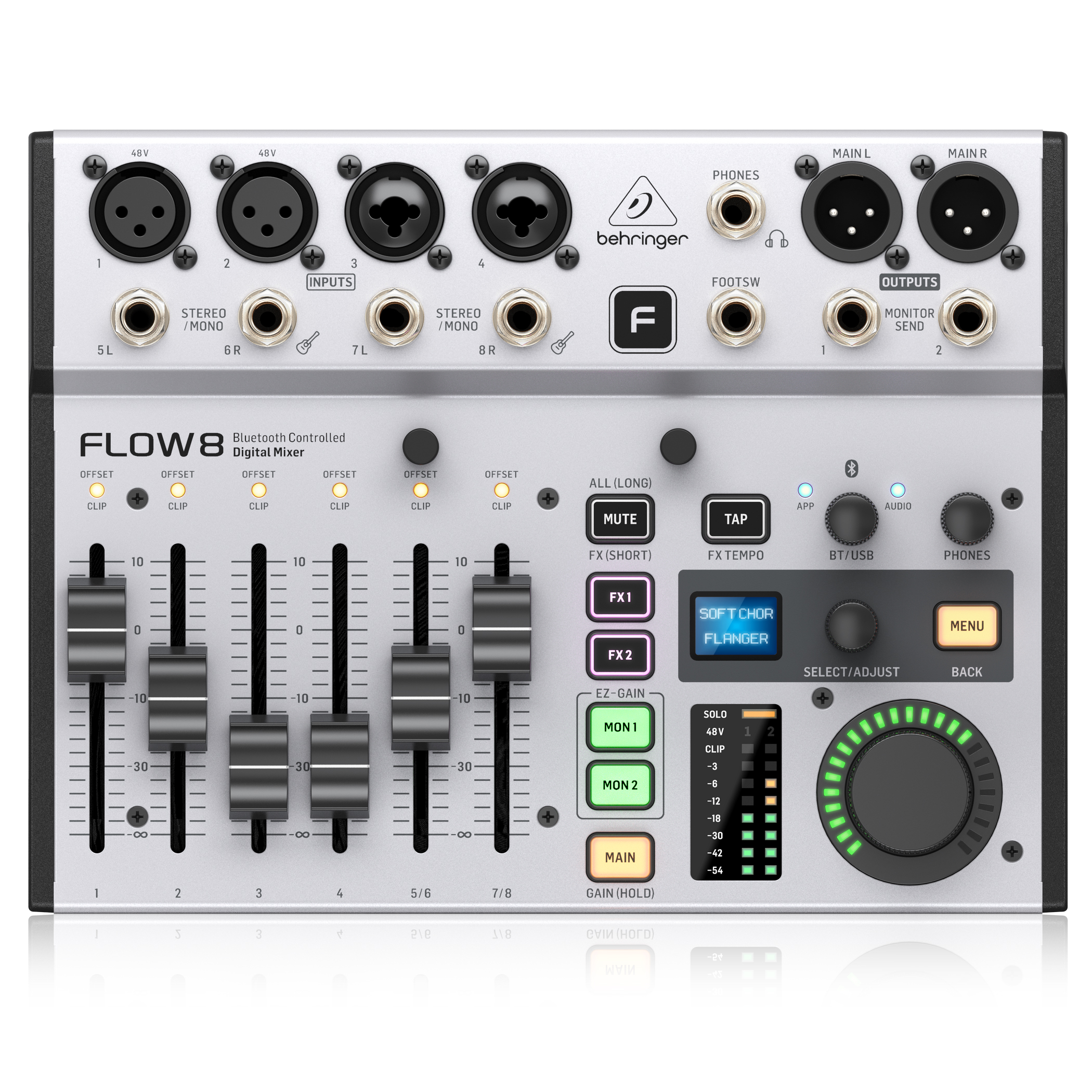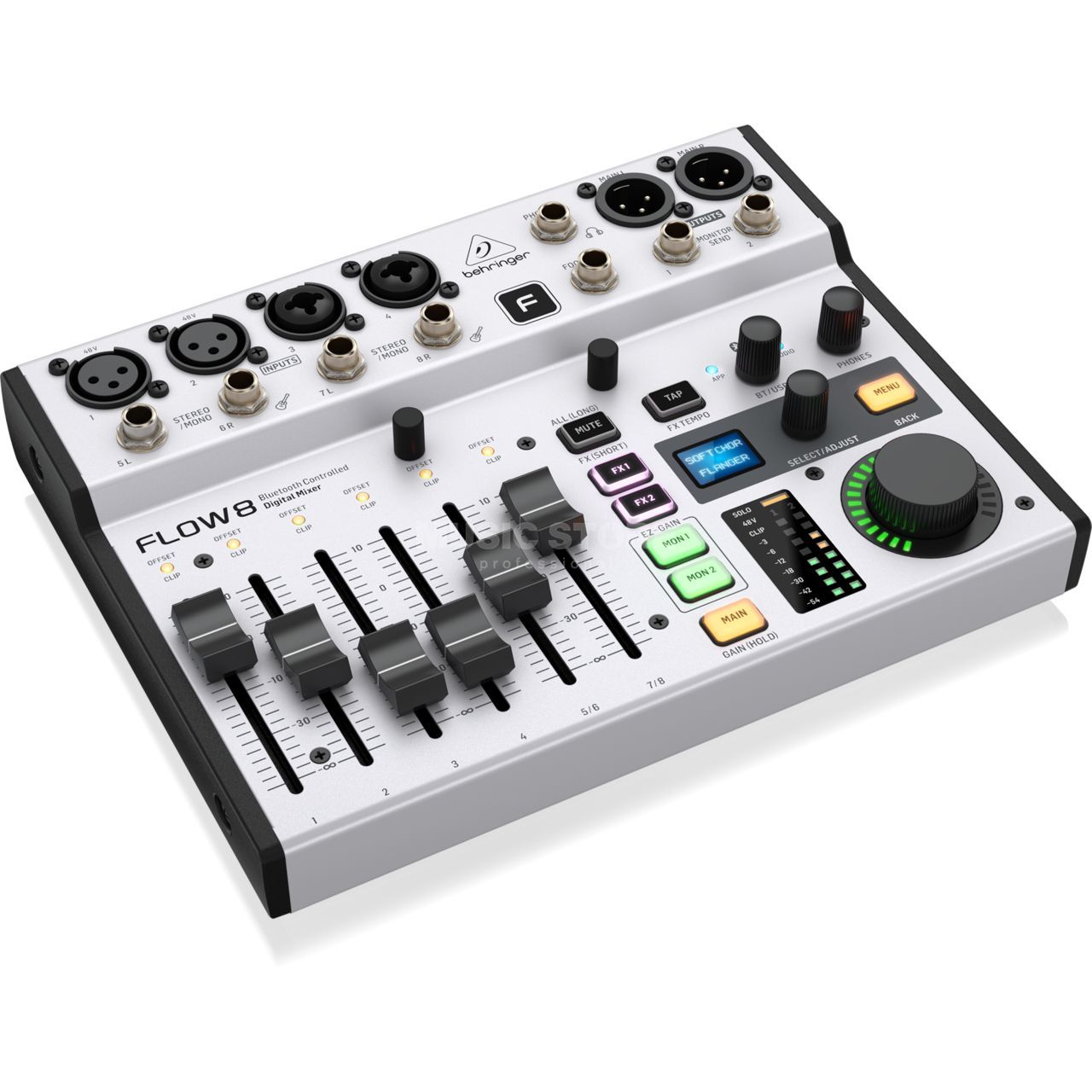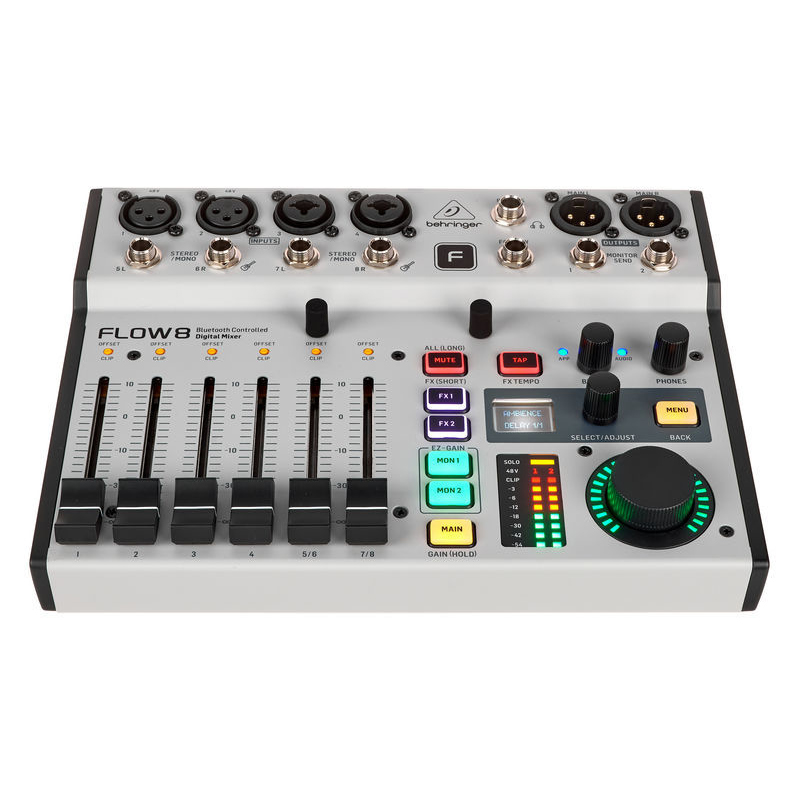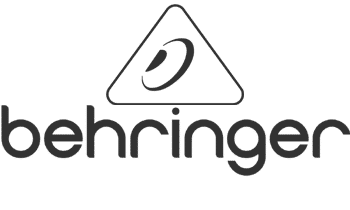 ---
OUT OF STOCK!
---
---
Get into the FLOW With This User-friendly Digital Mixer
The Behringer FLOW 8 8-input digital mixer provides an easy-to-use interface, automatic preamps, and an intuitive stage view to help you nail a mix in no time flat. This compact digital mixer allows remote mixing through the FLOW app, which also offers mix assistance and total recall of all settings via remote snapshots. Store as many as you want to expedite your mix in any situation! Packed with studio-quality Midas preamps and X32 digital converters, the Behringer FLOW 8 exhibits professional sonic performance. It also doubles as a 10 x 2 channel USB audio interface for capturing live performances, cutting tracks in your home studio, or hosting a podcast.
Assisted Setup and EZ-Gain Gain Staging
If you�re unexperienced with audio, running a digital mixer can be a daunting task. You have to know the right input to use for a source, how to set compressors and tweak EQs, and understand sometimes complex signal routing. But FLOW 8 flattens the learning curve by providing assisted setup with the FLOW 8 app. This setup wizard guides you, step by step, on how to set up a mix. Just select the source you want to work with, and the FLOW 8 app will walk you through the rest. Once you�ve got all of your mics and instruments connected, FLOW 8�s EZ-Gain feature will help you set the ideal channel gain by automatically adjusting to the input level of the source signal, keeping noise low and preventing clipping.
Studio-Quality Preamps, Converters, and Effects
With FLOW 8, Behringer delivers an affordable and powerful digital mixer with outsized sonic performance. It shares the same high-quality converters and 32 VFP-Processing found on Behringer�s popular X32, X-Air, and WING series of digital mixers, and it�s loaded with two studio-grade Midas microphone preamps, which are known for their uncolored, transparent sound. Each channel comes equipped with a 4-band EQ, easy-to-use compressor, and two effects sends for blending effects such as delay and reverb. Speaking of which, FLOW 8 boasts no less than 12 reverb programs, on top of numerous delays and modulation effects.
Bluetooth remote control with the FLOW Mix app
Behringer�s FLOW 8 digital mixer has intuitive physical controls, including faders, encoders, and a large master volume knob, if you want to run a quick mix right from the front panel. But if you want to dig deeper, launch the FLOW Mix app from any iOS/Android device. Not only does the app provide remote control of FLOW 8 via Bluetooth, but it also gives you access to FLOW 8�s assistance features and lets you save and load unlimited snapshots of your favorite mixer settings.
Built-in dual-mode USB audio interface
Doubling as a multichannel USB audio interface, the FLOW 8 is just at home in the studio as it is onstage. Whether you�re livestreaming, podcasting, or recording music, FLOW 8 is an excellent studio partner. It features zero-latency monitoring and works with any DAW. It�s also brilliant for recording gigs and capturing live in-studio performances. With the latest firmware update, FLOW 8 also provides switchable streaming and recording modes. In streaming mode, FLOW 8 outputs the main stereo mix to your computer, with level control via FLOW 8's larger master knob. On top of that, expanded routing options make it easy to input and independently control game audio and background music. Recording mode transforms the FLOW 8 into a powerful multitrack recording device, allowing pre-fader recording from FLOW 8's inputs, as well as the main mix. Plus, you can send out a separate click track to artists to help them stay locked on the beat. Finally, FLOW 8 includes parametric EQ on every channel � a handy addition for both streaming and recording applications.
Ultra-low noise, high headroom digital mixer with wireless remote control
60mm channel faders and master rotary control with LED collar
EZ-Gain function analyzes the signals in your application and automatically sets the gain for optimum headroom
2 Midas microphone preamps with 48V phantom power and programmable gain
2 additional mic/line inputs on combo XLR/TRS jacks
2 pairs of balanced stereo line inputs, each featuring a hi-Z jack for direct connection of guitar/bass
All channels with 4-band EQ and compressor, 2 FX, and 2 monitor sends
Monitor and main buses feature 9-band EQ and limiter
2 independent studio-grade effects engines � each with 16 presets, including reverbs, delay, and modulation effects
Built-in 10 x 2 channel USB computer audio interface, with 48 kHz/24-bit resolution
Bluetooth audio streaming for adding click or backing tracks to your performance, or for playing music during a break
Balanced main outputs on gold-plated XLR and balanced monitor outputs on 1/4-inch TRS
FLOW Mix app with assisted setup, unlimited mixer snapshots and intuitive, customizable Stage-View
FX adjustment control, FX mute, and tap tempo buttons
Footswitch input for controlling FX mute/tap tempo or? preset up/down functions
Optional mic stand adapter allows placing the mixer within reach of your performance (FLOW CLIP or P16-MB not included)
USB powered via AC adapter (included) or power bank (not included)